by Zulaikha Abiri
Last week we reported on the blasphemy referendum in the Republic of Ireland. This week, a court in Pakistan has overturned the death sentence of a woman convicted of blasphemy.
Pakistani woman, Asia Bibi was to be acquitted by the Pakistani supreme court after being convicted in 2010. This however signposts the attacks on Christians in Pakistan. Blasphemy laws are intense and insults on the reverenced prophet Muhammad are not taken lightly by the Pakistani government and by Muslims in Pakistan.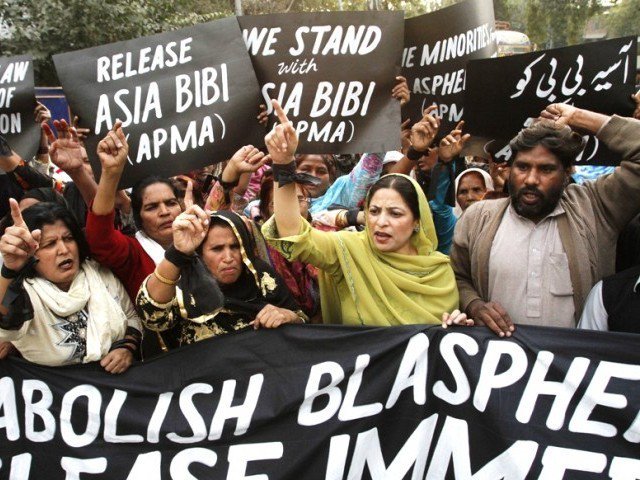 Asia Bibi whose real name is Aisia Noreen confessed to have made insulting remarks to the Prophet in June 2009 in a row with her neighbors  after that, she was beaten up and arrested.
The Ruling
The ruling faced protests outside the court by supporters of blasphemy laws. Heavy police presence was also reported at the Supreme court in Islamabad, due to fear of violence breaking out.  Serious protests against the verdict are also taking place in Karachi, Lahore and Peshawari and the Islamabad and Rawalpindi have also been blocked by hundreds of protesters.
Chief Justice Saqip Nisam who read out the ruling, stated that Asia Bibi could walk out of the jail in Sheikupura, near Lahore immediately if she was not wanted in connection to any other offence.
The background of Asia's offence was that she was harvesting fruit with some other women in her neighborhood when an argument broke out. She was not allowed to touch a bucket because the other women said her faith (Christian) made her unclean. Prosecutors alleged that the women told Asia to convert to Islam after which she responded by making three insulting statements about the Prophet Muhammed.
Asia was later beaten in her home, where her accusers say she confessed to blasphemy, she was arrested after police investigation. Asia and her family fear for their safety and several countries have offered her and her family asylum. It is reported that the family might be leaving Pakistan.
The Blasphemy Laws In Pakistan
Laws in Pakistan about Blasphemy dates back to 1927, the law carries a potential death sentence for anyone who insults Islam, critics of the blasphemy laws argue that the law is used to prosecute faiths seen as minority and unfairly targets them.
This talk about Blasphemy has become an increasingly discussed subject in the media, but where does Pakistani Blasphemy laws come from? Laws concerning offences against a religion were laid out by the British who ruled India in 1860, the law was expanded in 1927 and Pakistan inherited these laws after it came into existence when India was partitioned in 1947.
Freedom For Asia
Asia's freedom isn't just a victory for free speech activists, but it shows the growth and ever changing nature of Pakistan. Pakistan was formed as a religious state, and many non-muslims were left in the country as they were unable to move prior to the partition of India. This meant that non-muslims became a minority in Pakistan leading to their persecution and rejection from society. The overturned death sentence of Asia Bibi shows amore tolerant side to Pakistan, one many Christians living in Pakistan have been praying for for a long time.  
Zulaikha Abiri is a graduate of Media with Media Practices from Nottingham Trent University. Her interests include youth, women and children empowerment, especially in under developed and in developing countries