Sarri Ball vs Emery's Philosophy

Arsenal were up against Chelsea on Saturday the 18th of August for the 17:30 Premier League kick-off. This chaotic game did not disappoint and truly showed what the Premier League is all about in its true splendour.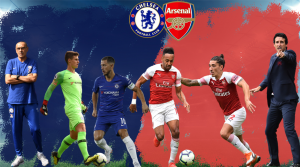 https://www.thestatesman.com/sports/premier-league-preview-clash-fresh-ideologies-chelsea-host-arsenal-1502674230.html

Arsenal's first Premier League game was one to quickly forget for its fans due to the fact that they couldn't yet see what was being implemented into their team with instructions not quite clear. Ramsey, Henryk, Cech were all over the show, their best player Ozil essentially missing in a big game scenario and the defence trying to play out from the back cost them dearly. They were lucky it was only 2-0 due to City not converting all of their chances.  Chelsea faced off against Huddersfield and played rather well, Sarri ball hasn't come into full effect but with the new signings of Jorginho and David Luiz coming back into the starting XI and generally being much better than Huddersfield a 3-0 was a posotive outcome. 
So, heading into this game there wasn't an outright winner to predict even with Chelsea's previous win. How they were going to set up against each other with new systems was going to be the biggest decider in claiming the 3 points. With new managers, new players this game was amazing for the neutral fan.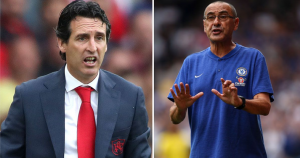 Key man Eden Hazard starting on the Chelsea bench made it seem like Arsenal now had a stronger chance of winning and they started off well with Ozil narrowly missing a chance at the 8th minute mark. However, Pedro was the first to strike 9 minutes into the game quickly followed by a second from Morata, who latched onto a long ball after Aubameyang had missed a glaring chance seconds earlier. Morata had Mustafi twisting and turning in his effort to defend and slotted it past Petr Cech to make it 2-0. Morata for a long while now has not been performing adequately enough for Chelsea but this goal will be sure to give him confidence. At this point in the match it seemed like it was going to be a 5 or 6-0.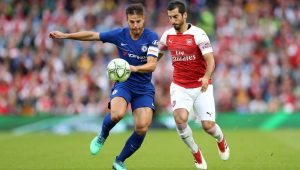 Arsenal seemed defeated and deflated and as the chance finally fell, Henrikh Mkhitaryan hit a low strike from just outside of the box into the net – which goalkeeper Kepa really should have saved – to make it 2-1. As Chelsea seemed to go on the attack Arsenal converted in the box again with Iwobi placing the ball into the net from a cut back pass from Mkhitaryan to make it 2-2 in the space of 5 minutes. The game was firmly back on and it was now Chelsea who looked defeated. However, with a few misses from Aubameyang and Iwobi in the first half it should have been 4-2 to Arsenal which should be a real concern for Sarri.
Xhaka had a nightmare game: on and off the ball he was ineffective and Emery could see this as at half time he was taken off for new signing Torreira. Ozil was subbed of at the 68-minute mark to be replaced by Ramsey and it looks like once again in a big game his influence wasn't felt enough. With the calibre of player he is, he should be doing a lot better.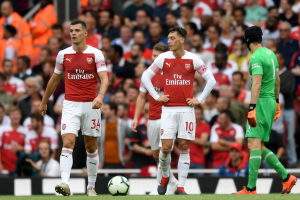 Throughout the second half Chelsea created a few more chances and looked more in control than the Arsenal XI, who weren't causing the same level of threat as they did in the first half.
Hazard was spectacular for Chelsea as he was subbed on for Willian at the 61st minute mark. He was slippery, electric, calm and collective in his plays, with his presence giving Chelsea the necessary threat to push for 2 wins out of 2. Mateo Kovačić on loan from Real Madrid really proved his worth and talent today as he put on a midfield show with an incredible 100% pass accuracy. He came on for Ross Barkley who is showing that his talent level might not be high enough to compete for a club such as Chelsea.


Alonso scored the final goal of the game thanks to a Lacazette mistake. The French striker gave the ball away in his own half to eventually allow Hazard to assist Alonso, who roamed in the box with minimal marking at the 81st minute to put Chelsea ahead and secure them the 3 points. At the last dying breaths of the game former Arsenal player Giroud and Hazard were in a 2 on 1 scenario but couldn't convert to make it 4-2, nonetheless they got the win.
Arsenals silver lining was the performance of their 18-year-old French player Guendouzi who was brave in his plays and approach to the game. He was direct and was able to have lots of roaming space for himself, he showed his passion for wanting to be at this club and in the XI. Now having played against Manchester City and Chelsea and still looking exciting, Arsenal have a promising talent on their hands.

https://twitter.com/Squawka/status/1030890824790245376?s=19

Before this game Arsenal were sitting 16th in the League due to their loss to last year's title winners City but have now dropped to 17th. Chelsea were second and now claim the top spot of the table.  This is now the first time since 1992 Arsenal have lost their two opening Premier League games -under previous manager Arsene Wenger's reign this never happened. It goes without saying that Emery's philosophy will take time to implement but right now he's not off to a good start, without a single point to his team's name.
Are Chelsea ready yet to challenge City for the title? The verdict is still out there.