For the liberal-minded folk, especially those of us living outside the immediate US political sphere, John McCain may be remembered for some horrible things.
After losing the 2008 Presidential Election to Barack Obama, McCain joined the Republican cabal that seemed hellbent on sabotaging the idealistic Obama; a hostility that certainly created the toxic political environment of the day. In fact, his choice of Sarah Palin as running mate in 2008 gave a certain legitimacy to the once-ostracised ultra-nationalist, populist right-wing, that now has their man in the White House. And let's not forget this: 
Looking from the left-hand side of the political divide, McCain's legacy could be easily lampooned in the wake of the terrible news of his passing late last night. What I would like to say, however, for people like me on the left, if we want strong opponents (and a strong democracy by extension) we would wish to see more John McCains fighting the other side of the argument.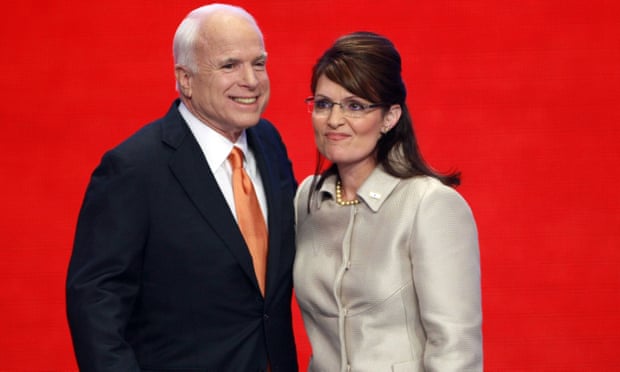 The lesson of this man's life, is to compromise and extend an olive branch to the other side (when you can justify doing so) and when you cannot, to stand out, even if that leaves you with few friends, with whom to fight your battles.
McCain truly was a difficult opponent for the left in America, not for the aforementioned tribal reasons but because he took the project of representing conservative principles rather seriously. He took this task seriously when it scored him political points and when it didn't. He therefore became an opponent of those in his own party. 
McCain really stuck his neck out for cause of US democracy by co-sponsoring the Bipartisan Electoral Reform Bill in 2002 at a time when even Democrats weren't in a rush to reform the gargantuan influx of corporate money in American elections; his Republican Party certainly wasn't rushing to achieve campaign finance reform and the grassroots movement that we see now for the issue was not as prominent. He sponsored the Bill with the help of progressive Senator Russ Feingold, both of whom were considered "moralists", starry-eyed and blind to the realities of how things worked in Washington. 
There was, however, a time when some would have argued that it was easy for McCain to make the case for campaign finance reform but it certainly wasn't after the 'Citizens United' decision made by the Supreme Court in 2010. The Court decided that corporations and unions both had the same right as individuals to finance political campaigns. At that point, McCain become the only leading Republican voice that made the case for campaign finance reform.  That was an example of what we could learn from the height of McCain's political life but it's not the last time he would stand-out so boldly against the grain of his party.
BBC reports that Donald Trump and John McCain clashed no less than 5 times on twitter after his 2016 Presidential Bid. These included McCain's rebuff of Trump's statements calling Mexicans "rapists" and his disturbing comments from the Access Hollywood tape where he claimed to grab women by the genitals, something McCain said would make it  "impossible to continue to offer even conditional support for his candidacy" at a time when other Republicans, despite their evangelical and sermonising discourse, seemed to gloss over Trump's deeply immoral statements. 
John McCain was not one of us (still speaking for the lefties here) but I can't say that he was against us, he was simply a man that wished to fight his corner for the betterment of his people. There are yet still other people like this on the other side of the isle and especially in this time of political head-assery and mindless group think, we have to seek these voices with whom we can have beneficial conversations with.
God forbid, we may even start to humanise the other side, just as we learnt how human John McCain – the Republican Leader; The Outspoken Moral Voice and the Conservative Politician, truly was.