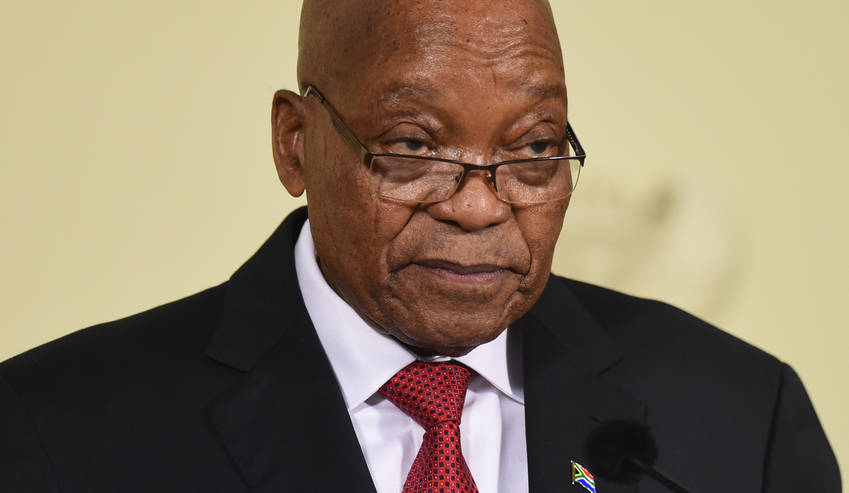 South African President Jacob Zuma has resigned as president of the country. His decision comes following a series of tide-turning events including the election of Cyril Ramaphosa as leader of the African National Congress (ANC), the ruling party. Ramaphosa has since been confirmed as Zuma's successor as president.
Zuma, right, with his confirmed successor, Cyril Ramaphosa (Source: AP)
As he was resigning, Zuma was in his usual, jovial mood, cracking jokes as he spoke to the ANC congress meeting. But as time went on the salience of what was occurring engulfed the atmosphere of the room.
"No life should be lost in my name, and also the ANC should never be divided in my name. I have therefore come to the decision to resign as president of the republic with immediate effect," he said. "Even though I disagree with the decision of the leadership of my organisation, I have always been a disciplined member of the ANC. As I leave I will continue to serve the people of South Africa as well as the ANC, the organisation I have served… all of my life". These statements brought his 9-year rule to an end.
This is not the last chapter for Zuma. Many in the country will be calling for him to be put before judge and jury. Zuma has long been linked to allegations of corruption. Most prominent are the accusations that Zuma had allowed a wealthy family, the Guptas — comprised of brothers Ajay, Atul, and Rajesh — to capture South Africa's state apparatus to enrich themselves.
Earlier this week, South Africa's elite police force, The Hawks, swooped on the Guptas' lavish property, Sahara Estate, in Saxonwold, Johannesburg. The police confirmed that five people, including a member of the Gupta family, had been arrested as a result of the raid on suspicion of being a part of a money laundering scheme.
Zuma with Atul Gupta, part of the family to have caused controversy for the then-President (Source: GCIS)
The pyramid of corruption that seems to have lasted for so long in South Africa now appears to be crumbling from the top. A primary aim for incoming president Cyril Ramaphosa will be to demolish that pyramid from the base, and restore voters' confidence in politics and his party.
However, that isn't the only challenge that South Africa faces. The ANC in its current state is deeply divided. While this isn't necessarily a bad thing for South Africa, the ANC is the oldest liberation political party in Africa. At its roots the party is dedicated to liberating the poor and disadvantaged from the squalid existence that plagues them. If Ramaphosa can succeed in placing an emphasis back on such an agenda by creating an economy that works for more than just a privileged few, without becoming embroiled in scandals that engulfed his predecessor, then he may have won most of the battle.

---