By Benedicta Denteh.
Now, as I write about black hair, I'm not simply talking about hair of a darker pigment, but specifically the 'kinky' or 'coily' diverse strands that grow on the scalps of those of African and Caribbean descent. For centuries, black hair has been a source of identity, taking on different shapes and styles for a plethora of reasons. From tribes in West Africa in the 1400s to the Black Panther Party in 1960s America, black hair has been a statement of culture and identity, but can black hair really be seen as political?
1. Bans and regulations within schools
High schools throughout the United States, United Kingdom, Australia and South Africa have been known to place bans or punishments on black students who wear their natural hair. The following schools have been under the eye of the media in recent times: Butler Traditional High School in Louisville, Kentucky, St. Gregory's Catholic Science College in Melbourne, Mystic Valley Regional Charters School, Malden, Massachusetts, Pretoria in South Africa. Each of these institutions have all reported incidents of members of staff asking students to straighten or chemically perm their hair or to take out styles such as braids, cornrows and dreadlocks.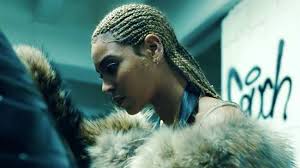 Beyonce. Source: astrostyle.com
Reasons provided for these kind of styles being deemed unacceptable have largely been based on opinion than issues of fact. For example, excuses such as not wanting to encourage "gang related" hairstyles and claiming that braids "did not represent" the establishment to these hairstyles being deemed "extreme" or "distracting" for other students in classes.
Many schools have argued that their uniform policies aim to promote equality amongst all students and therefore desire to have styles that do not inhibit their ability to concentrate during lessons. The problem? It completely disregards cultural differences between students and so these kinds of rules incite indirect or subconscious racial discrimination. Braided hairstyles such as cornrows and braids (examples above and below) are not only deeply embedded into familial traditions amongst black people in the African diaspora but also form part of the natural upkeep of black hair. For this reason, this lack of integrating policies which take into account multiculturalism, often makes students who are targeted feel a sense of otherness in an institution where  arguably one of its primary goals is to install a sense of unity into society's future members.
Many of the schools mentioned have accordingly decided to take into consideration different cultural practises whilst reviewing and amending their policies after media attention and high court interventions. Be that as it may, coming into question is the whether other schools throughout the world and other places with these types of uniform rules, will follow suit in order to create an environment of inclusivity.
2. A question of professionalism in the workplace
Source: britishcurlies.co.uk
We have all heard anecdotes of sexism in the workplace whereby women have encountered some type of a 'glass ceiling'. This is the idea that there is only so far a position they may be able to reach in any given job in comparison to their male counter parts. Take for example Nicola Thorp. Nicola was let go from her receptionist temp job for failure to comply with 'office rules'. These rules subsequently included women having to wear a skirt and high heels and it is without doubt that this kind of discrimination must be challenged and denounced.
However, in addition, we should also be extending this investigation of what is and isn't professional in the workplace to black hair. There have been several accounts of black women being told to chemically perm their hair or be encouraged to wear weave in the workplace and of women being unable to secure jobs in the UK in places such as Harrods and Knightsbridge and these are not isolated incidents.
Hair being too "distracting" or "unprofessional" is often the reason behind employers asking employees to alter their hair. This has led to some resistance but also some compliance as no person wants to lose out on new job opportunities or be let go from their job/career. This discrimination feeds into division of employees; the ways in which rules are the same for all but not suitable for all. It creates a problem that often comes when there is an attempt to treat everyone the same although they are not the same. Equality over equity (equity being equality which recognises differences and that all cannot be exactly the same i.e. different rules suited for different people). As a result, these 'rules' in the workplace not only advocate for a Eurocentric idea of professionalism, but also encourage indirect institutionalised racism. As said by Anna Birtwistle, a partner at CM Murray LLP "an employer who prohibits afros in the workplace risks the allegation that they are discriminating against black employees".
This discrimination has extended to places such as the military where it wasn't until 2014 that Defence secretary Chuck Hagel announced that the military's prohibitions on black hairstyles such as twists and cornrows had been lightened due to special considerations for racial differences, i.e. black hair. Although the intervention of women affected (among the 26,000 black women who served in the military at the time) and the congressional Black Caucus (a political organisation which was established in 1970) this issue calls into question the willingness of the United States, the UK and many other western countries to adjust regulations in order to be more inclusive and promote multiculturalism, especially for those who are willing to die for their country.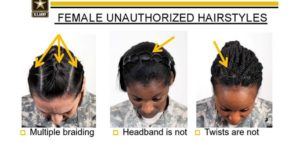 This undated image provided by the US Army shows new Army grooming regulations for females. New Army regulations meant to help standardized and professionalize soldiers' appearance was under criticism by some black military women, who said changes in the requirement for their hair were racially biased. The Army had issued new appearance standards, which included bans on most twists, dreadlocks and large cornrows, all styles used predominantly by African-American women with natural hairstyles. More than 11,000 people signed a White House petition asking the then President Barack Obama, the commander-in-chief, to have the military review the regulations to allow for "neat and maintained natural hairstyles." Source: AP Photo/US Army
So why does this all make black hair political?
Black hair is a part of African and Caribbean racial identity. For hundreds of years dating back to the seventeen hundreds black hair has been deemed to be outrageous and bizarre which furthers feelings of otherness amongst black people in the African Diaspora and even those in countries with large black populations. This has led to black people altering their hair textures in order to fit into western and westernised societies (although there are other reasons to change one's hair texture such as to improve the simplicity of the upkeep of hair).
We should take a leaf from members of the Black Panther Party of the 1960s and 70s who embraced their natural hair and afros as a political statement that hair like black people of the time, should be truly free and unrestricted. It subsequently became a popular style and was often worn in protest rallies. Similarly, encouragement for change should be taken from the "black is beautiful" campaign which called for black people, specifically women, to wear their hair out, coils and all. Regardless of where it started, natural hair and hairstyles are becoming more and more embraced, symbolising acceptance and challenging the idea that has been maintained for so long that natural hair is improper and un-uniformed.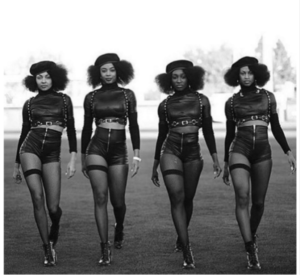 Dancer's Donning Afro Hairstyles in Beyonce's Formation Music Video. Source: Pintrest
Freedom to wear our hair naturally out or in natural styles shouldn't be something banned within workplaces and other establishments such as schools. And what should also be put into perspective is that it is not an 'act of kindness' for these establishments to allow these hairstyles, it is a right that has been long overdue.
Paradoxically, "to wear our hair naturally shouldn't be a political statement", however, it will continue to be as long as there are restrictions of one's opportunities in jobs and discrimination in learning environments because of the natural way one's hair grows/is up-kept.
Benedicta is currently studying Arabic and French at the University of Manchester and hopes to become a linguist and broadcast journalist in the future. In her free time, she enjoys learning about African development and issues to do with race, society and culture. Benedicta also takes pleasure in acting, travelling and promoting plant-based eating.
Twitter: @BenniDenteh