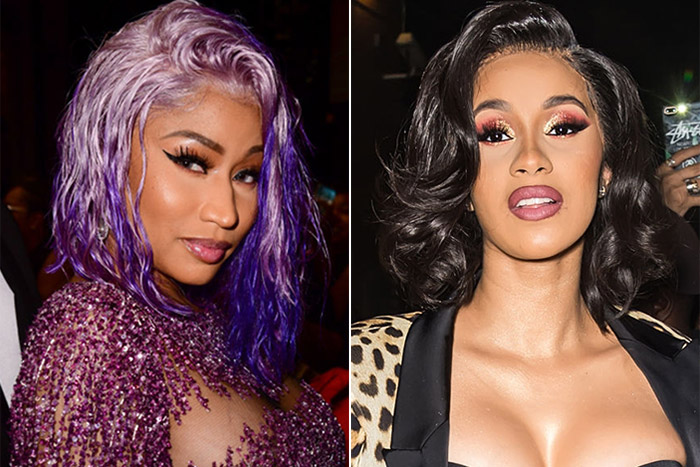 In the current digital age we are embarking on as a society, the accessibility of musicians has increased tenfold in light of technological advances spearheaded by social media. This has propelled the likelihood of musicians gaining traction through cultivating their own fan bases without the major label support which was once so necessary. With all this being said there should subsequently be a large pool of thriving female and male hip/hop artists right? Wrong.
Whilst there are an abundance of thriving male artists in the scene there is still a sense in the industry that, of their female counterparts, there can only be one dominant rapper at any given time.
So why is this still the case?
Amidst Cardi B and Nicki Minaj's ongoing feud, the latest of which has included back and forth concerning who was initially sent the audio to feature on a Little Mix song, it has become apparent that the space at the top for women is seemingly not as great as we think it might be  in 2018.
There is still a small space at the top for women in comparison to men so there is a constant need to fight for a spot, Otherwise it may be taken off you by someone else and boom the limelight is gone. This creates a constant combative mode between females conducive to petty beefs as we have seen. This includes Remy Ma and Nicki Minaj's well documented spats, after Remy's re-emergence to the forefront of women's hip hop following the hit single 'All the way up' in 2017.
Major record labels also often promote the female divide as a case for drama which can elevate an artists status. UK artist Lady Leshurr claimed was offered $250k to start beef with Nicki Minaj which would have raised her status across the pond in the US but comes at a cost of compromising ones norms and values.
A popular female rapper Dreezy who propelled to fame in 2016 following her No Hard Feelings project featuring Jeremih and T-Pain, says outsiders and labels executives are always aiming to stack her up against someone else whereas males are just allowed to be and this is purely because of her gender. Male counterparts are allowed to freely co-exist and develop their own sound at peace which is by and large the polar opposite to females. She proceeded to say, "I think last year might have been one of the years that we had the most collaboration tapes from artists, but when it comes to females, it's like the pit of death, like crabs in a barrel."
It seems that women in rap are treated much like women in the workplace generally are – made to go up against each other. In a very male dominated industry it is probable that their actions can be dictated by men for men's personal gain. When there is a limited space and there then the mentality that ensues is that there can only be one. We have recently seen a large number of collaborative tapes including, Juice World x Future, Metro Boomin x Various artists, Quavo x Travis Scott just to name a few, but none of them female artists! This shows, that as much as the industry does have a part to play, female artists should also be accountable. Although they seemingly love the 'IT' factor when they are the sole winner and do not want to share the spotlight, there is greater good to be achieved. A leaf can certainly be taken out of actresses book with the #MeToo movement and women in hip/hop should not be dormant but rise up.
To solve the innocuous culture problem we currently have in the music industry I believe it would take two things: for female rappers to consciously revolt against these happenings, which Cardi B stresses from time to time or, for there to be a big changes in the music business culture. These current issues align directly with the world women live in today and the struggle woman face.
The famous comedian Chris Rock once said that true equality is the ability to be equally as poor or as great as their counterpart so in this case women have the same scope to achieve greatness as men without having to be excessively great to get the slightest recognition.
If art is a product of life, then life is a product of art and at this rate female rappers have a long road ahead of them.

---