On Sunday night, as results from the 2019 European Elections came trickling through, there was a clear message: Nigel Farage's Brexit Party (which was created only six weeks ago) won 31.6% of the overall British vote, with Farage maintaining his role as MEP for the South East. Labour and Conservatives faced huge losses and the newly formed Change UK limped in last place, winning no seats.
The story looks to be the same across most of Europe. Though official results have yet to be fully confirmed, initial projections suggest that voters were divided between far-left and centre/far right parties. 
In France, Marine Le Pen's National Rally (previously known as National Front) dominated with 24% of the vote, beating President Emmanuel Macron.
Italy's nationalist party Lega also topped their results with 34%. Their leader, Matteo Salvini, has maintained a right-wing populist relationship with Le Pen, the Freedom Party of Austria, and Geert Wilders' Party for Freedom in the Netherlands. Notably, Wilders lost all of his seats in parliament.
Meanwhile, Green parties have swept up votes in Germany (taking 20% of the votes), Portugal and some Nordic countries.
Scotland, who overwhelmingly voted to remain in the EU, awarded three of its six MEP seats to SNP candidates: Alyn Smith, Christian Allard and Aileen McLeod. Labour won no seats in Scotland.
Centrist parties in Denmark had a surprisingly good night – possibly as a result of the Danish system of constant coalition in their parliament.
So What Do These Results Tell Us?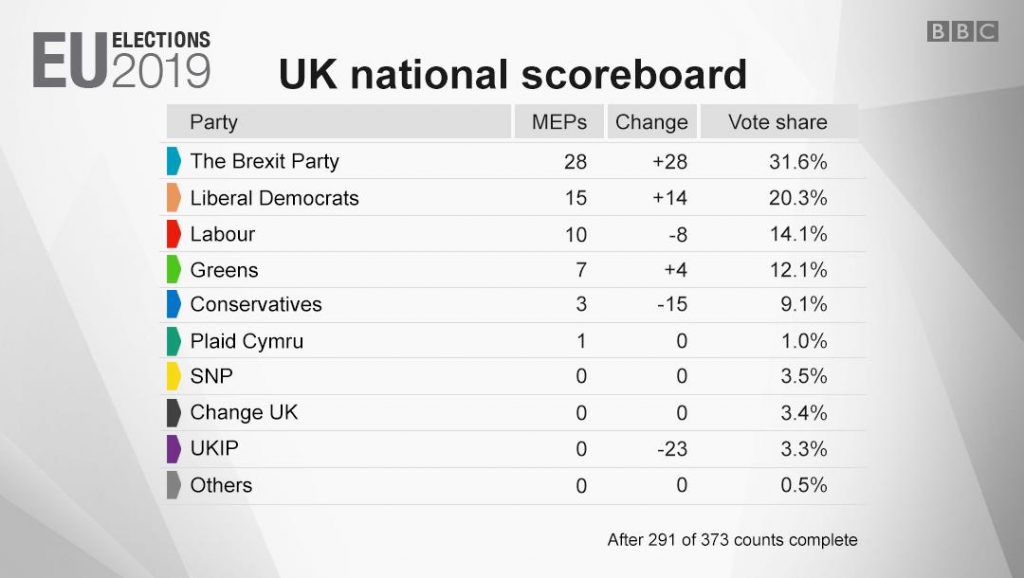 It has become clear that people are generally no longer happy to support centrist parties and are seeking to shake up the establishment, in either direction. Support for Green parties clearly derive from environmental concerns and a need to do something about climate change, whilst centre right parties that have positioned themselves as anti-establishment have faired better than those who campaigned on a particularly nationalist or anti-immigration platform.
In the UK, Labour and Conservative have lost a combined total of 23 seats. The Tories are no doubt suffering as a result of delays to Brexit negotiations, mass resignations in May's cabinet, and the upcoming leadership contest. 
Why Labour Lost?
The explanation for Labour's loss is slightly trickier. Corbyn was elected leader by a huge majority (59.5%) in 2015 and seemed to herald a new radical shift in leftist politics. Momentum, the grassroots campaign founded that same year, mobilised in tactical seats to increase Labour support in areas with small Tory majorities. But since the EU referendum, Labour's position on Brexit has been less than clear. Whilst the departure of those like Chuka Umunna and Luciana Berger to form Change UK won't have moved Labour's younger and more radical supporters, it does speak to a general dissatisfaction at the lack of clarity towards EU membership. Alastair Campbell was even today expelled from the Labour party after admitting to voting for the Liberal Democrats in this week's European elections. In Scotland, the SNP have shown themselves to be the real opposition to the government and took both of Labour's MEP seats this week. 
We were not supposed to be voting in the European elections; it became necessary when we failed to agree to a deal before the original leave date. For a party to then not campaign for the very issue that put us in this position was incomprehensible.
The results from the European elections show that pro-Remain leftist parties such as the Liberal Democrats have hoovered up votes that Labour has lost. Young people have historically been pro-European membership and this may have won over even those burned by the hike in tuition fees back in 2012. Young people also tend to be more focused on environmental issues which could explain the increase in support for Green parties. The visibility of Extinction Rebellion and the school strikes for climate change have brought this issue to the forefront and may have contributed to more Green support.
But the success of anti-EU parties (including the Brexit Party) also shows a worrying trend towards isolationist and nationalist policies. Nigel Farage, a man who has cosied up to white supremacists like Steve Bannon and Viktor Orban, has positioned himself as a man of the people despite being a former banker. He attempted to distance himself from Tommy Robinson, despite them pushing the same rhetoric of a Britain in danger from immigration. Meanwhile, many high profile Conservatives have publicly announced their disappointment at Theresa May's failure to achieve anything in regards to Brexit, leading many to join Farage's new party.
This confirms that the question of EU membership divides deeper than traditional party lines. British politics no longer looks like Labour vs Conservative but pro and anti-EU. Whilst the Brexit Party may have won the majority of seats, a left wing coalition of pro-EU parties (comprising Lib Dem, Greens and SNP) would have pipped them to the post. Parties can no longer rely on the support of their members if they are failing to deliver a clear message on the immediate issue of EU membership. Brexit is clogging up our political system but it shows no sign of leaving any time soon. It's imperative for parties to make a real effort to convey their stance to the public and explain exactly how they plan to resolve it.