by Jamie Aira Agbuya
The midterms, are a set of elections that take place every four years halfway into the current US President's four-year term. The 2018 US midterm elections were an opportunity for Americans to judge and scrutinise Donald Trump and his administration since the start of his presidency two years ago. The 2018 results show a significant shift in power in the House of Representatives, weakening Trump's position.
A Night Of Firsts 
This year's midterms recorded an unprecedented number of women winning, making history in Congress and American politics. Currently, 84 women serve in the U.S. House (61 Democrat and 23 Republican) and 23 (17 Democrat and 6 Republican) in the Senate. Overall, female representation in Congress has increased from 20% to 22%. In total, it is projected that at least 118 women will serve in the House and Senate, which marks major accomplishments for women. 
Several individual candidates achieved historic firsts:
The nation's first female House Speaker, Nancy Pelosi. Kansas's Sharice Davids became the first-ever Native American and gay woman elected to Congress, along with New Mexico who elected Deb Haaland, a member of the Laguna Pueblo tribe. Michigan Democrat Rashida Tlaib and Democrat Ilhan Omar from Minnesota will become the first Muslim women in Congress; with also Tlaib being the first Palestinian-American, and Omar as the first Somali-American and Muslim refugee to take office.
African-American women will represent Massachusetts and Connecticut in Congress for the first time ever with Ayanna Pressley and Jahana Hayes. Veronica Escobar and Sylvia Garcia were elected by Texas voters as the first Hispanic women in Congress. At 29 years old, Alexandria Ocasio-Cortezwas elected in New York, making her the youngest woman to ever be elected in Congress. The first woman and first African-American to hold the role of attorney general, Democrat Letitia James, was also elected by New York. South Dakota (claimed by Kristi Noem), Maine (won by Janet Mills), and Guam (role filled by Lou Leo Guerrero) voters elected their first ever female governors in history.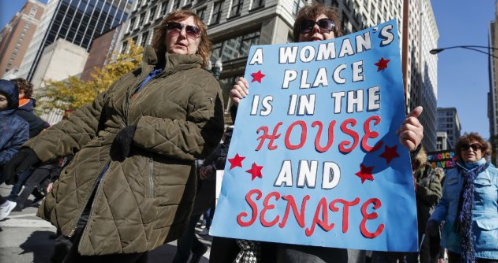 This surge in female representation was driven largely by Democrats who took control of the House. Women will now historically represent two-thirds of the districts. 
How Does This Compare To The UK? 
With a new America on its way, resulting in a surge of female representation from the midterms, is the UK leading by example or do we need to follow America's lead? 
In the 2017 General Election, a record high of 208 women MPs were elected to the House of Commons, making up 32% of the House. As of January 2018, 206 female peers are Members of the House of Lords, making up 26% of the male-dominated House. Currently, there are 6 women including the Prime Minister (Theresa May), which is 26% of the total 23 permanent Cabinet posts. As of 1st October 2018, the UK is globally ranked at 38th and the U.S. ranked at 104th for the percentage of female representation in the Lower and Upper House.
Presently, the female population in the UK is 50.8% so we still have a long journey to go until females get an accurate representation in Parliament. However, we cannot ignore the fact that female representation in Parliament has increased, especially with Theresa May being the second female Prime Minister this country has had. As reported by YouGov polls, May has a rating of 32% positive opinion, 46% negative opinion and 21% are said to be neutral. Additionally, Margaret Thatcher (first female PM) was also not very much liked by the British public – with the Wizard of Oz song 'Ding Dong! The Witch Is Dead' reaching number two in the music charts following Thatcher's death. This notably highlights the lack of fondness for the only female Prime Ministers the UK has ever had, perpetuating the view that women are not fit for a role in power.
Nevertheless, it is safe to say that the UK is leading by example for female representation compared to the US (current female population of 50.6%), but America deserves the praise it gets for making history in the 2018 midterms, not only in Congress but also in American politics. According to the CNN exit polls, nearly 80% of voters thought it was very important or somewhat important to see more women elected in public office. It is without a doubt that America will eventually climb the global ranking for female representation, bringing in new perspectives that could reshape policy in the future to come.
Jamie Aira Agbuya was born in the Philippines and grew up in the UK. She is currently studying American Studies at Swansea University. She blogs about mental health, writes poetry and short stories, and is currently a contributor for TCS. Her interests are in American history, culture and politics. Follow her on twitter @jamieaira.