As is tradition at a State of the Union address, Vice President Mike Pence and Speaker of the House Paul Ryan were seated behind Donald Trump as he spoke to the nation. While Pence looked on proudly during the speech, Ryan's expression was somewhat harder to decipher. If a slight detection of bemusement at Trump could be seen on his face at certain points, this would be perfectly understandable. Not because it was a bad speech, but precisely because it wasn't.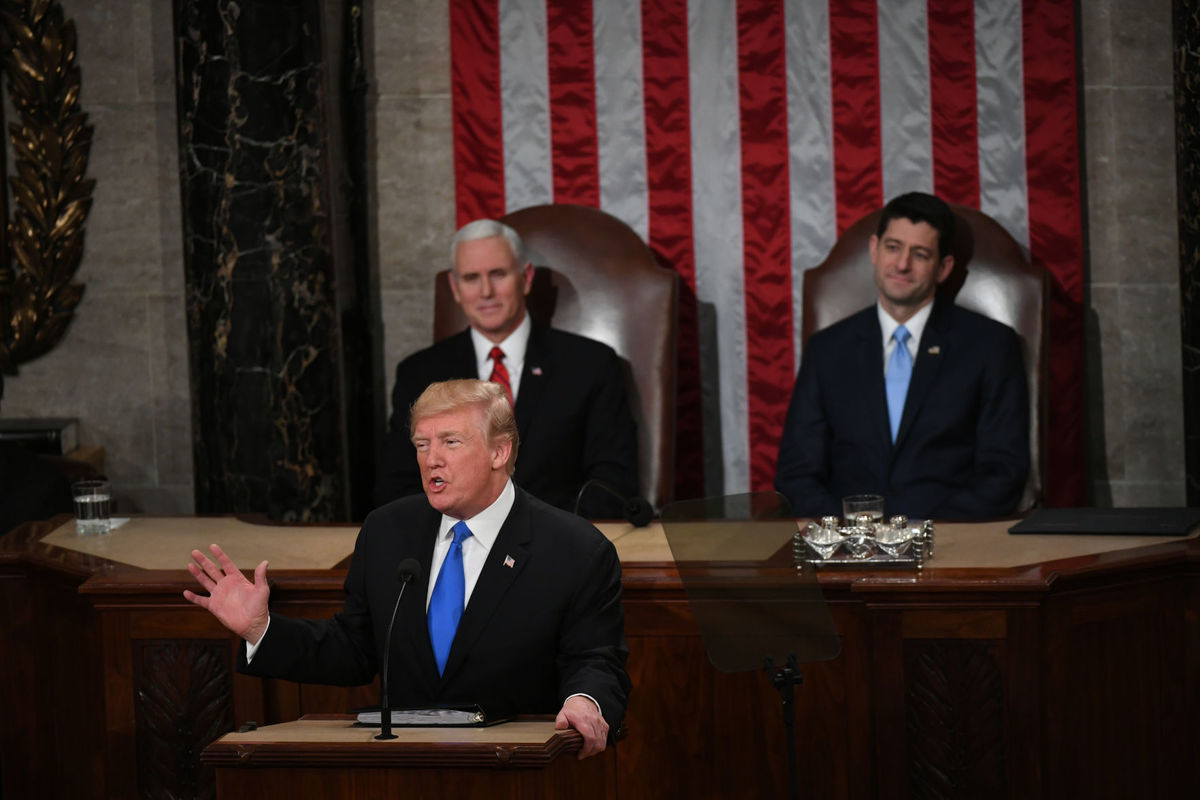 Trump, flanked by Mike Pence and Paul Ryan (Source: The Washington Post)
Trump's approach to the State of the Union was positively un-Trumpian. He appeared humble, often drawing attention to the achievements of others where in previous speeches the focus has been squarely on himself and his own accomplishments. Even the legislation Trump has passed in areas such as tax reform and health insurance were hailed as 'our' successes, despite his previous attempts to take complete credit for them.
He stuck to the script, and talked about policy and patriotism, without any rambling segways on 'Crooked Hillary' and her emails, or the FBI and its 'witch hunt'. For sure, he continued to push his hard-right themes, particularly on immigration, but seemed to express them in terms of compassion rather than anger and spite. Nowhere was this truer than when he acknowledged the families of victims of gang violence, making the point that cutting immigration would prevent such violence from reoccurring. Using a tragedy for political point-scoring maybe, but we should not underestimate the traction it had with viewers.
The single greatest Witch Hunt in American history continues. There was no collusion, everybody including the Dems knows there was no collusion, & yet on and on it goes. Russia & the world is laughing at the stupidity they are witnessing. Republicans should finally take control!

— Donald J. Trump (@realDonaldTrump) January 10, 2018
All of which will leave more establishment Republicans tearing their hair out as to why he doesn't perform like this all the time. The speech certainly was not devoid of Trump's own odd idiosyncrasies, the most notable being his irritating habit of clapping directly into the microphone at various stages during the speech, his hands slapping together gratingly like two wet mackerels on the back of a bumpy trawler. Yet on the whole he seemed a different, more mature and sensitive Trump. Much of the GOP must feel that if he were to carry on like this, he could make – whisper it quietly – a halfway decent politician.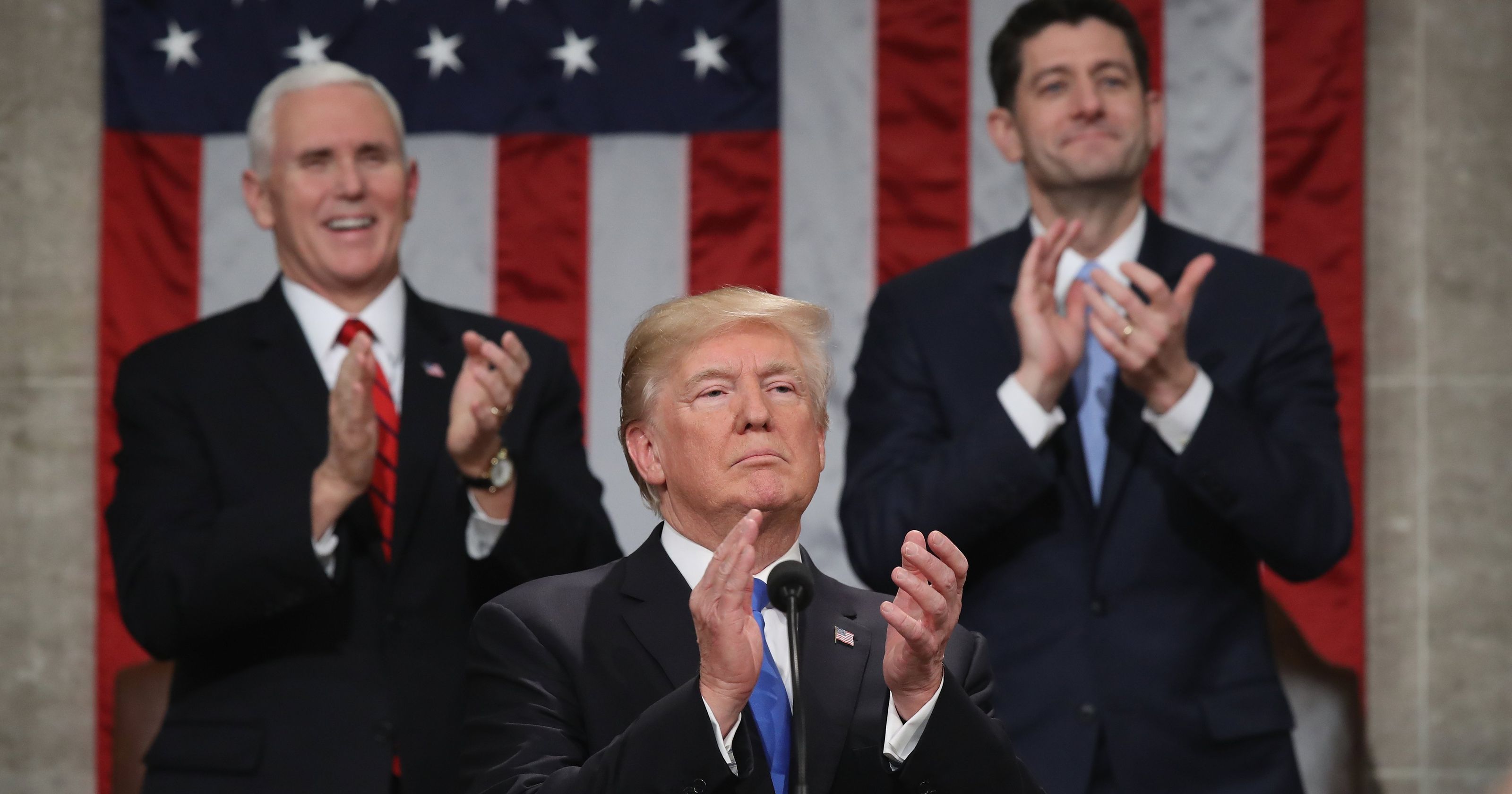 Trump clapping himself, directly into the microphone (Source: USA Today)
Will he carry on like this, though? It seems at best unlikely. The State of the Union address can be something of a political open goal for presidents. The grand setting and teleprompted speech can project decorum onto even the most outlandish of figures, and the fact that almost any statement will be fanatically applauded by huge swathes of the audience can only make a president look good. But it is hard to conceive of Trump sticking to his more statesmanlike persona in other contexts. He seems incapable of controlling his stream of late-night tweets, his 280 characters usually filled with rage and self-aggrandisement rather than compassion and modesty. Already, he has made the arrogant and apparently inaccurate boast that viewing figures for his address were record-breaking.
Thank you for all of the nice compliments and reviews on the State of the Union speech. 45.6 million people watched, the highest number in history. @FoxNews beat every other Network, for the first time ever, with 11.7 million people tuning in. Delivered from the heart!

— Donald J. Trump (@realDonaldTrump) February 1, 2018
Most of his speeches in the coming months will likely be at campaign-style rallies, where his wayward, shoot-from-the-hip oratory will go down a treat among a sycophantic crowd lapping up his every word, while alienating more moderate voters. The new State of the Union Trump we saw on Tuesday night may have been far more effective than the usual 'I am a genius' Trump, but it will probably only go to show Republicans what they are missing.