US president Donald Trump announced today that the United States will pull out of the Iran nuclear deal, a deal he referred to as "the worst deal ever" during his presidential campaign. There are fears from allies such as the United Kingdom and France that deciding to pull out of the deal may put Iran back on the path towards a nuclear weapons programme.
The Iran deal (formally the Joint Comprehensive Plan of Action), was signed in 2015 to stop Iran from acquiring a nuclear weapon. Iran agreed to start curtailing its nuclear programme, allowing inspections of key nuclear facilities by the International Atomic Energy Agency to ensure compliance, and limiting their programme to peaceful uses only. In exchange, the European Union, China, Russia and the United States agreed to lift sanctions on Iran's nuclear enrichment programme, affording them greater access to the global economy.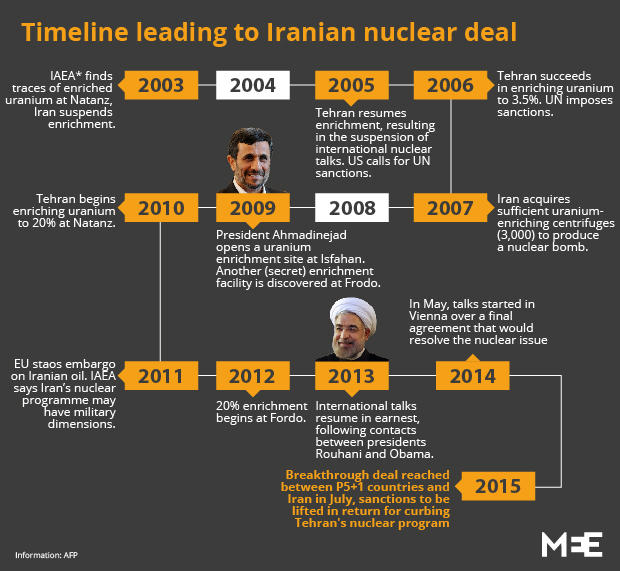 The deal took two years of negotiations to complete, and was hailed as a boost for international relations in the region because it ended over twelve years of 'deadlock' over Iran's nuclear enrichment programme, which had threatened to trigger a war in the Middle East.
Some have claimed that Trump's opposition to the deal is not ideological, but merely an attempt to undo former President Barack Obama's foreign policy legacy, as he has attempted with repealing and replacing Obamacare.
I will be announcing my decision on the Iran Deal tomorrow from the White House at 2:00pm.

— Donald J. Trump (@realDonaldTrump) May 7, 2018
Donald Trump's criticisms of the deal are that it falls short of addressing Iran's aggressive behaviour in the region, or its missile programme. He remarked today that "it is clear to me that we cannot prevent an Iranian nuclear bomb under the decaying and rotten structure of the current agreement." He claimed that the deal is "defective at its core", and called it a "horrible, one-sided deal".
Despite the deal, Iran still tests ballistic missiles, and supports the Bashar al-Assad regime in Syria as well as Hezbollah, which is widely considered to be a terrorist organisation. Tensions remain with its regional rival Saudi Arabia, which the deal does not make any steps towards alleviating.
Trump clearly sees this aggression as evidence that this "murderous regime" never desired a "peaceful nuclear energy program", and therefore it was paramount to disband a deal that allowed Iran to "continue enriching uranium and reach the brink of a nuclear breakout".
President Trump cited Israeli intelligence documents, "long concealed by Iran", that purported to show that Iran has a history of pursuing a nuclear arsenal.
Trump took a question from a reporter after his statement, who asked how leaving the deal will affect US security. He answered that his decision "will make America much safer". US Secretary of State Mike Pompeo, has announced that sanctions "will go into full effect" to "remind the Iranian regime of the diplomatic and economic isolation that results from its reckless and malign activity".
Secretary of State Mike Pompeo (Source: Getty Images)
Israeli prime minister Benjamin Netanyahu has said Israel "greatly appreciates" Trump's decision. French president Emmanuel Macron, however, reacted negatively to the news.
France, Germany, and the UK regret the U.S. decision to leave the JCPOA. The nuclear non-proliferation regime is at stake.

— Emmanuel Macron (@EmmanuelMacron) May 8, 2018
We will work collectively on a broader framework, covering nuclear activity, the post-2025 period, ballistic activity, and stability in the Middle-East, notably Syria, Yemen, and Iraq.

— Emmanuel Macron (@EmmanuelMacron) May 8, 2018
Boris Johnson, the UK foreign secretary, has lobbied Trump to re-commit to the agreement because "this pact offers the fewest disadvantages" of all the options available for ensuring that Iran never gets a nuclear weapon. Iranian President Hassan Rouhani said on Monday that the current deal could survive even without the US. However, Foreign Minister Javad Zarif said last week that Iran would "most likely" leave the deal if the US withdrew from it.