For pretty much all of my life, I have been a fan of the 'beautiful game'. In this time there have been several brilliant players of Afro-Caribbean heritage, who have captured the imagination of fans worldwide. Even though they may not have worn the shirt of your favourite club or country, as a fan of football, you couldn't help but admire their style. 
They were marketed as more than just great footballers. Through their various prominent advertising campaigns, they became cultural icons. Many of us remember the Renault Clio 'Va Va Voom' campaign, featuring Arsenal legend Thierry Henry. Created to make the Clio more appealing to men, Henry was considered by Renault to be the perfect protagonist. According to Johnathan Wignall, at the time Renault UK's head of advertising, Henry represented the 'modern man' who is skilled, intelligent, and stylish.  
Thierry Henry in the Renault Clio Va Va Voom commercial (source: Renault via YouTube) 
It would be careless not to mention other prominent black footballers of yesteryear, such as Ruud Gullit. Originating from Surinam and started at AC Milan in the 1980's, Gullit was a two-time World Player of the Year. He also won the Ballon d'Or in 1987 and is often compared to the greats, such as Diego Maradona. Ruud Gullit was unapologetic in his blackness. Sporting dreadlocks at a time when they were a much less common sight, in European football. He even dedicated his 1987 Ballon d'Or to Nelson Mandela, who was still imprisoned by the Apartheid regime in South Africa and whose struggle was still unknown to many Italians. In an interview in 2007, Mandela referred to Gullit, stating that; "I have lots of friends now, [but] when I was on the inside, you were one of the few". 
Ruud Gullit meeting South Africa's Nelson Mandela ( source: Pinterest )
Despite the success of black footballers, the sport is still a microcosm of society. Thus, the social cancer that is racism, remains rife within the sport. Existing in overt and covert forms, it has shown very little sign of going away. Footballers playing in the United Kingdom, a country that prides itself on its tolerance and social inclusion, have been subjected to racist abuse for decades. John Barnes and Mark Chamberlain played for England in the 1980's and were both subjected to threats from racist groups such as the National Front. Barnes scored one of the best England goals ever against Brazil in 1984 but still claims that England had only won 1-0. In his interview with the Independent in 2013, Barnes stated that during this period a "nigger's" goal 'didn't count'. 
Despite anti-racism slogans such as 'Say No to Racism' and 'Show Racism the Red Card', modern-day black footballers don't fare much better than their predecessors with regards to protection from racial abuse. More recently, England striker Eniola Aluko suffered racial abuse at the hands of former England manager Mark Samspon, lost her place in the team and received very little support from her international teammates after she made allegations of bullying in a 2016 FA cultural review. Samspon told Aluko to "make sure her Nigerian family did not bring Ebola to the UK" and asked her teammate Drew Spence if she "had been arrested four times". An initial investigation cleared Samspon of making racially discriminatory remarks to Aluko, but the FA offered Aluko a £80,000 settlement if she were to write a statement saying the FA were not institutionally racist.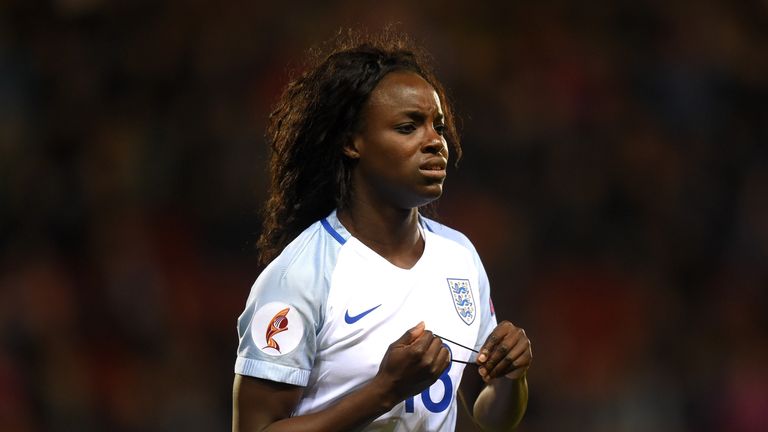 England's Eniola Aluko who went through a deposition with the FA over racial abuse in November 2017. (Source: SkySports) 
For every brazen racist incident, there are microaggressions from the media, pundits, and fans. There is a recent trend by football pundits to praise black players for their physical attributes more so than their technical ability. As a result, black players are often reduced to their physical attributes and are implicitly viewed as nothing more. Paul Pogba has been a victim of this, despite clearly being an exceptionally technical player with a high footballing IQ, his six-foot-four frame seems to attract more attention. Match of The Day pundit Danny Murphy commented on Pogba, stating:  "What he's best at is using his athleticism, his power… he's nice and fit, and strong".
Mainstream media coverage often exonerates white footballers for poor behaviour, whilst holding black footballers to different, often ridiculous double-standard. Take the treatment of Raheem Sterling and compared to that of Wayne Rooney. Sterling is criticised for purchasing batteries from Poundland in his £500,000 Bentley.
Raheem Sterling's deleted Instagram from January 2017 criticizing the Daily Mail's display of racial micro-aggression. 
In contrast, Rooney who was charged with a drink driving offence in September 2017, endangering his own life as well as the lives of others, did not receive a negative backlash anything like that of Raheem Sterling.
Despite the wealth black footballers may possess or their suitability for flashy marketing campaigns, football does not protect them from society's ills. It would be naïve to expect FIFA to solve an issue which our current government is struggling with. However, it is not unfair to demand that the sport makes a more concerted effort to eradicate racism in all its forms, rather than simply trying to be seen to do something. 

---