The World Celebrates Biden and Harris
For so many of us, it has been the longest week in history, dictated by CNN, MSNBC and constantly refreshing the New York Times website. The whole world was watching the United States of America just waiting to see what would happen. To see if Donald Trump would be re-elected.
We are still awaiting an actual confirmation, and perhaps we will be waiting until January when Biden and Harris are sworn in and we can be sure that Trump is gone for good. That hasn't stopped any of the celebrations.
Kamala Harris is the first woman and the first African-Indian American to be elected Vice-President of The United States of America. Women of colour everywhere are rejoicing in her victory. She has made history. Celebrities took to social media to celebrate a woman, a woman of colour, a Black woman, an Indian woman being elected in what is the second most powerful seat in the US.
People are comparing Kamala Harris to Ruby Bridges, the first African-American child to go to an All White School. Kamala Harris' win, seems like a win for us all.
Joe Biden on the other hand reminds so many of us of the 'good 8 years' with Barack Obama. Biden with his joyous and somewhat 'fun' personality contrasted the dishonest and often chaotic nature of the current President. Biden triggers nostalgia in all of us, not the 'nauseous back in high school thinking about about how horrible it all was' nostalgia, but the kind that almost has you texting an ex and letting them back into your life.
Prior to this week, social media was teeming with debates and criticism had started (in the same way they did for Hilary Clinton back in 2016) against Biden and Harris. These are people who sit on the left of the political spectrum claiming that neither candidate was any good. It was just this sort of rhetoric that led to people not going to vote in 2016, giving Trump the advantage and leaving the Democratic party with a huge loss.
This election, however, the strategy from many seemed to be: Let's get Trump out and then we can sort out Biden and Harris. The idea of another 4 years of Trump was too horrible for any of us to comprehend and so for once the left unites and pushes the Biden and Harris ticket.
The Good Old Days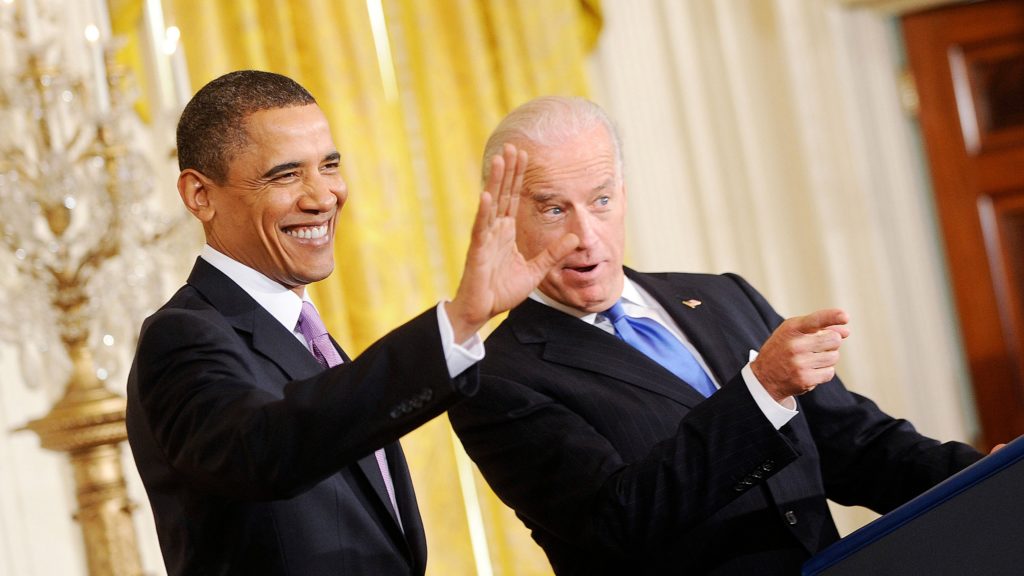 On the surface, and perhaps because he is in opposition to Trump, Biden seems like a fairly liberal man. The enemy of my enemy is my friend. But Biden has never really faired well with the younger Democrats. Interviews conducted at the end of last year by the Huffington post found that "Young Democratic voters are often simply more liberal than Biden." He is seen as outdated, a stand-in for the establishment. Younger Democrats are also more likely to criticise Obama and his run.
Obama (as much we do not want to admit it) was not the perfect Democrat. Obama and Biden's slow movement on the closure of Guantanamo (which some were calling half-hearted) led to them sending prisoners abroad. Leaving a half-empty Guantanamo poised ready for Trump to repopulate. Their combined push for the use of aerial drones without a proper look at the legal framework for targeted killings, leaves the Obama presidency open to criticism from human rights activists and lawyers everywhere. The Obama presidency even continued with programmes around surveillance that were introduced in the Bush era – again a violation of human rights. Perhaps the biggest problem liberals may have with Obama and Biden, is how the administration dealt with issues in the Middle East; the lack of response to the slaughter of Syrian civilians; the way Israel was granted military aid packages despite its war crimes in Gaza and the ever expanding settlements; supporting a Saudi-led coalition while they continued to bomb Yemen.
While young Democrats didn't want another 4 years of Trump they also didn't want a return of the Obama Presidency, one that Biden claims he is the heir to.
Kamala Harris – A Cop
A video Kamala Harris uploaded to twitter, as she rang her running mate Joe Biden, went viral. Many had pointed out similarities between her saying "we did it Joe" over the phone, to Olivia Pope saying "We did it Fitz" in the American TV Show Scandal.
She is the first woman to be elected Vice-President, but that shouldn't stop her from being criticised. Just as many in the UK still criticise Conservative Secretary of State, Priti Patel. Harris' pro-cop stance in the wake of the Black Lives Matter movement hads led to many calling her a 'cop'. Her response to being a prosecutor: "There is a duty and responsibility to be a voice for the most voiceless and vulnerable and to do the work of justice. And that's the work I wanted to do" was heavily criticised. She didn't recognise that in the US, the ones who are voiceless and vulnerable, are most often the ones being targeted by the Criminal Justice Systems.
Even her parents took issue with her being a prosecutor. They both met in Berkerly at the height of social progress in the 1960's and so rightly asked their daughter why she had started to jail people in the 1990's (the start of the mass incarceration crisis).
While her identity is revolutionary, her ideas are not so much. She tried to win people over with her stories about being bullied in school, but it was difficult to feel sympathetic towards her while she continued justifying her work as a prosecutor.
As the activist Ceyenne Doroshow wrote on Instagram recently, "Kamala Harris is no friend to trans women black trans women and always a cop. I don't support her at all."
Harris has opposed calls to decriminalise sex work. Proposition K was to redirect funds that go into prosecuting sex workers and feed it back into public health solutions to treat STDs etc. Harris rejected the bid claiming that sex work was the reason for the HIV/Aids crisis. This is despite studies showing the opposite.
Harris also supported FOSTA/SESTA which in 2018 led to the removal of dozen's of websites that provided sex workers with life-saving mechanisms of finding safe work. As the sex work activist and writer Andre Shakti, wrote for the online publication them "sex workers want to see an end put to sex trafficking just as much as anyone else. But instead of working with us to effectively identify and eradicate trafficking…government officials are seizing and shutting down the very online platforms that we use to make a living and keep ourselves safe." 
Harris has remained quiet on numerous other issues, such as trans rights and the rights for those incarcerated. Her silence on these issues, given the recent movements towards equality, diversity and inclusion (following BLM protests), deafening. She is, she she put herself, "a top cop". And the American public would do good to not forget that.
A Complacent America
All in all, the marginalised can relax a little knowing that Trump is on his way out. But once we've slept and recovered from CNN ad breaks, the real works starts. Racism, homophobia, sexism and Islamophobia still exists in the US. Just because we have a Democratic administration coming in, doesn't mean we'll get progress. We'll just go back to how things were during the Obama Presidency.
The fight still continues.