by Jireh Antwi
Samsung's next flagship phone and probably the most anticipated phone of 2018 is coming soon. The S9 and S9+ is nearly here.
With a rumoured camera upgrade having a dual camera similar to the Samsung Note 8 And iPhoneX, an improvement in low light shots provided by sensors with variable apertures, the new phone also comes with a new colour palette of Lilac Purple and Coral Blue. AND it still retains its headphone jack unlike the new Apple iPhone.
Samsung's Galaxy S9 looks set to retain the headphone jack https://t.co/VtSUdtQfIA pic.twitter.com/HzemfofOqO

— The Verge (@verge) February 9, 2018
The #samsung Galaxy S9 and S9 Plus leak in a stunning Lilac Purple color (Update: Coral Blue, too!) https://t.co/T763xm43rI pic.twitter.com/0dwbmqwyyy

— Android Authority (@AndroidAuth) February 7, 2018
The predecessor of the S9, the S8 so far has been a fantastic and useful phone for the modern consumer, and a huge success for Samsung, being one of the first to be Bezel-less and featuring all screen to edge display. The S9 is expected to have a 5.77-inch display compared to the 5.8-inch display of the S8, nonetheless the reduction in size will surely be made up for in other aspects.
There have been leaks on the new Samsung S9 with reports showing features that the IPhoneX doesn't have. Whilst the iPhoneX was a top standard performance phone, it is to be believed the S9 will be the new forerunner.
Samsung will only build or as their phrasing it reimagines on the S8 rather than a complete overhaul with the addition of having Android 8.0 as its operating system from the offset and equipping it with Bixby AI.
Unfortunately the concept of the bendable dual screen isn't yet here on this S9 model but I'm sure Samsung will be on the forefront to make it happen.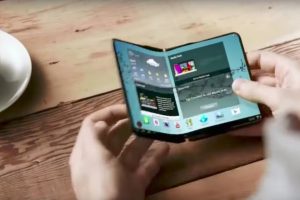 Announcements for the phone will be given at the Mobile World Congress on February 25. With the phone being rumoured to be released early March. Our sources tell us that the new phone is NOT going to be called the S9. Has Samsung found a way to beat Apple on the phone numbering system? iPhone X may have to watch its back. For more updates, be sure to keep checking out the TCS website.
Jireh is a Microbiology and Molecular Biology graduate from the Manchester Metropolitan University.  He has a passion for various different sports, scientific discovery and trainer brands.