Following Amber Rudd's resignation from her post as Home Secretary, Sajid Javid has been appointed in her place. He becomes the first BAME (Black, Asian, Minority Ethnic) person to take up that position. But this may not be the 'all hail diversity' moment the country wants it to be.
Amber Rudd resigned from her position after the Windrush Scandal. Her memory loss regarding the deportation of residents of the UK from the Windrush generation opened her up to a tirade of comments from politicians and activists who were more than displeased with her behaviour. Her resignation was welcomed with open arms.
BREAKING: Amber Rudd resigns after it emerges she's only lived in the UK for 54 years.

— Have I Got News For You (@haveigotnews) April 29, 2018
Amber Rudd resigns to spend more time with her racism

— The Rochdale Herald (@RochdaleHerald) April 29, 2018
People seem to think that perhaps Rudd was not entirely to blame, as the person behind the immigration policies under fire was in fact Theresa May. After her resignation, many have called for May to resign too.
The new Home Secretary Sajid Javid, is supposedly the new beacon for diversity in amidst what seems like a racist scandal in Windrush. Javid only entered Parliament in 2010. Like the Mayor of London Sadiq Khan, he is the son of a Pakistani bus driver. Javid went on to become a multi-millionaire banker, most notably for Deutsche Bank. In the short time he has spent in Parliament, he has not gone unnoticed. In 2015, speaking at a Westminster press gallery launch he began, "I have today agreed to let my name go forward for the leadership … oops, wrong speech." He clearly knew what the pundits and commentators were saying about him.
The real question is, will Javid provide us with a much needed shake-up within immigration and policing policies, or have we just replaced one type of Tory with another?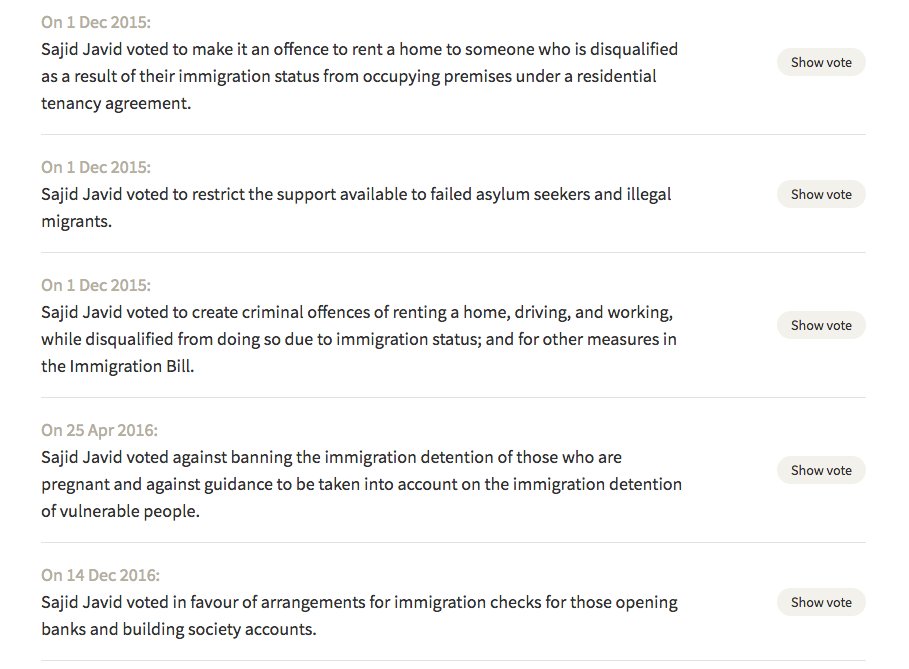 His voting record does not fill immigrants with joy. Not once has he voted in favour of immigrants – in many cases made things much worse.
Speaking to National Housing Federation Conference in 2017, he said: "I grew up on Stapleton Road in Bristol – also known as 'Britain's most dangerous street' or 'oral cesspit', depending on your tabloid of choice. I remember my school careers adviser telling me that there was no point in aiming high because kids from my neck of the woods simply didn't take A-levels or go to university. Society had low expectations of us, and we were expected to live down to them. It was the same years later, when I was applying for jobs with merchant banks in London. I got the sense that the interview panels had never before met someone who lived in the overcrowded flat above the family shop."
He may come from an immigrant background, be the first Muslim and the first BAME person to be appointed as Home Secretary, but Sajid Javid seems like he'd actually do the least for migrants.
In 2015 we saw people of colour on many media outlets talking about their issues with the UK's immigration policies that allowed 'too many foreigners into this country'. It may come as no suprise then, that we cannot rely on Sajid Javid's background to support immigrants in the UK.
Perhaps I am being too harsh. We asked for more diversity and representation at the top. We just never specified that the type of representation matters too. Sajid Javid has only just been appointed. He may bring forward many changes to policies that Amber Rudd could not. Let's have the same conversation in 6 months time and see what changes he has implemented.