Quaint. A word that would usually put me off a bookshop, but I had some time to spare while waiting for a friend and decided to venture in. I've become one of those people who buys most of her books online – the majority from Amazon: I know, but I'm young and skint. The first thing that struck me was the complete lack of books with anyone who wasn't white on the cover. That might not have been unexpected in the middle of the Lake District, for example, but this shop was in the middle of London, a city with an ethnic minority population of over 55%. Big publishers based here only have to walk out of their front door to see the multi-culturalism that is London – What's their excuse?
I made a decision about a few years ago to only buy books by BAME authors or by underappreciated women (except for reference books – which white men seem to have a monopoly over. Maybe being white gives you an automatic qualification to make whatever you say true.) The lack of books by BAME people upset me. The three books I saw were by popular authors of colour, Malorie Blackman, Bali Rai and Zadie Smith – three incredibly brilliant but also three incredibly well-known names in the book industry. The names surrounding them were names I had never heard of before. I had to do a quick Wiki search for some of them and came to the conclusion that they were all white. It occurred to me that these small book shops didn't have a motive to show books by 'unpopular' writers of colour, or books with BAME protagonists. I did some research and found that bigger bookstores did a Black History Month showcase (in October) but apart from that had a 'World Books' section which consisted mainly of Danish crime novels.
Is this the future of books by writers of colour? To be pigeon-holed into a corner no one goes into? Clearly BAME people read books too, is it too much to ask to see books by BAME people for BAME people?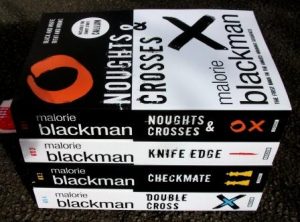 I've worked in publishing for the past 6 years and have fortunately worked with people in the industry who strive to publish more women and writers of colour. Yet the state of the publishing world still surprises me. Most publishing organisations are white led, they have no reason to have more than 'one black author on their books'.
The blatant racism that is conveyed through which books are published, is alarming. You only have to look at the way Muslim women are portrayed in book covers – veiled and over looking water. This 'saving the Muslim women' trope doesn't really help perception of Muslim women. There exists, publishers that run solely for the purpose of publishing work by BAME writers. Peepal Tree Press is one of them, but their presence in their mainstream market is lacking.
The state of the book industry is almost worse when it comes to children's fiction. I remember being in the school library (a fairly big library in a private school) and looking for books that mentioned or discussed race. I picked up Darren Shan to start with, thinking it said Darren Shah. Upon realising that it wasn't a book by a South Asian writer who would possibly mentioned things I could relate to, I put it back down and finally found Malorie Blackman. Being starved of books from any non-white writers I read the Noughts and Crosses Trilogy cover to cover (unfortunately due to the library not having enough copies, I read them backwards!). I found Bali Rai, and finally I found a book that talked about issues I knew. I didn't have to read through books and books where the protagonists would have boyfriend problems. Their first day of school didn't mean they encountered weird looks and racist remarks about headscarves.
It made sense when I was a kid. Why would white people want to read about brown kids??! What I didn't think about at that age, was that I was being forced to read about things I had no idea about or even interest in. I was being forced to relate to the experience of my white classmates with whom I had little in common. This world where the characters were never racially abused or attacked, where they didn't have to constantly defend or explain their religion was something I began to idealise. I began wishing I was white. Just so I could fit in. Maybe if I'd had more books that related to me I wouldn't have been a child that had a difficult relationship with her skin.
As an adult the problem continues, but as children there is nothing to keep them reading, if they can't find themselves reflected in any books.
In a time where BAME authors are told by big reputable publishing companies that their story of migration from the African continent to the UK has already been done and that they 'have already filled their quota' what can we do to increase diversity in books? You may not feel it is important but think of those who can never find themselves reflected anywhere.
There are organisations out there that are trying to rectify this uneven representation of diverse characters in children's fiction. But it doesn't seem to be enough. Will they make any change? Or is it just a cycle, another initiative, another development project? Who knows. Ask me again in 5 years.
Afshan D'souza-Lodhi is a scriptwriter and poet based in Manchester. As well as her own writing Afshan is keen to develop other younger and emerging artists. You can find her fighting against police brutality and injustice alongside the Northern Police Monitoring Project.