Arsenal Football Club has come under fire for their pro-Ukraine, anti-war stance (along with the rest of the Premier League) despite previously stating that they 'do not get involved in politics.'
In response to the ongoing conflict between Russia and Ukraine, Premier League clubs had one-minute applauses before all fixtures during Matchweek 28. Arsenal was no exception in their game against Watford away at Vicarage Road, which they won 3-2.
However, Arsenal has been accused of hypocrisy for this, as this situation has been compared to a previous political issue, which the club distanced itself from.
Former Gunners midfielder Mesut Ozil, a German with Turkish origins, and who is a Muslim, made comments about the alleged persecution of Uighur Muslims in China in 2019. Arsenal distanced themselves from his comments, saying, in a statement, "Arsenal is always apolitical as an organisation."
Ozil's comments prompted him to be removed from the Chinese edition of the Pro Evolution Soccer 2020 video game, and the state broadcaster refused to show Arsenal's next match against Manchester City.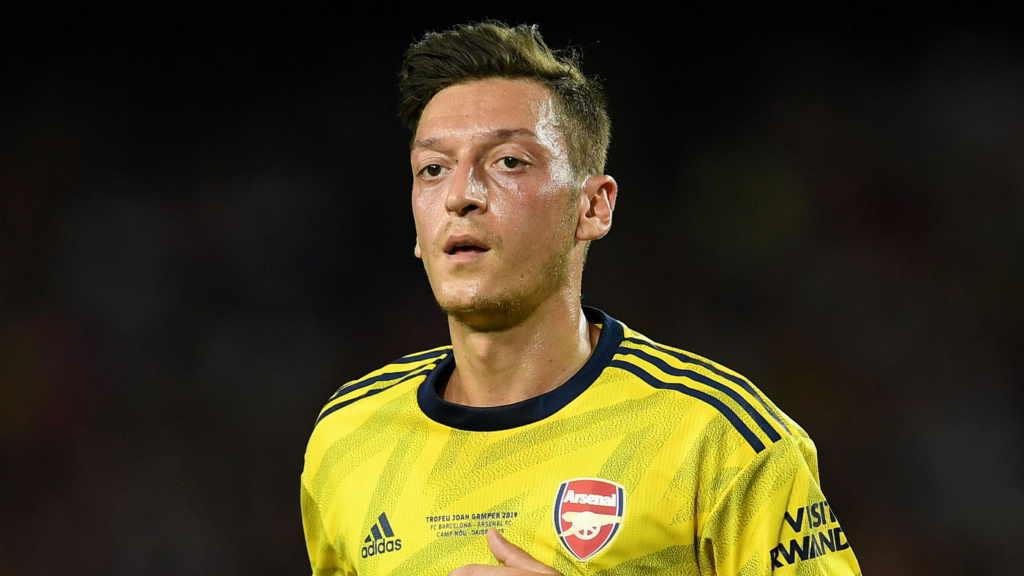 Many have suggested a link between his comments and the manner in which Ozil left the club, as he rapidly fell out of favour with the club's hierarchy and subsequent managers. For a period of time, the World Cup-winning midfielder was not even registered for either Premier League or Europa League squads.
The German eventually departed for Turkish club Fenerbaché in 2021.
Are we really surprised?
The anger towards Arsenal is justified but expected. It is a testament to society's moral compass that we are still outraged by injustice and hypocrisy, and other aspects of the political arena often intertwine with the sport.
Sportswashing is a very real thing, with countries with multiple human rights violations often using sport as a way to improve the image of their country. The general public gets so caught up in the spectacle of sport that they overlook – or simply don't care about – the metaphorical skeletons in the closets.
Chelsea fans voiced their support for their owner and Russian oligarch Roman Abramovich, who has decided to sell the club due to his ties with Russian President Vladimir Putin.
Qatar, which is due to host the World Cup this year, has been accused of rampant human rights violations, with workers allegedly exposed to forced labour, unpaid wages and excessive working hours.
The Public Investment Fund, Saudi Arabia's sovereign wealth fund, recently bought Newcastle United from billionaire Mike Ashley. Amongst concerns regarding online piracy, human rights campaign group Amnesty International pointed to its human rights record, calling the takeover "an extremely bitter blow for human rights defenders."
Hatice Cengiz, the fiancée of Saudi journalist Jamal Khashoggi, who was murdered by the Saudi regime, was also against the takeover.
These are just a few examples of countries that have committed obscene crimes and used financial investment to persuade Western countries to look the other way, and China is no exception.
The unofficial 'deal' is simple; human rights-violating countries invest significant funds into the sport, with the clubs willing to not criticise their corrupt paymasters.
Chinese state broadcaster iQIYI owns the exclusive rights to the Premier League, reportedly estimated to be worth £30 million a season until at least 2025. Therefore, it is no surprise that Arsenal distanced themselves from Ozil's comments, as they have commercial interests with China.
Some would argue that the ongoing conflict has the capacity to affect Arsenal and England directly, as the invasion is taking place in Europe, prompting more urgent responses.
On the other hand, many would argue that Arsenal is somewhat protected from any repercussions of Russian retaliation to this, as world governments have issued tough sanctions on Russia due to their ongoing invasion of Ukraine.
To an extent, this is true. Trade and other forms of commerce have affected the West's relationship with Russia. Many products and services have been suspended indefinitely, pending further updates on the situation.
However, it would be interesting to ascertain whether or not Arsenal would have a similar public stance if the Russia/Ukraine situation were not so widely publicised and condemned. We may never know.
By claiming to be apolitical and then openly supporting a country, Arsenal have shot themselves in the foot. It's clear to see this is not about morality and staying away from politics, but rather about trying to protect their financial interests.
Therefore Arsenal are to be condemned for their blatant hypocrisy and rightly called out for it, but one would be hard-pressed to find another club who wouldn't behave in a similar manner in these circumstances.