Today, The African National Congress (ANC), South Africa's largest political party have elected Cyril Rampsho as it's new leader. Mr Rampshosa was elected following a protracted voting process that ran throughout last weekend. Ramaphosa won the popular vote by 2,440 votes to 2,261.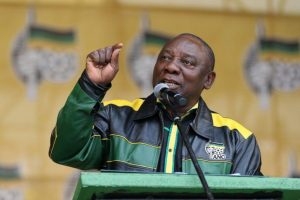 His main competion for the Presidency of the party was Nkosazana Dlamini-Zuma, Foreign Secretary and ex-wife of current President Jacob Zuma. Ramaphosa is considered as the more popular option between the two candidates. He came into this battle with the backing of the business community and the trade union and then ran on a ticket of anti-corruption. Corruption has plagued the South Africa state under the direction of Zuma.
His opponent, Ms Dlamini-Zuma focused her campaign on white capitalists and promised to tackle what seems to be enduring racial inequality. The result sparked celebrations on the streets of the capital city, Johannesburg. Not surprising when one considers what the South African people have had to contend with  in recent years. The outgoing President, Mr Zuma, has been heavily criticised in recent facing allegations of allowing capitalists, namely the Gupta family, to hijack the South African state for their own ends.
In conjunction with enduring, rampant wealth inequality Mr Zuma has proved himself a very unpopular President.
Zuma could stay on as President until 2019, however it is also very possible that Rampshosa may considered Mr Zuma too big a threat and "recall" (remove) Zuma, essentially allowing Ramaphosa to seize power and reshuffle the cabinet to consolidate his own power.
Ramaphosa, has the chance to steer to South Africa in a new direction. The economic context looks promising for the what could well be the next President of South Africa. Last week economic data showed an increasing current account surplus and GDP rose by 2% in Q3 and inflation fell to 4.4%. In addition, South Africa is experiencing rising demand for oil products, signalling an increasingly healthy economy as the country bounces back from a slump in previous months. Therefore the potential for Africa's most advanced economy is evident.
One could argue that Ramaphosa may bring more of the same. Ramaphosa himself is very wealthy, he entered business full time in 1997 and thus could be considered to be apart of the group that has supposedly hijacked the South Africa.
However, Ramaphosa is a former ally of Nelson Mandela, he sat as Chairman of the National Reception Committee which aided in the release of Nelson Mandela from prison in 1990. If he does indeed buy into the values of the ANC he will want to see the party restored to it's former glory by healing it's divisions and restoring its reputation in the eyes of the public. If he can manage that and keep to his promises of fighting corruption then perhaps the South Africans' jubilation won't be considered in vein.