Stormzy's final performance at the Brit awards may have been shocking to some, but those who have been genuine fans for a while know that it is also true to form.
In September 2017, when receiving a GQ award presented to him by Jeremy Corbyn, Stormzy went as far as calling the Prime Minister a "paigon" (a slang term for someone considered fake or a liar) which was met by giggles from Mr Corbyn behind him.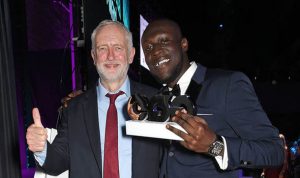 Funny though it may be, the rapper has never been one to shy away from politics and social issues. Time and time again, we've seen him call for change whether it's within the music industry, the media or the government itself.
We've seen him speak publicly in interviews with Channel 4 on his battle with depression and recently he's proven himself to be a man who takes accountability for his actions,.When tweets were brought up from years ago showing things that he had said, instead of running from them he apologised and displayed growth.
All in all, Stormzy has quickly become a young man that people find themselves drawn to and find it easy to listen to. This meant that a lot of people were listening during his Brit Awards performance when he rapped the words:
"Yo Theresa May, where's the money for Grenfell? What, you thought we just forgot about Grenfell? You criminals."
This strong message didn't end there. Stormzy also took to twitter to help raise the signatures for a petition that had been started by a victim of the Grenfell Tower incident. In doing so he raised enough signatures for the petition to be discussed and to force the government to respond.
The performance caused a backlash from Tory MP's who have written a letter to Sir Peter Bazalgette, the ITV chairman, saying they have been "saddened to hear Stormzy's unfounded Grenfell Tower allegations go unchallenged."
There has also be a reaffirmation that Theresa May and the government as a whole are "making every effort to establish the truth of what happened, support the survivors of the fire and ensure that such a terrible tragedy will never happen again."
For the most part though, the performance has been met with outstanding support in the artist's favour, including from other popular celebrities campaigning for social justice issues, such as Lily Allen.
Whether you agree or disagree with the way in which Stormzy went about it, his call for action has certainly roused questions, not only for Number 10 but also the rest of us.
His message has always been clear: where you can stand up for others in need, you should. Consequences be damned.
You can watch the full performance here: