Boris Johnson's new plans to inject £1.1bn into the police force and hire an extra 20,000 police officers by 2022 means that more young people will be stop and searched
My job is to make your streets safer – and we are going to begin with another 20,000 police on the streets .

Boris Johnson in his first speech as Prime Minister of the United Kingdom
With more police, comes an increase in stop and search across the UK. Organisations are keen to educate young (particularly BAME) people about their rights. Being stopped and searched by police can be a frightening experience, even when you have nothing to hide.
Research has shown that black people were more likely to be stopped and searched than white people "in 2017/18, there were 3 stop and searches for every 1,000 White people, compared with 29 stop and searches for every 1,000 Black people."
The rate at which some young boys are being stopped and searched almost borders on harassment. Johnson's promise to increase section 60 areas (an area where police can stop and search without having 'reasonable suspicion') based on Cressida Dick's (head of Metropolitan Police) assumption that stop and search leads to a decrease in crime, means that more young black boys will be harassed. The damage that this is already doing on the trust within communities is staggering. Liberty Policy and Campaigns Officer, Rosalind Comyn talks of the data that the civil rights organisation analysed in response to Commissioner Dick's statements: "These statistics reveal that race disproportionality in the use of suspicion-less section 60 powers is rising at a staggering rate – statistics the government held when they decided to relax restrictions on when police can use these powers."
Current Stop and Search Powers in The UK
Police powers over stop and search have long been a contentious issue. The old 'sus laws' which unfairly targeted BAME people and led to many riots in London (Brixton and Toxteth) were replaced in the 1980's with PACE (Police and Criminal Evidence Act). The idea was that PACE was supposed to regulate powers to stop police being able unjustly stopping and searching (i.e. without reasonable cause). However, over the years, it has become clear that PACE still allows police to disproportionately target BAME individuals.
Below is a quick guide to the different powers that the Police currently have in the UK.
S1 Police and Criminal Evidence Act 1984
This power can be used to stop anyone in a public place. A police officer can stop, detain and search a person or vehicle or anything in the vehicle for stolen or prohibited items. The police officer must have reasonable suspicion for suspecting they will find a prohibited item.  This stop and search power is frequently used by the police.
S23 Misuse of Drugs Act
The police often search individuals suspected of carrying drugs. Like the power under S1 of PACE, the police have to show that they have reasonable suspicion to suspect that a person is in possession of a controlled drug.

NOTE:  The police officer conducting the search is required to create a search record recording the object of the search, the grounds for making it, the date, time and place of conduct of the search and whether anything was found. This search record or receipt should be provided at the scene but can also be obtained by the individual at a local police station.

Also a police officer can ask an individual to remove outer clothing when conducting a search. If the police officer wants to remove more than outer clothing the search must be conducted by a person of the same sex. If an individual is asked to remove religious clothing e.g. a veil or turban, this must be done out of public view.
'Stop and account'
This occurs when a person is approached by a police officer and asked to account for their behaviour, presence or any items in their possession. There is no law that allows police officers to require a person to 'stop and account' and an individual is not obliged to cooperate with the police. However, refusal to provide information may form grounds for reasonable suspicion to stop and search an individual under the statutory powers described above.
S60 Criminal Justice and Public Order Act 1994
The police can stop and search any person or vehicle in a defined area within 24 hours without the need to establish reasonable suspicion. This power originally arose out of a need to tackle football hooliganism and is often used today to target low-level disorder, protests and knife crime.
Schedule 7 Terrorism Act 2000
The powers under the Terrorism Act allow 'examining officers' at ports and airports, to stop, question and detain individuals whom they suspect are involved in acts of terrorism, without the need for any reasonable suspicion.
Stopping motorists under the Road Traffic Act 1988

The police have the power to stop a vehicle for any reason and an individual will be committing a criminal offence if they fail to stop. A police officer can ask to see an individual's driving licence, insurance documents or MOT certificate. If these documents are not provided at the time an individual must provide them to a police station within 7 days.
To learn more about what to do once you are stopped and searched and what rights you have, including if you can record, please visit the Northern Police Monitoring Project's site.
Learn About Your Rights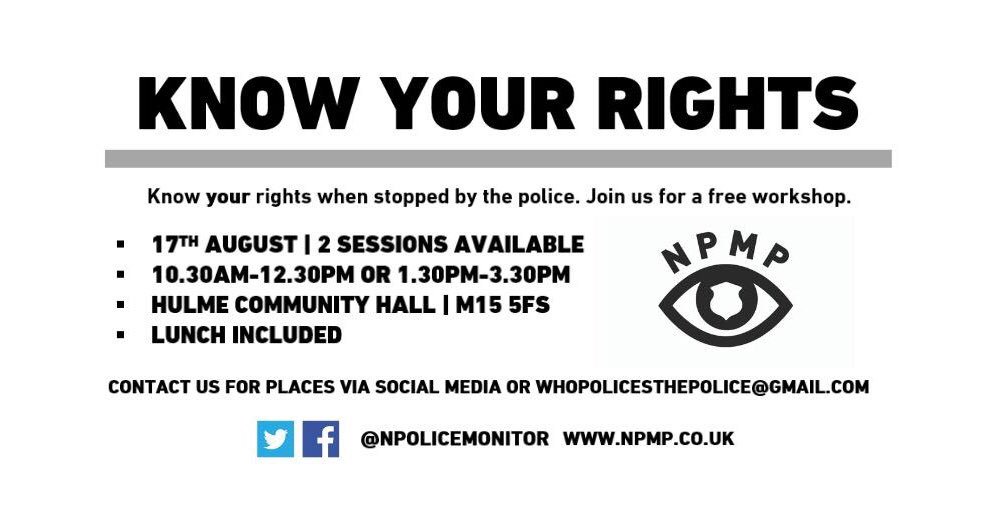 Organisations have created bust cards (as below) that people can refer to when being stopped and searched. Cards like this are available from NetPol and Northern Police Monitoring Project.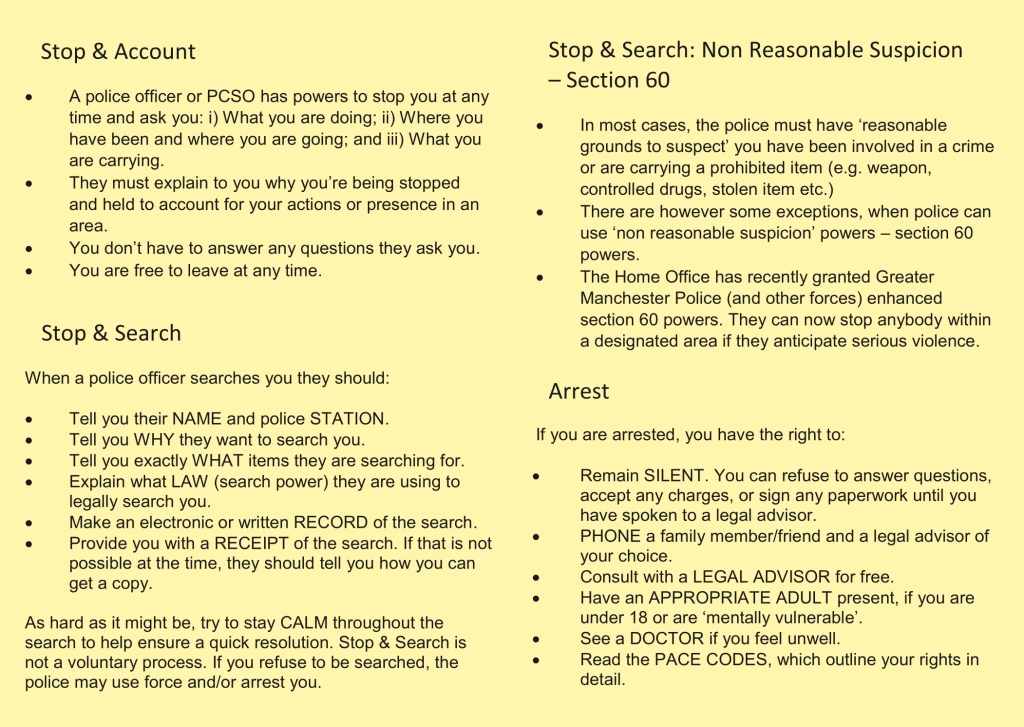 The Northern Police Monitoring Project (NPMP) is an independent campaigning and advocacy organisation that was set up to educate, empower and organise the people of Manchester and the surrounding areas. In the face of increasing police harassment, violence and racism they will be running workshops on 'Know Your Rights'.
The workshop being organised is intended to provide guidance to both people who seek to ensure that the police behave reasonably and those who are being harassed by the police. There are a number of keys areas to consider: stop and search, arrestable offences, police powers, police station guidance and the practicalities of bringing an action against the police.
It is essential that people are aware of what the police can and cannot do; spotting where police have behaved outside of their legal boundaries and challenging their behaviour in these cases is one way to effect a change in their attitudes.
NPMP will be holding a workshop on the 17th of August in Manchester for people that wish to learn more about their rights. there will be two sessions during the day and places are limited. To get in touch and book a place email whopolicesthepolice@gmail.com
Afshan D'souza-Lodhi is a scriptwriter and poet based in Manchester. As well as her own writing Afshan is keen to develop other younger and emerging artists. You can find her fighting against police brutality and injustice alongside the Northern Police Monitoring Project.