The Common Sense Network | 100% People Funded News Network – Phase 2
£150,000.00

Funding Goal

£10,630.00

Funds Raised

Campaign Never Ends

Campaign End Method
Campaign Story
£150,000.00

Funding Goal

£10,630.00

Funds Raised

Campaign Never Ends

Campaign End Method
Description
After over 500 people helped us raise over £50,000 In 50 days last year, we've achieved so much. Our team is now made up of 60 core and dedicated members. We publish articles every day, beating the BBC and other publications out the blocks on some. We've gained national attention from the mainstream media, produced various, shows, podcasts and online programs.
We completed a University tour visiting Birmingham, Manchester, Hull, Warwick and more… attended by over 300 people. Most importantly we haven't had to rely on any advertises, Russian oligarchs or any champagne socialists to keep us going. Your support has helped us build a network that is now over 3000 people strong and growing. All of this, in just 10 months.
Phase one of TCS is complete and was beyond our expectations. We didn't expect things to be moving so fast but we are working hard to keep up. With just 1 full-time staff, there is only so much we can do and that is why we are now at Phase 2 of this wonderful campaign.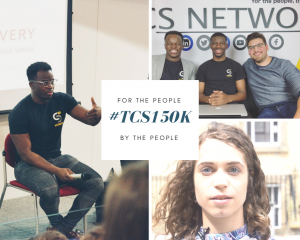 We are a team of over 60 (and growing) ordinary freelance, journalists, bloggers, commentators, illustrators and news reporters, who like you, are fed up with mainstream media and want to do something about it.
Last year we sought out creating a news outlet funded by the people and were successful. We achieved what many said was impossible raising over £50,000 IN 50 days to bring the project to life.
The normal route to funding for news media is to look for corporations, capitalists, or champagne socialists who would fund our project. But was what they would want in return worth it? NO.
Our success last year was possible because of people like you. Together we have built a  multi-faceted news network that produces quality content daily. People like you reading this made this network possible by giving and now in Phase 2, we need your help again.
The mainstream media is broken and it has been for a while. 6 companies control 81% of the news media market and 3 networks dominate all of news reporting. These networks have many ties with people and organizations that want to influence what's reported—think billionaire owners, mega-corporations, Russian oligarchs and big-money advertisers.
Because they depend on these funders to keep the lights on, they have an incentive to represent their interest. Whilst they do that, they are not representing you or driven by presenting you with the truth.
Read more about the problem here.

The Common Sense Network is the solution. Rather than waiting for the mainstream media to change, we have been making that change. We are attempting to take power back from the elites and hand it back to the ordinary people. TCS Network is a major independent platform, free from compromises and partisan agendas that come with a dependence on corporate advertisers and the ultra-rich. We are 100% funded by people like you and so our only agenda is to work in the interest of people like you.
If we are serious about a news media system for the people, then it must be controlled and funded by the people. So here we are again, looking to you to continue believing in us and helping us reach our new targets.
Why Common Sense?
The Common Sense brand is two-tier.
Our news commentary isn't left or right, instead, TCS Network is THE platform where you can see opinions across the spectrum, leaving YOU as the judge, jury. We don't tell you what to think or bully you into any specific corner. You get a chance to hear both sides and find 'Common Sense' yourself. You get to decide what you think. Our journalists are accountable for they write and can be contacted through our members forum.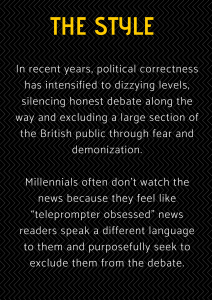 TCS Network will get rid of this. Our commentary, across the network, will be 'common sense'. Straight talking commentary that shoots from the hip. No spin, no bias, the honest and unfiltered truth; because unlike mainstream media, we trust people with the truth. We have no sponsors to please or rich oligarchs to appease. We are only accountable to you
TCS Network operates through three main arms which are co-dependent and work together to create a holistic news media service: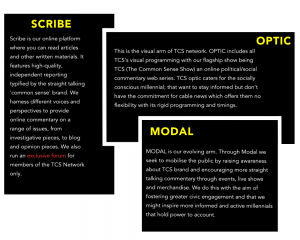 Our fundraising goal is simple and desperately needed. To continue the success of the platform we need to raise £150,000 in just under 5 months.
This money will allow us to:
·         Provide our core staff full-time paid positions
·         Secure an office space in the Manchester area
·         Provide even more quality live events
·         Expand the range of merchandise available to you
·         Most importantly it will allow us to continue and build upon all of the hard work we have already put in
Without this funding, we simply cannot continue.
TCS Network will become a subscription-based service, upon completion of Phase Two of our fundraiser.   At that stage, members will be able to subscribe and have full site access for varying prices.
But we want as many people to be able to access our content as possible, so we will have lots of content FREE on our social media platforms.
To help us reach this target, please give whatever you can. Anything you give is a step closer to turning our foundational dream into a concrete (quite literally with the new office space) reality and a more resilient UK Press.
Encourage everyone you know to give something and this fundraiser could be over in hours.

Please connect with us on ALL social media outlets and encourage friends to do the same!
Subscribe to The Common Sense network on Youtube: http://bit.ly/TCSNetworkYoutube
Follow The Common Sense network on Twitter: http://bit.ly/TCSTweetss
Like The Common Sense network on Facebook: http://bit.ly/TCSNetworkFacebook
Like The CommonSense network on Instagram: http://bit.ly/TCSNetworkInstagram
Become a member of our network: JOIN
Please, support our effort—GIVE, subscribe, tell people. Without you, we cannot build the independent news source that we the people deserve.
The rich and powerful want you to read this and carry on as normal. They want us to run out of energy and give up, but we won't. We won't stop if you don't stop. We can only do that when we are 100% publicly funded, and that means we need you, your voice, and your commitment to our cause.
#ItsCommonSense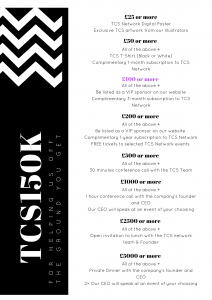 ID
Name
Email
Amount
6895

£

50.00
6864

£

25.00
6863

£

20.00
6776

£

100.00
6675

£

100.00
6672

£

100.00
6666

£

25.00
6631

£

500.00
6630

£

5.00
6627

£

30.00
6625

£

10.00
6623

£

500.00
6622

£

100.00
6621

£

20.00