Oriana Jemide is a multidisciplinary creative working within visual arts and creative writing. Her work focuses on developing sensory architectural and landscape sets through combining multiple mediums including painting, sculpture, photography and sound.
As part of our last edition of The Detail, we sat down with her to hear about how she uses art for therapy.
How are you using art as a tool for change?
This is always a tricky question to answer. It's like when I get asked to summarise what I do in one sentence. There are a few ways I use art as a tool for change, and I always want to talk about them. I think I will start with my work as an artist, moving through the art world with my practice which is one piece, and then the organisations I'm building to create what I consider to be more tangible change is what I will land with.
As a Black female artist of Nigerian heritage who actually grew up in Nigeria, I feel there is an expectation of the sort of artist I am to be, especially in terms of what I create. My decision to go against the grain is a tool for change. Most Nigerian artists and generally Black artists, at least the ones who have commercial success, are often portrait artists whose work has a very African identity or sociopolitical element. Industry experts have often told me there is no market for Black landscape artists and I will sell more if I paint portraits.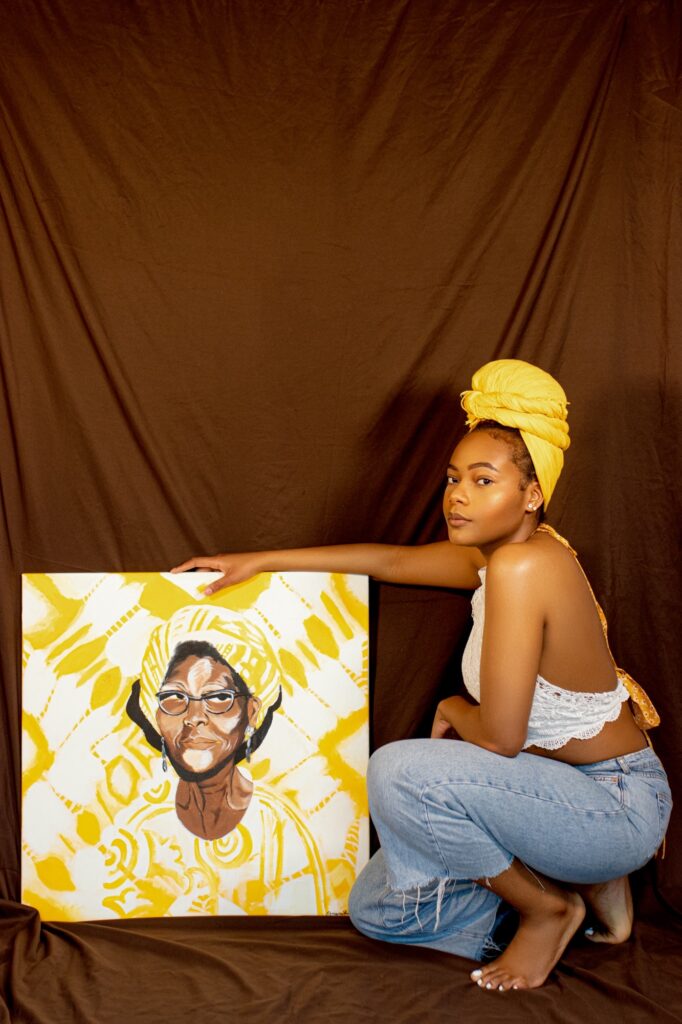 Although I have painted portraits in the past, I consider myself more of a landscape and textile painter. That is the work that feels more meaningful to make. I want my work to serve as a form of healing, and to me, there is nothing more healing than the beauty of our surroundings and our relationship with them. I see my choice to stick to the style of work I make as a way of changing the narrative around Black art and what is considered black art worthy of recognition and success. I see it as carving out a path for other Black artists and creatives to do original and supported work.
Art goes beyond just pictures and objects that people like to look at and touch but can create more meaning in their lives. My company, "The Medela school," is a visual arts platform that provides educational and well-being support through art classes and workshops. At its core, the Medela School focuses on the intersection of creativity, community, education, and well-being, with visual art being its conduit. For me, there is this big piece on the tangible and measurable impact art has on people's everyday lives as a way to change the narrative of its value.
What is The Medela School? How is this initiative intertwined with your creativity?
We describe ourselves as "the community where everyone is an artist." We are passionate about creating greater accessibility to visual arts to promote joy and learning for every individual who encounters our work.
We see ourselves as building an ecosystem where art is considered essential, not an extracurricular activity. Through our skill-based art classes and therapeutic art workshops, we hope to transform society's view on the value of visual art, making it something everyone can be a part of.
This project came from my desire to create tangible change through art. It is one thing to produce artwork that promotes healing but another to empower others to experience healing for themselves through art.
I've always known that I wanted people to share my art and feel healed, but at some point, that was not enough. I wanted to take it a step further, and creating "The Medela School" was that step.
Is art a form of therapy?
The simple answer is yes. Research reveals that art can be a great way to identify symptoms of mental health conditions as it captures the true, raw emotions of an individual.
Additionally it is sometimes used as an alternative to talking therapy for those who struggle with expressing themselves verbally. It helps individuals process their emotions in a way that becomes coherent to them and those trying to support them.
Medela School" was that step.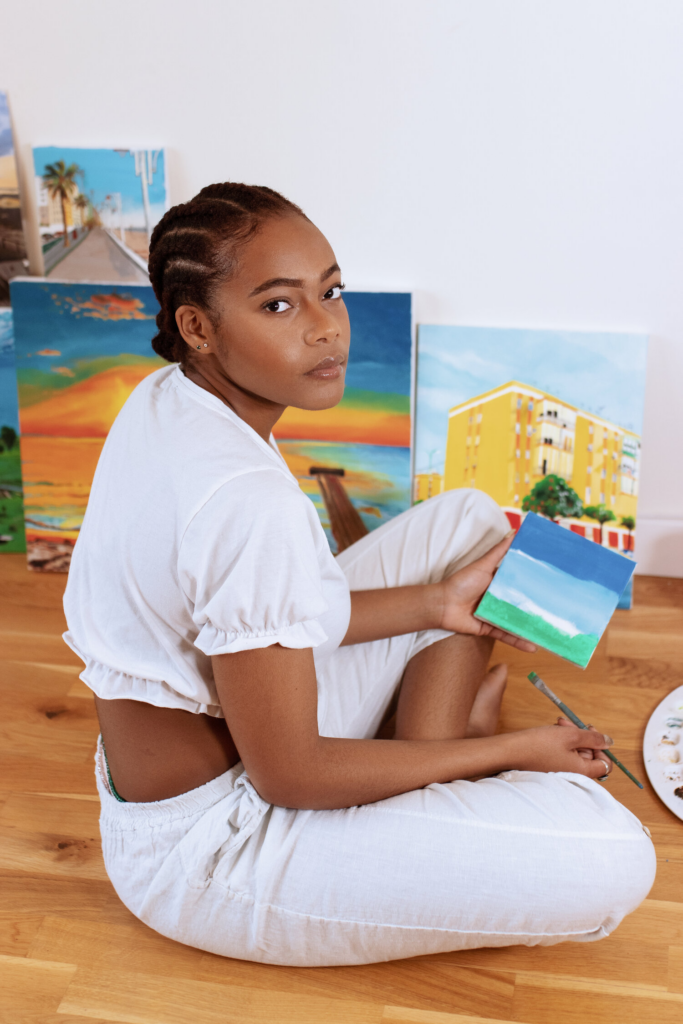 What does the future hold for The Medela School?
The goal of "The Medela School" is to provide access to visual art for everyone, whether it's them using it as a form of therapy or nurturing their artistic skills. We hope anyone will see that it is something they can be a part of.
So our mission is to try out all the ways we can make that happen. For now, it looks like physical communities gathering to make art regardless of age, gender, or race. We are focused on the community element of our work at the moment.
In the future, we aim to extend our reach by moving online. We have plans for an online platform so that anyone from anywhere can access the practice of making art, build their artistic knowledge, and see its value in improving their lives, especially their well-being.
We hope to one day own an arts and well-being center that will house all the services we provide first in the UK, with hopes to open up in other countries. Finally, we hope to develop a model, an accredited curriculum that organisations can adopt to explore the need for visual art in everyday life.
How does your Initiative Inspire others to explore your art form?
In terms of encouraging people to explore visual art, we pride ourselves on meeting people where they are. Whether they are complete novices or budding artists, we hope that we can provide each individual with tools to take them to the next stage of their journey.
People often ask why not provide one service, art as a skill or art as well-being? In my five years of teaching and facilitating art, I've found that the two are closely interlinked, and having a holistic approach allows people to reap the full benefit.
I've come to observe that those who explore art for their well-being enjoy it so much that they become interested in developing it as a skill and vice versa. We don't want to leave any stone unturned.