Donald Trump graces the headlines again today amidst the release of the tell-all autobiography Unhinged. The book is by Omarosa Manigault-Newman, the former White House aide and most high-profile African-American member of the Trump administration. 
Unhinged charts Manigault-Newman's fifteen-year long working relationship with Trump from her appearance in the first season of NBC's reality TV show The Apprentice, up to her dismissal by the White House Chief of Staff  John Kelly in December 2017.
In the book Manigualt-Newman goes on to claim that Mr Trump, who she refers to as 'Donald' throughout, "has only a surface-level understanding of the content he's signing into law" and adds "Donald has always relied on his charisma, his street smarts, and trusted advisers to tell him what was in the paperwork."
This accusation has been met with a strong rebuttal by the White House, with Press Secretary Sarah Sanders claiming that the book is "riddled with lies and false accusations." Meanwhile, Manigualt-Newman was met with direct remarks from President Trump stating:
Manigualt-Newman also points to the deterioration that she noted in Trump's physical and mental health throughout her time as his aide. She highlights the president's NBC News' interview with Lester Holt after firing FBI Director James Comey in May 2017 – a decision she affirms "not a single person in the White House" agreed with – as a moment when she felt that "his mental decline could not be denied."
She went on to write "I'd known Donald to exaggerate and boast. He'd told white lies and lies of omission, ignorance, or misunderstanding. … But this was different. It was like he didn't know what the truth was or couldn't remember what he'd previously stated as truth."
However, the release of Unhinged is not the only battle that Maningualt-Newman has taken up against the White House. Prior to the release of her much anticipated book she claimed that she had heard Trump say the N-word during the filming of NBC's The Apprentice, which the White House and Trump himself have robustly denied.
Manigault-Newman has also come under Trump's wrath for releasing tapes of secretly recorded White House conversations, including one in which the president expresses surprise and remorse ather departure from his administration.https://www.youtube.com/watch?time_continue=5&v=pqeKPsK2JVU
The audio follows other recordings released last Sunday, which she claimed were made when the White House chief of staff, John Kelly, called her into the Situation Room to dismiss her. However, the recordings – if found to be genuine – could create problems for her as well as the White House, leading to possible investigations surrounding the state of its security.
This revelation led to the swift response by the president stating that:
Manigault-Newman, after coming under heavy scrutiny for her avid support of Trump during his presidential run has affirmed that "hindsight" had changed her views of the president and that,  "Donald Trump is a con and has been masquerading as someone who is actually open to engaging with diverse communities."
But many have come out against her most recent claims. Frank Luntz, the campaign pollster who she stated told an associate he had heard the president utter the N-word, has emphatically denied this.

"I'm in @Omarosa's book on page 149. She claims to have heard from someone who heard from me that I heard Trump use the N-word. Not only is this flat-out false (I've never heard such a thing), but Omarosa didn't even make an effort to call or email me to verify. Very shoddy work," Luntz tweeted.
Only time will tell who is telling the truth.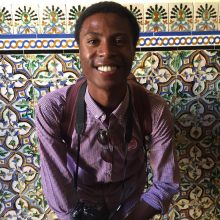 Christopher Johnson
Christopher Johnson studies Hispanic Studies with Portuguese at The University of Warwick. Born in East London but raised in Essex, Christopher's passion for languages and foreign cultures has meant that he is very interested in international affairs, politics and also the development of popular culture.
---