Simon & Schuster (S&S) have stated that they will continue their $3-4 million two-year book deal with Mike Pence, the former vice-president of the United States, despite protests from employees and more than 600 authors, editors and publishing professionals.
Last week, Jonathan Karp told his staff that they would not be cancelling the deal with Pence and stated that "we come to work each day to publish, not to cancel."
Even though the publisher pulled of publishing Republican senator Josh Hawley's book in January due to his involvement in the Capitol hill riot, this time around, the publisher feels inclined to proceed with Pence's book deal, and the autobiography is expected to be released in 2023.
As a publisher in this polarised era, we have experienced outrage from both sides of the political divide and from different constituencies and groups. But we come to work each day to publish, not cancel, which is the most extreme decision a publisher can make, and one that runs counter to the very core of our mission to publish a diversity of voices and perspectives. We will, therefore, proceed in our publishing agreement with Vice-President Mike Pence."

S&S president Jonathan Karp in The Guardian
The Facts
The reasoning behind why Karp had to come and express his statement was because of an open letter that had recently been published by employees of S&S demanding for the book to be cancelled.
The number of employees who signed this letter is unknown.
Within the letter, the employees suggested that "by choosing to publish Mike Pence, Simon & Schuster is generating wealth for a central figure of a presidency that unequivocally advocated for racism, sexism, homophobia, transphobia, anti-Blackness, xenophobia, misogyny, ableism, islamophobia, antisemitism, and violence."
In the same letter, the employees demanded that the publishing house no longer signs book deals with former members of the Trump administration and stop distributing books for Post Hill Press, an independent publisher that caters to conservative politics and Christian titles. Post Hill is the same publisher that last week decided to publish a book by Jonathan Mattingly, one of the police officers who shot Breonna Taylor last year. That announcement caused outrage, and a petition was launched for that particular book not to be published.
The employees of S&S were not the only ones who wanted Pence's book deal, and other book deals with Trump officials to be cancelled. More than 600 authors, editors and publishing professionals also wrote a letter to publishing companies demanding this book deal and any future or current book deals with Trump officials be cancelled.
Long before his Vice Presidency, Mike Pence made a career out of discriminating against marginalized groups and denying resources to BIPOC and LGBTQA+ communities. From advocating for legalized discrimination against LGBTQ+ people to eroding the teaching of science in favour of Christian theology in public-funded schools, to ending energy efficiency programs, to pushing for guns to be in schools and cars, to taking away funding for and shutting down clinics treating HIV patients, to promoting conversion therapy, to denying bodily autonomy to pregnant people, to abandoning a nation in crisis as the coronavirus ran rampant and killed more than half a million Americans. Mike Pence has literal and figurative blood on his hands. We demand you cancel Mike Pence's book deal.


A statement from the workforce of S&S
A spokesperson for Pence declined to comment on the issue.
To Publish Or Not To Publish
Where is the line, and who defines it?
Pence's book deal has generated various standpoints, and this debate about what is or what isn't allowed to be published will go beyond the news cycle.
The decision from S&S shows that they are willing to provide a platform for Pence, even if it means people will turn away from their publishing house. Some could argue that the publisher is only doing this for money, especially when you look at how much the deal is worth. It could also be that maybe the publisher is following its core message of publishing a diversity of voices, which Karp has come out and spoken. But, by publishing the former vice-president's autobiography a person associated with Trump, it is no surprise that this would cause outrage. All of this outrage was seen by the letters demanding publishers not to sign book deals with Pence and former Trump officials.
However, those who believe in freedom of speech, against de-platforming and cancel culture, would argue that what the employees and those in the industry are doing is entirely out of order. Those defending S&S would suggest why should this publisher cater towards a minority that is trying to force the publisher into their world view, as much as it may be legitimate. Because I disagree with a book being published, does that mean I have the right to force a publisher not to publish that book? Go a step further; what if I wanted to get rid of a religious text because I disagreed with it, I am allowed to do that? All of those who practice a faith of some kind would be up in arms about this. There are varying opinions on what is and what isn't allowed to be published, and these perspectives are valid.
Still, if we only had books that we completely agreed with, then we would have absolutely nothing to debate on, nothing to talk about and nothing to challenge.
We would agree all the time, and there wouldn't be much motivation to progress and go forward as a society.
At the same time, where do you drawn the line?
More importantly, who draws that line when it comes down to deciding what is and what isn't published.
S&S have taken the standpoint that they will publish Pence's autobiography book, even if it legitimises bigotry in some people's eyes.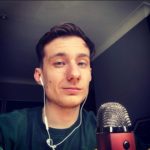 Hamish Hallett is a journalist/broadcaster part of the scribe team at Common Sense. He has a deep interest in current affairs, both domestically and internationally, which you can see through his written work and his podcast called A Spoonful of News. Hamish loves to understand what makes people tick and get to the root of today's issues. Away from the network, Hamish has a profound interest in reading books, keeping active, travailing, meeting new and exciting people and controversially having ham and pineapple on pizza.