by Deborah Adeniyi
The royal wedding of Prince Harry and his fiancé, Meghan Markle is fast approaching and over the past few months it has been noted that Meghan has been under the intense scrutiny from the public eye. Being directly under the media's spotlight has meant that she has had to deal with a lot of criticism.
On the release of her well anticipated engagement photos in December, many congratulated the couple and admired their stunning looks. Meghan Markle sported a sheer Ralph and Russo gown which had an a-line black ruffled bottom whilst the top of the dress was made from a sheer fabric with decorative gold feathered embroidery worth and is worth £56,000. Meanwhile, Harry wore a classic, navy Burberry Jacket.
Despite many thinking that the couple looked amazing there was a considerable amount of backlash on social media, pertaining to Meghan Markle's choice of attire. People argued that  dress was "highly inappropriate" and "too revealing".
Some have argued that this intense scrutiny is due to the Markle's mixed heritage, American nationality and career as a successful actress staring on popular Netflix series, Suits. This is clearly not the most conventional love interest for a member of the royal family. However; this is reflective of today's society and it reflects that Britain is becoming more culturally diverse. Meghan Markle will be the first member of the royal family to have black heritage and this something that some members of the public are not ready to adjust to. However, Markle takes the scrutiny in her stride, still making graceful appearances and visits with Prince Harry.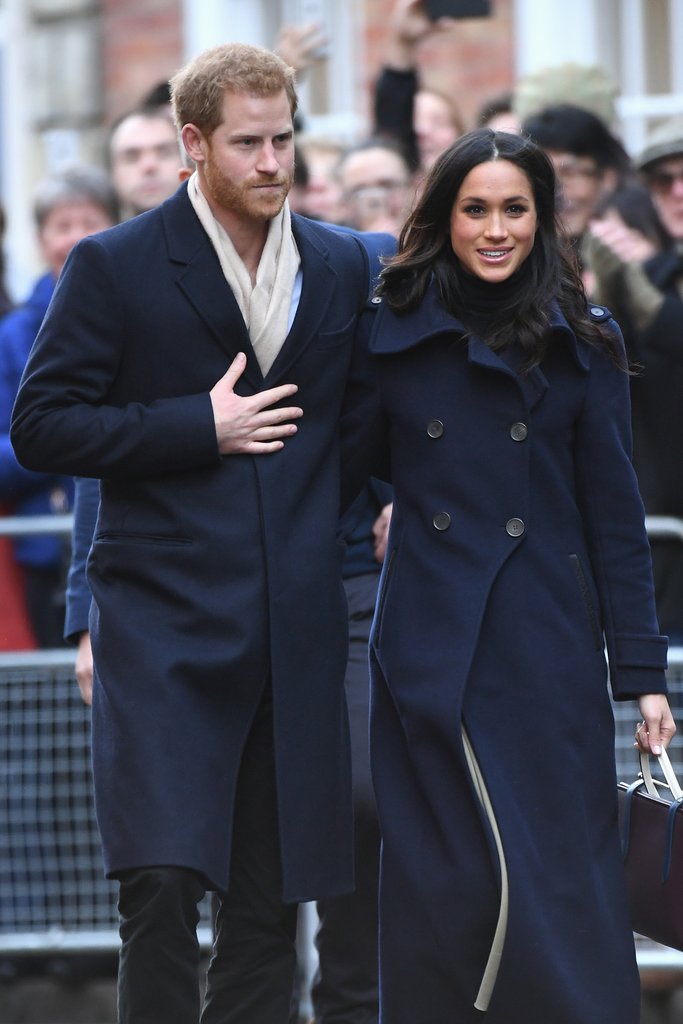 The Metro published article on the announcement of their engagement that stated "It's a great day for interracial couples and mixed-race girls everywhere." Despite The Metro potentially having good intentions with this statement, it highlighted the issue of Meghan being unfairly treated as the poster child for all mixed people. This may falsely lull people into the idea that Britain is tolerant of all cultures, religions and races. Ethnic minorities are still faced with discrimination and micro aggressions on a day to day basis and although Meghan Markle has been lovingly accepted to the royal family, this is not reflective of the state of Britain. This burden in itself of feeling the need to represent the "mixed demographic" of Britain may indeed have Meghan feeling like a prisoner to the crown.
Markle does use her platform to talk about her experience growing up as a woman with mixed heritage and explains that she found it difficult to feel like she belongs. She recalled in a interview that whilst applying for university she used to leave the racial diversity box blank as there was no option to tick "mixed heritage". She chooses to use her experiences and platform to educate and liberate. Markle speaking openly about her experience has created opportunities for more open conversation about cultural diversity in places that the discussion most probably never would have had and it is most definitely a step in the right direction.
Despite the immense attention, Prince Harry and Meghan Markle continue to honour their relationship in a way that suits them. They have decided to break the tradition of getting married on a week day and have opted for their wedding to fall on May 19th 2018, a Saturday. Markle will also be giving her own speech at the reception, something that is typically the responsibility of the father of the bride. It is evident that the couple are not afraid to break traditions . This gives us hope that Meghan is not a prisoner to the crown and is still able to be liberated despite her royal obligations and protocols. The face of the royal family is changing and become more relatable to the Britain of tomorrow.
Do you think that Meghan Markle is handling the intense scrutiny well? Post your opinion in the comments!
Deborah Adeniyi is a first year university student studying fashion buying and merchandising at the University of Manchester. Her interests lay in textiles, fashion, contemporary visual arts and fashion business. Her interests in these areas feed into her writing and inspire her articles. Her Nigerian roots alongside her upbringing as a South East Londoner, has shaped her perspective on issues and this is reflected by her liberal yet traditional views on issues.
Our contributors are friends of The Common Sense Network who write for us from time to time. We love hearing fresh perspectives from people in different spaces. If you would like to become a contributor contact us at hello@tcsnetwork.co.uk