Manchester City's  unbeaten record of 22  games, is over. It was Liverpool who gave them their first defeat of the season. However, Manchester City didn't go down without a fight. They scored two goals in the final minutes of the game, leaving fans and neutrals on the edge of their sits.
The game started with both teams displaying there attacking prowess. Liverpool's Alex Oxlade-Chamberlain's blistering shot broke the deadlock. Despite the pressure, Liverpool was inflicting on its opposition, Man City managed to find their composure and score an equaliser. The young German star, Leroy Sane brought the game level, taking advantage of Karius's poor positioning. Both teams went into the break equal, intensifying the significance of the second half.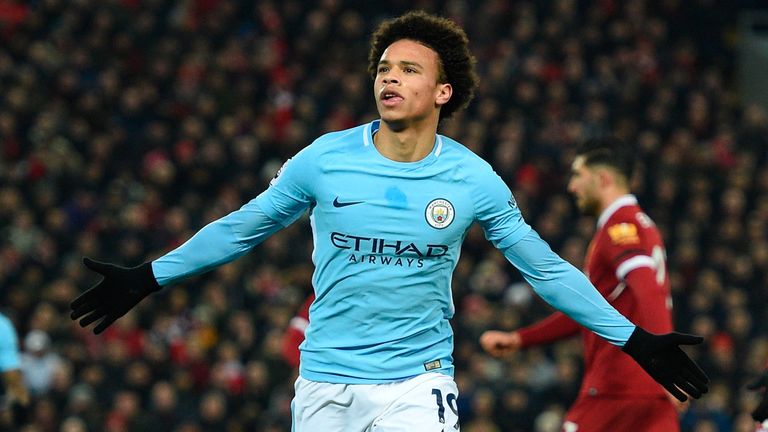 Leroy Sane after scoring the equaliser at Anfield. (Source: SkySports) 
City came out the stronger with Nicolas Otamendi hitting the cross bar. But Liverpool's attacking trio struck in 9 minutes with a goal apiece. Roberto Firmino put the Reds in the lead with a smartly executed chip,  shrugging of John Stones in the process. It was then Said Mane's turn. After his first strike hit the post, he didn't let the stop him. Mane fired a scintillating into the top left-hand corner.
Mane celebrates in jubilation after scoring a tremendous strike. (Photo by Shaun Botterill/Getty Images) 
At this point, football fans around the world were shocked. This was the first time this season Manchester City were on the brink of defeat from a top 4 team. But the scoring didn't stop there. One of the league's new stars, Mohammed Salah took advantage of Ederson's poor clearance, granting  Liverpool a 3 goal advantage.
On the other hand, City had a different agenda and wasn't going to go down without a fight. The last minutes of the game demonstrated why they are league leaders. Again they found their composure and scored two quick goals from Bernado Silva and Ilkay Gundogan. Giving the game a nail-biting finish. It seemed City were going to scrap a draw but after a set-piece, Aguero's header went wide and the game ended 4-3.This meant a loss for City and the end of their run. Falling short of Arsenal's record-breaking 'Invincible' of the 03/04 season, where Wenger's side went for an amazing 49 games undefeated.
City's late fightback illustrates Liverpool's defensive frailties. If they succeeded it would have put Jurgen Klopp's decision to leave out new singing Virgil Van Dijk, under a lot of criticism. Van Dijk was bought to give the Liverpool defence more stability.
The question now is will Manchester City bounce back and go back on a winning streak. Or will they let this defeat affect them and lose their form? Only time will tell. Next, Liverpool faces Swansea away and Man City host Newcastle the Ethiad.