Romelu Lukaku makes his long-awaited return to Chelsea, this time with the revered number nine instead of eighteen. After a two-year stint in Milan, the Belgian striker returns a leaner, meaner and deadlier scoring machine, ready to take the mantle of Chelsea's main striker. Making his return, scoring inside the first fifteen minutes and getting a win, it is truly the things that dreams are made of. But what made his return so special, was it him, or was it purely down to Arsenal's incompetence?
The perfect return
The Chelsea number 9 continued to wreak havoc against an Arsenal side who played right into his hands. On numerous occasions, he outmuscled opponents and rolled off them. He looked unplayable at the Emirates throughout the entire game and every time he was one-on-one versus either Arsenal centre-back, he looked like he would be the winner.
For a striker whose strengths and gameplay has been well documented over the years including a masterclass with Jamie Carragher, he never looked like he would ever be stopped. Between Pablo Mari and Rob Holding, they looked like the Belgian's whipping boys on multiple occasions and he was unlucky not to leave North London with more.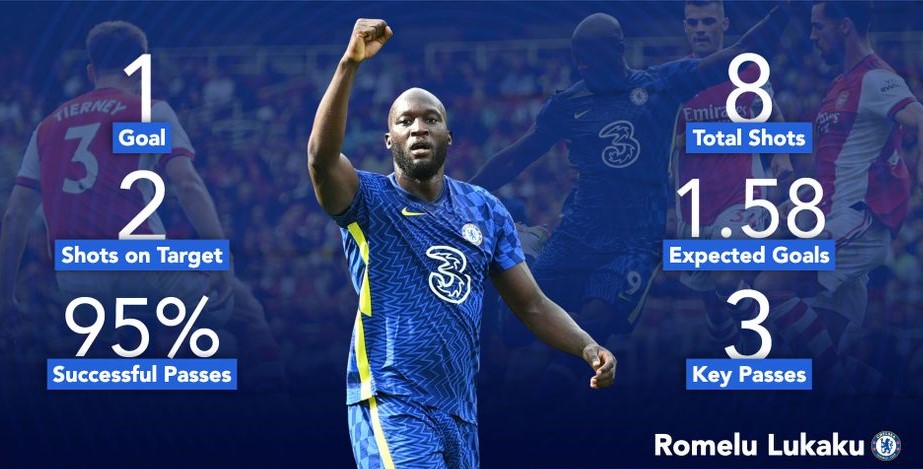 What does this mean for the rest of his season?
Expect goals in abundance, having hit double figures in every league campaign since his loan season at the Hawthorns. Chelsea's new number 9 is the last piece in the Tuchel puzzle and Chelsea now look ready for a title charge.
With a Chelsea midfield containing an embarrassment of riches, an injury-free season could mean filling his boots. In his club career so far he has an average of exactly a goal every other game and arguably in his peak condition, that will only improve. Last season also saw his first season with double figures for assists, showing how well he brings other players in too. Tuchel's side should be brimming with confidence after Sunday's win.