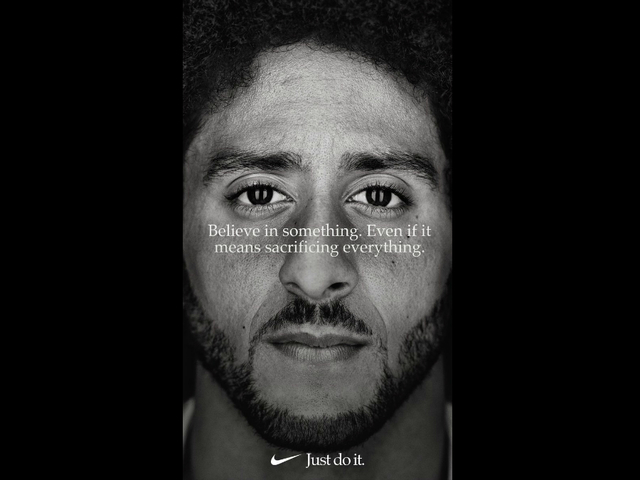 On Monday the 3rd of September Nike, arguably one of the most influential brands in the world, announced the release of their latest 'Just Do It' advert for its 30th anniversary. However, this year the company has come under a storm, split responses either in support of and criticising their choice for the face of their campaign; Colin Kaepernick.
Kaepernick, the former San Francisco 49ers quarterback was shot into controversy for refusing to stand for the US national anthem before football games. He aimed to protest against the mistreatment, in particular police brutality, towards African Americans and other minorities in the United States. Since then, Kaepernick has not played in the National Football league since March 2017 after he decided to leave his contract with the San Francisco 49ers. However, since then no other team has signed him.
The ex-49ers quarter backwas strongly criticised by conservative media outlets and President Donald Trump himself who claimed that Kaepernick 'disrespected' the American flag by kneeling during the national anthem.
For that reason, many Americans have reacted vehemently against the campaign seen in videos to be burning Nike merchandise with others wanting to boycott the company.
Why has Nike chosen to include such a divisive figure in their historic anniversary campaign?
Although Nike's stocks show a three percent share drop (as of Wednesday morning), the sports brand is clearly not scared that they will lose significant business because of Kaepernick head lining their campaign. For instance, despite Kaepernick's supposed unpopularity amongst many Americans, his football jersey was in the top 50 NFL shirts sold last year, although he has not played in the NFL since March 2017.
Additionally, Nike are aware that in the age of the ethical consumer, their customers want to know where they stand on certain core issues. Nike want to stand on the right side of history, so their endorsement of Kaepernick with the slogan "believe in something, even if it means sacrificing everything" shows that they believe that despite the criticism that he has faced for his decision to kneel for the national anthem, that one day he will and should be vindicated for his actions bringing light of racial injustice in America.
Yet, this is not the first time that Nike has taken a political stand in their campaigns. With the use of figures such as Serena Williams and Lebron James in current and previous advertisements, Nike has a culture of supporting figures who have taken a stand or are speaking out against injustices in society.
Meanwhile, it has been argued by some analysts that Nike's support of Kaepernick and other prominent, yet controversial African-American figures is due to the relevance and popularity to African American culture in particular sneaker culture. For example in 1984, the collaboration between Nike and basketball player Michael Jordan caused somewhat of a phenomenon amongst young black men.
The campaign also comes in the wake of trial between Kaepernick and the NFL after an arbitrator rejected the NFL's request to dismiss Colin Kaepernick's collusion grievance against the league. After Kaepernick alleged that the NFL conspired against him leading to him not being resigned by any NFL teams after his protest against racial injustice in 2016.
Whether for the correct reasons or not, Nike's campaign is extremely important for our society. In an age where we our views are becoming more polarised, an enormously influential brand supporting Kaepernick shows that standing up for what's right is not something that should be frowned upon, but rather encouraged. The campaign highlights that we should all, no matter how rich or famous we are stand up for what we believe in and in the support of making our society fairer for all.
Only time tell whether Nike will have achieved their goals behind this campaign, but for now it is clear that they achieved the impact they wanted.

---