The Facts
On Friday 8th January 2021, Twitter announced that it had permanently suspended current President of the United States of America Donald Trump's twitter account. In a blog and a tweet, Twitter described why they took the decision to ban the President from their platform.
On January 8, 2021, President Donald J. Trump tweeted:
"The 75,000,000 great American Patriots who voted for me, AMERICA FIRST, and MAKE AMERICA GREAT AGAIN, will have a GIANT VOICE long into the future. They will not be disrespected or treated unfairly in any way, shape or form!!!"
Shortly thereafter, the President tweeted:
"To all of those who have asked, I will not be going to the Inauguration on January 20th."
Twitter gave the following reason for the suspension:
"Due to the ongoing tensions in the United States, and an uptick in the global conversation in regards to the people who violently stormed the Capitol on January 6, 2021, these two Tweets must be read in the context of broader events in the country and the ways in which the President's statements can be mobilized by different audiences, including to incite violence, as well as in the context of the pattern of behavior from this account in recent weeks. After assessing the language in these Tweets against our Glorification of Violence policy, we have determined that these Tweets are in violation of the Glorification of Violence Policy and the user @realDonaldTrump should be immediately permanently suspended from the service."
This move comes after a week of other social media platforms either deleting posts and suspending the accounts belonging to Donald Trump. Facebook also suspended Trump's account indefinitely on 7th of January, with Mark Zuckerberg, Facebook CEO writing in a post that "the risks of allowing the President to continue to use our service during this period are simply too great. Therefore, we are extending the block we have placed on his Facebook and Instagram accounts indefinitely and for at least the next two weeks until the peaceful transition of power is complete."
Five people died in the rioting that took place at the Capitol on the 6th of January, including one police officer. This came just hours after Trump held a rally and urged his supporters to march to the Capitol in protest of his election loss from the White House.

This is not what you think it is
Much has been made over the last few years about the 'power of big-tech' who, allegedly, are unchecked and have unrivalled power. This is a genuine concern shared by many and there is a real conversation to be had about regulation and the fourth industrial revolution that is happening before our eyes, faster than we can keep up with. However, the suspension of President Donald Trump's social media accounts is not the proxy for this debate.
After repeatedly breaking Twitter's guidelines for personal accounts, the President's personal Twitter account was subject to the same consequences that exist for every personal account. You could argue this shows Twitters consistency is treating all users equally
It's important to note that the official Presidential account @POTUS is still online with over 33 million followers. Previous Presidents have used this account to communicate to the public and President Trump actually broke protocol when he decided to use his own personal account rather than the government one available.
It was also reported that About 350 Twitter employees demanded that CEO Jack Dorsey and other top executives permanently ban President Donald Trump's account on the platform following his role in Wednesday's deadly siege on the US Capitol, according to a report from the Washington Post. The decision is not as arbitrary and whimsical as some suggest.
Trump often sucks up all the oxygen in the room by trying to be the centre of attention.
There is a legitimate debate that must take place about tech companies; I've written about it before. However, let's not miss that opportunity by making the President a Martyr where he isn't one.

I Want To Agree With Trump's Suspension But I Don't Agree With The Reasoning
When it comes to Trump's chaotic tweeting, I, like many others quote-tweeted, screenshot and sent the links in group chats to laugh at the hilarious and somewhat ridiculous tweets sent out by the President of the United States. I would usually be the first in line when calling for Trump's Twitter account to be suspended, and yet now that it's happened, it doesn't feel right. 
Upon a closer inspection of Twitter's reasoning, there are a lot of assumptions being made of Trump's intent. In fact the reasons stated are not the reason's myself or many others would have wanted Trump's Twitter account suspended.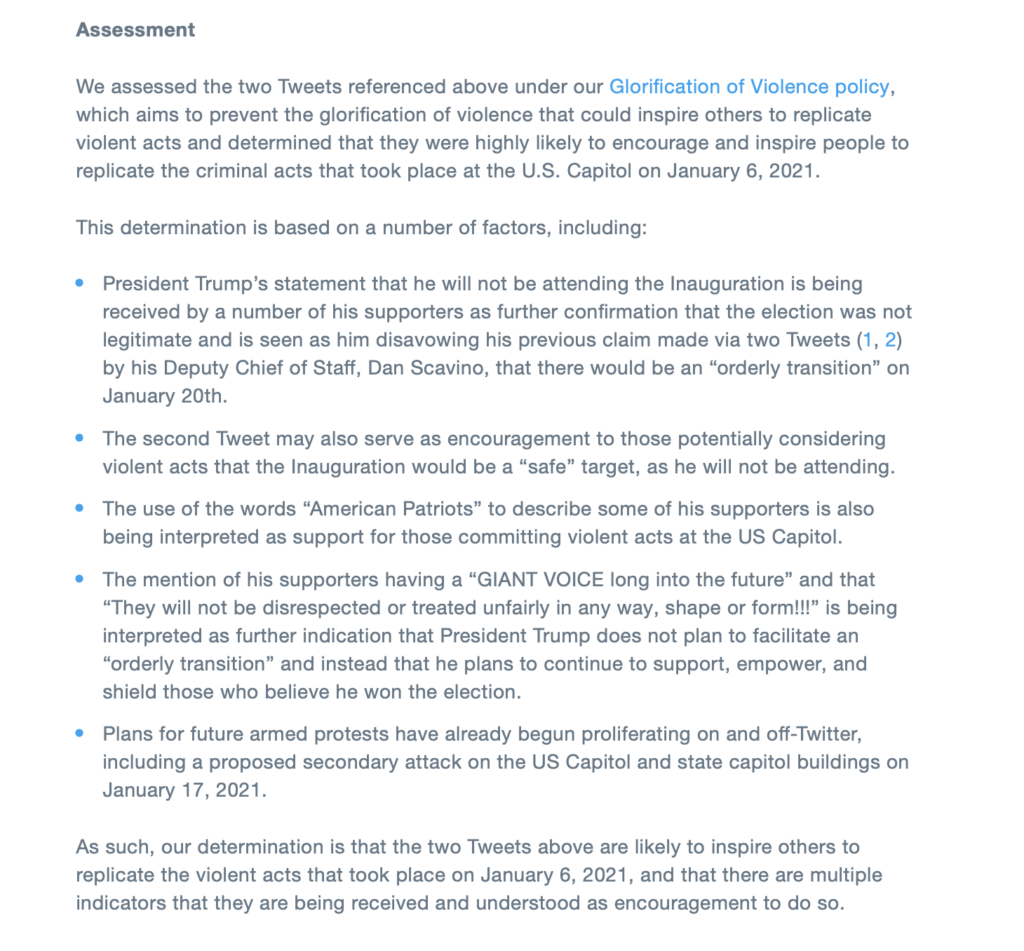 It looks like the indicators for what counts as inciting violence or encouraging violence are based on the opinions of Twitter employees. Given that during the BLM protests, people were being suspended for supporting the protests and uprisings against police brutality, it seems like Twitter and other tech companies may be going too far.
As the tech companies are spread across different regions all over the world, it's difficult to find a law that would cover it. For example, if someone in the UK is harassing someone in the US, would it be UK or US law that covers and ultimately determines that person's fate? At the moment it is the data companies like Twitter and Facebook that manage that and they can decide when to enforce their rules and when to be lax. We've seen the harassment of black female politicians in the UK, but there is very little evidence of Twitter enforing their 'Abusive Behaviour' policy. The issue with a company being in charge of its own rules like this is consistency. There is none. It's based on employees own opinions rather than following a law.
The President is by no means a martyr, but we should pay close attention to his suspension and how the law interacts with Twitter and other tech companies.