As of August 29th 2023, the much anticipated Ultra Low Emission Zone expansion will come into full effect in an effort to reduce emissions and pursue cleaner air. 
The ULEZ initially introduced in Central London in 2019 is expanding to cover a broader area. New areas ULEZ will expand to include: Bromley, Chingford, Heathrow and other locations.
Following the success of ULEZ in central London, 97% of vehicles meet cleaner standards, NOx emissions have fallen by 26% within 4 years and PM2.5 emissions decreased by 19%. Such progress prompted the ambitious expansion plan that has now commenced.
Air pollution has been a pressing concern in London for years, with its negative impact on public health and the environment becoming increasingly evident. ULEZ was introduced by levying charges on vehicles that did not meet strict emission standards when driving in a specific zone.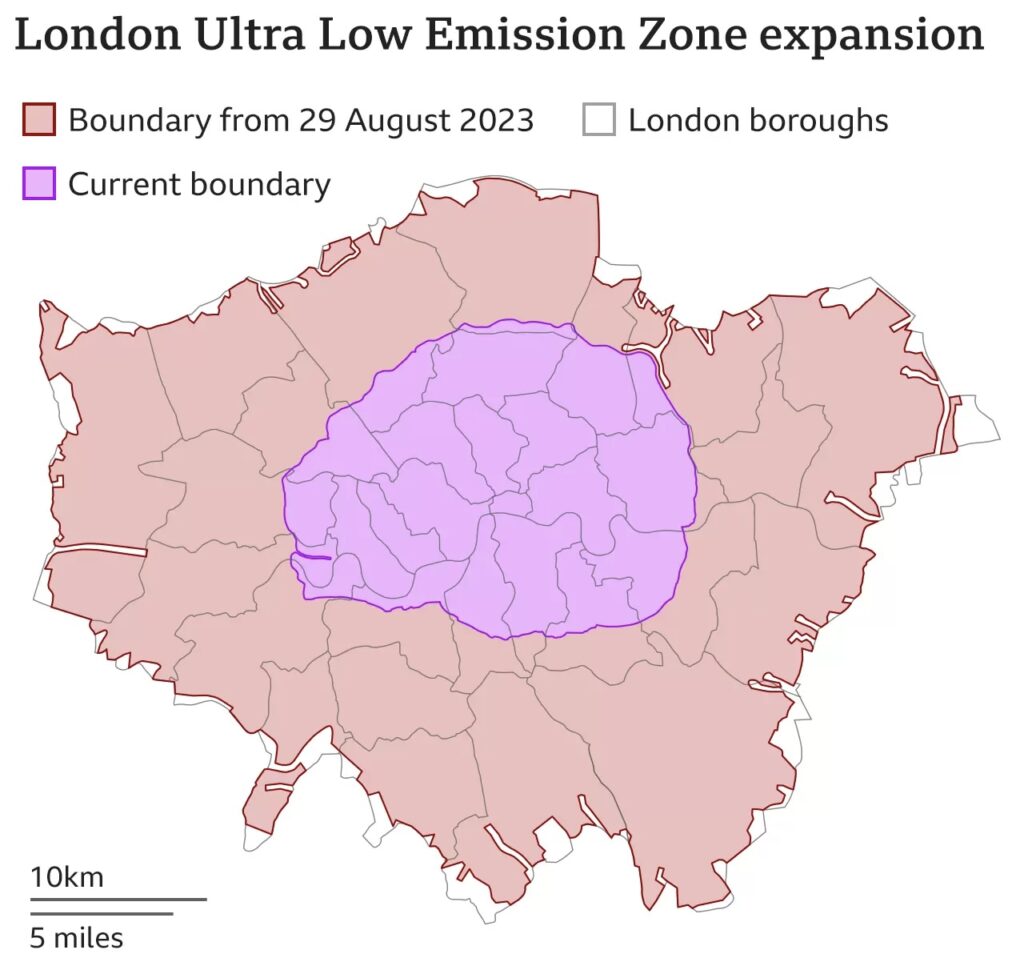 The expansion is expected to lead to significant reductions in nitrogen oxide (NOx) and particulate matter emissions, which are major contributors to respiratory issues and air pollution-related health problems. Hence the initiative aims to increase the use of cleaner vehicles such as electric or hybrid cars.
If vehicles do not meet ULEZ emission standards, owners could face a daily £12.50 fee. You can check if your vehicle meets ULEZ emission standards here.
Scrappage scheme
For owners of vehicles that fall short of these standards, help is available through the scrappage scheme TfL has introduced. London residents are eligible for the Mayor of London's £160 million scrappage scheme, allowing residents to receive payments to scrap their vehicle or choose TfL transport passes that hold a similar monetary value to the payout.
There are also alternative offers available whether you apply for the scrappage scheme or not. Existing ULEZ exemptions have been gracefully extended for vehicles that will be ready after the ULEZ expansion.
Unfair to low-income families
While the ULEZ is a commendable step forward, some things must be addressed. A daily charge of £12.50 for non-compliant vehicles may disproportionately affect low-income households or small businesses. Many are already suffering the impacts of the cost-of-living crisis and will be pushed into a place of deeper financial struggle.
For some, their non-compliant vehicles is a means of providing for their families as they travel to work. Now there is an additional cost that they must now consider as they commute to work.
Although it's anticipated that London and places beyond will experience improved air quality and health benefits. It is questionable whether the ULEZ expansion could have taken place at a later time that would favour people during the present financial struggle many are currently going through.