by Hajra Tahir
Having many firsts behind her name, Ilhan Omar is no stranger to the media limelight. Elected as Congresswomen for Minnesota's fifth congressional district in November 2018, Omar has been recognised as being not only the first Somali woman to achieve this, but also the first hijab-wearing, (former) refugee to assume this role. Her political career thus far has been characterised by her unrelenting socialist stance and particular emphasis on human rights and American foreign affairs. Yet despite outwardly advocating and internalising democratic values, Omar's political presence has also been regarded as the "harbinger of democratic decline."
Having only been in office for just over a year, she has become renowned, for 'controversial' statements and what some see as a palpably anti-Semitic agenda. In February 2019 she tweeted how US support for the state of Israel was "All about the Benjamins" alluding to the largely financial incentive that the pro-Israel lobby AIPAC proposes for US politicians. After subsequent backlash and extensive bemoaning of her comments by those within her own party, she promptly apologised. However in a later panel with fellow Muslim congresswoman, Rashida Tlaib, she went on to expand upon the political rhetoric regarding her views on this matter:
"What I'm fearful of — because Rashida [Tlaib] and I are Muslim — that a lot of our Jewish colleagues, a lot of our constituents, a lot of our allies, go to thinking that everything we say about Israel to be anti-Semitic because we are Muslim. And so to me, it's something that becomes designed to end the debate… Because we end up defending that and nobody ever gets to have the broader debate of what is happening with Palestine…"
Following her statement at the panel, Omar's critics were quick to again flagrantly accuse her of perpetuating the anti-Semitic rhetoric that she continues to so openly deplore. This time however, the condemnation became increasingly tangible from within her own party, as North Carolina congressional candidate Dan McCready refunded a $2,000 donation made by Omar to his Democratic campaign. This was mirrored by Lucy McBath of Georgia who also rejected Omar's $2000 donation.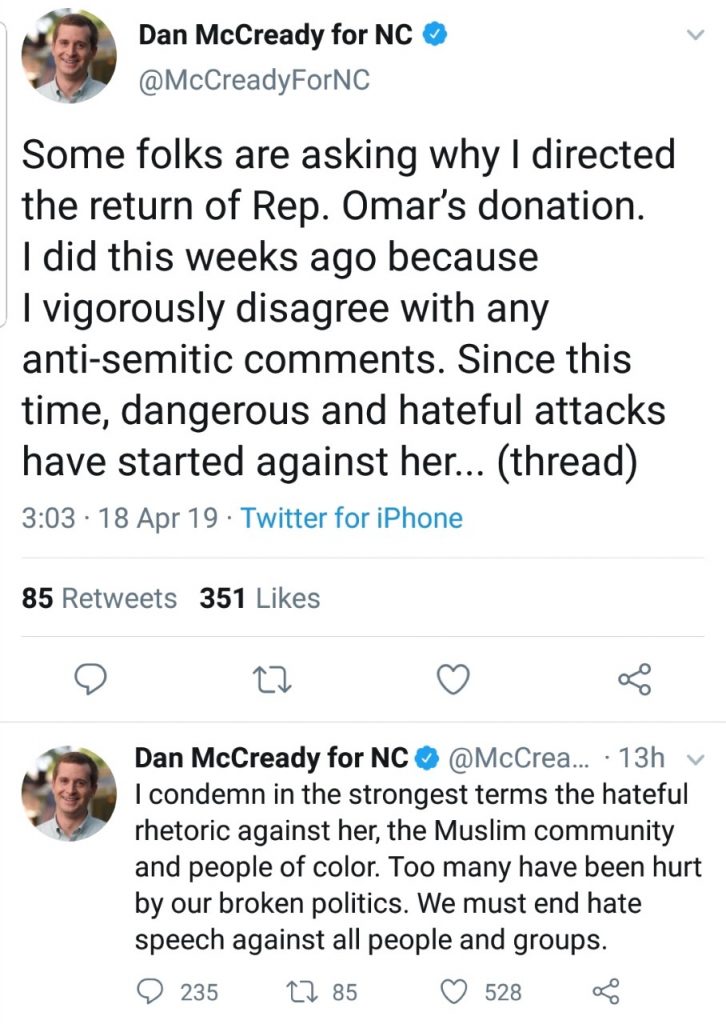 In the above tweet, McCready can be seen to illustrate the reasoning behind his decision to withdraw support for Ilhan Omar and reject donations made on her behalf.
However, the scandal doesn't end there. Omar was recently again under fire for a speech that emerged in which she ostensibly spoke about the September 11thattacks in an insensitive manner and allegedly diminished the abhorrent actions of Al- Qaeeda to 'some people did something.' This select excerpt was taken from when Omar addressed the Council of American-Islamic Relations (CAIR):
"CAIR was founded after 9/11, because they recognised that some people did something, and that all of us were starting to lose access to our civil liberties."
Her remarks were followed by extensive backlash including direct disapproval from Donald Trump via twitter. She has yet again been entangled in a cascade of disapproval due to a recent tweet in which she expressed her condolences for the blaze that burnt Notre Dame Cathedral in Paris on April 15th.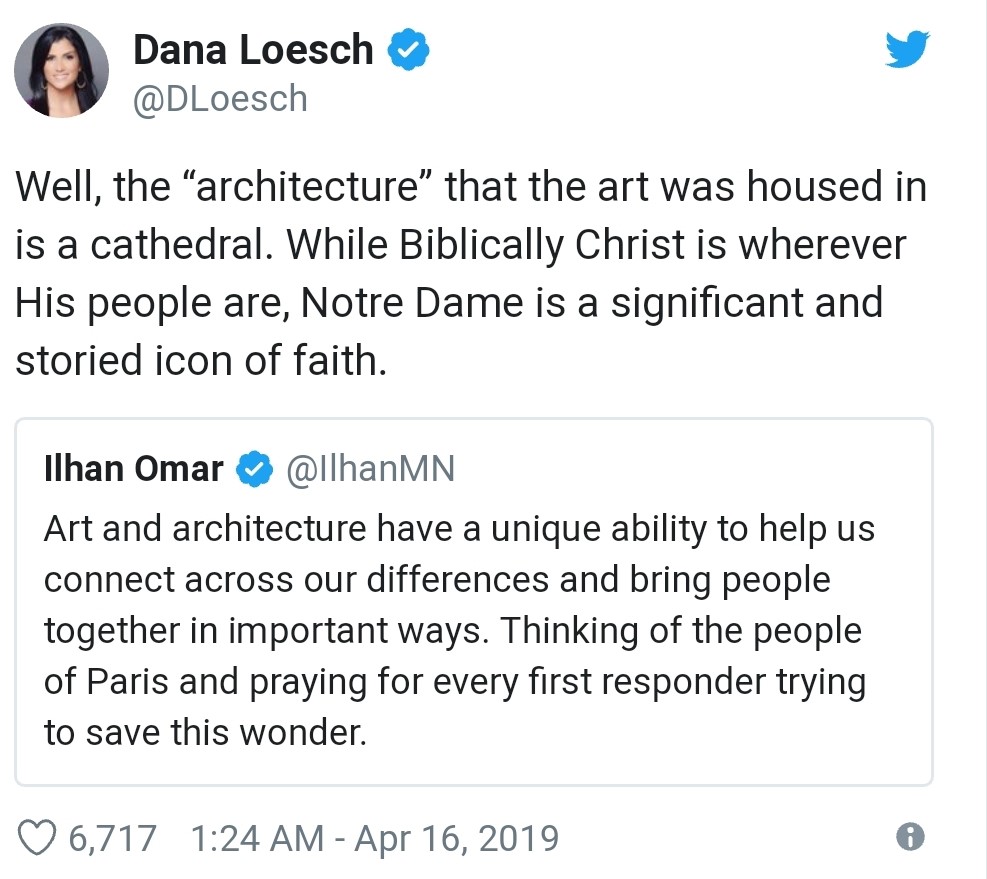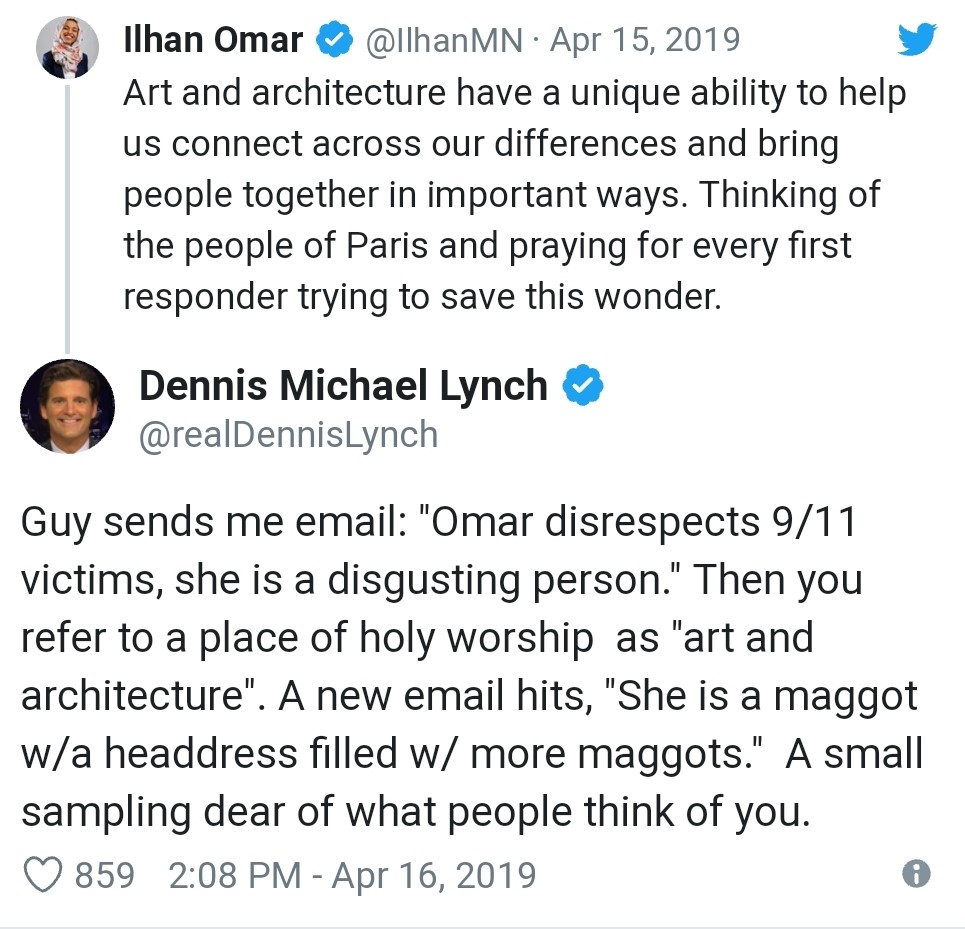 Two examples amongst the many other tweets that Omar received. 
It can be argued that her referring to the cathedral of Notre Dame, as 'Art and Architecture' is simply a reflection of secularism in France and the contemporary attitudes associated with the Cathedral, that was amongst one of the most prominent tourist attractions in the country. However the aim of this piece is not to defend the actions and words of the congresswomen, but to consider the debate surrounding her constant demonization.
Amid this myriad of controversies, many have supported Omar through her tumultuous political career saying that the allegations against her stem from an internalised bigotry amongst the opposition. This is reflected in the spike in death threats that the congresswomen has received after being publically attacked by the president. What needs to be scrutinised in detail however is the impact that the racialization of Ilhan Omar has on the wider principles of democracy that underpin the USA today.
Increasing Islamophobia, curbing free speech and an overarching preference for adversarial party politics over the will of the people, are all implications of the continuous attacks on Omar. In the past her attempts to highlight the influence of lobby groups such as AIPAC have been dismissed by those who see criticism of the state of Israel's deplorable civil rights history, as synonymous with anti-Semitism and bigotry. Yet advocating civil rights seems to align with the liberal scope of democratic politics. Clearly there is a discrepancy between these two premises; how can advocating for civil rights and humanitarian treatment of civilians in a war torn nation become tantamount to bigotry?
This calls into question whether widespread condemnation of Omar is indeed, genuine criticism, or a way in which to mask disorganisation, corruption and other forms of undemocratic behaviour within the central government. Is it feasible to class her as a scapegoat for the pitfalls of the current administration such as the emerging disclosure of the Mueller report? Whether or not this is the case is a hotly debated topic, and calls into question the use of 'umbrella tactics' (the utilisation of personal information to silence and deflect discussion) and the limitations of freedom of speech.
Hajra Tahir is in the first year of her undergraduate Law with Politics degree at the University of Manchester. With an interest in international relations, literature and travelling she aims to hopefully supplement her future career as a city lawyer with pro-bono work and an involvement in civil and human rights.