by Matthew Goldsmith
Should A Company You've Probably Never Heard Of, Be Allowed To Carry Amazon Through Black Friday
Black Friday (Friday 29th November) which is proceeded by Cyber Monday (2nd December) is the informal name given to the first Friday after Thanksgiving in the US. The day has become a marker for the beginning of the Christmas season, when stores may open earlier and offer huge discounts. Since 2005, Black Friday has been the busiest day of sales in the US. Retailers such as Amazon and ASDA (through its parent company, Walmart) have encouraged the coopting of the Black Friday marketing sales.
Year upon year Amazon seems to offer bigger and bigger discounts. Amazon's famously thin profit margins are stretched to their limits on big sale days like Black Friday and Cyber Monday.
So, how can Amazon afford to lose billions?
Team Umbrella explores how a lesser-known subsidiary called Amazon Web Services (AWS) is picking up the tab of Amazon's extravagant spending.
Cloud computing is costly, highly technical and increasingly essential. But how do you acquire a cloud computing system that would cost more than your annual budget to build? That's where AWS comes in. AWS, an Amazon subsidiary, offers world-class cloud computation to smaller companies that can't afford their own cloud server farms. As of 2018, AWS accounted for 58% of Amazon's total operating income.
With Amazon often attributed as the driving force behind the death of the high street and with Black Friday just around the corner, the debate surrounding Amazon is more urgent than ever.
Is Amazon a benevolent driving force of the global economy or is it a sinister disruptive corporation with its crosshairs aimed at small businesses?
University supercomputers, once revered, now pale in comparison to what Amazon Web Services can offer in terms of raw computational power. Without the hassle of having to build your own supercomputer.
But what has truly made AWS indispensable is its ability to help companies scale. With AWS and a budget to pay rising fees, your company could, in theory, scale infinitely. Nowhere is the necessity and utility of AWS felt more keenly than in the new home of the American Dream, Silicon Valley. Having a product that offers limitless scaling potential could not have more appeal in California, a region defined by stories of small companies with big ideas, changing the world.
Amazon Web Service and the Scaleable Model
At its inception in July 2002, AWS was little more than a hodgepodge of web development tools. But as tech grew, so too did AWS. With its broad mandateand eye to the future, AWS has successfully integrated every big tech breakthrough, from cloud computing to machine learning into its platform.
This affects companies both big and small with Apple reportedly spending 30 million dollars a month on AWS services. The genius of AWS is that it meets needs that every company has, the ability to scale, secure file storage, and much more are all facilitated by AWS. This model means that AWS is able to commoditise and profit from growth; if you're growing, they're getting their share.
With shipping costs predicted to rise 7% annually, Amazon has solid reasoning for diversifying its revenue sources.  How most consumers who use Amazon are in actual fact, an increasingly small part of their profit-generating business. The e-commerce giant is able to offer such low prices by running at incredibly narrow profit margins on most products. In 2018 Amazon made 7.2 billion dollars on domestic sales and actually lost 2.1 billion in international sales. AWS, on the other hand, made 7.3 billion globally, over 56% of Amazon's operating income for 2018.
The Figures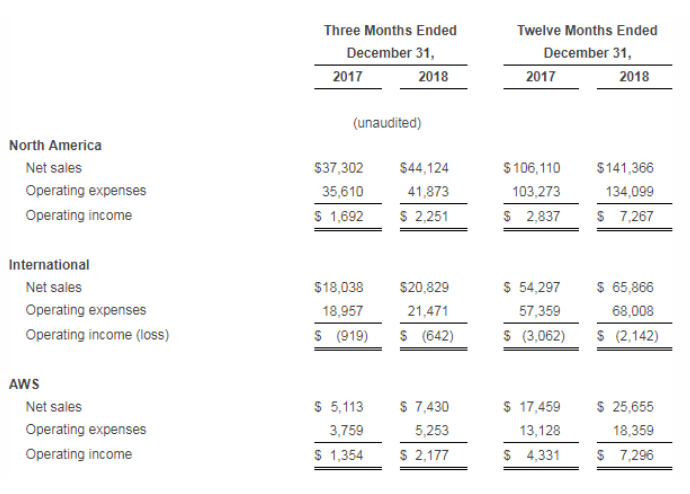 This means that Amazon can afford to lose money in developing regions, leave itself vulnerable to economic downturns and still have some of the highest valued stock in the world. Should it be cause for concern that Amazon can afford to lose billions and still make record profits because of the success of its subsidiary?
Many will be quick to point out that Amazon is not doing anything illegal by dominating the cloud computing space and should not be victimised for its success. After all, the advancements in AI, machine learning and cybernetics that have occurred rapidly in the past decade are in large part due to AWS. What kind of example would it set to the world if we punish the business sector for pushing the world forward?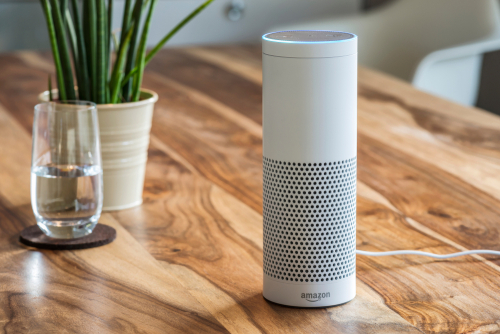 What makes Amazon distinct from businesses that have dominated markets before, is their ability and propensity to dominate several markets simultaneously. Then use the profit from one venture to support their loss creating margins of another. This type of practice is fine on a small scale but when you are one of the largest companies in the world, it's a different story.
On big sale days like Black Friday, it becomes more apparent that wealth inequality does not just affect individuals, it affects businesses too. When the only option remaining to an independent business is to build a global network of cloud computing facilities in order to compete with Amazon's prices, the problem should be obvious.
Matthew Goldsmith is a writer working on behalf of Team Umbrella and specialises in political economics and history.