Dread it. Run from it. Destiny arrives all the same, and the juggernaut that is the Golden State Warriors survived a game 7 against the Houston Rockets in the Western Conference Finals 101-92, securing yet another NBA finals berth. The prospect of defeating the Rockets away from home, albeit without injured star point guard Chris Paul, appeared to be beyond the Warriors who struggled in the first half and trailed 61-51 at halftime. This was a familiar pattern for the defending champions in this series, who fell behind by as many as 17 points in Game 6, which they also managed to win via a stirring second half comeback.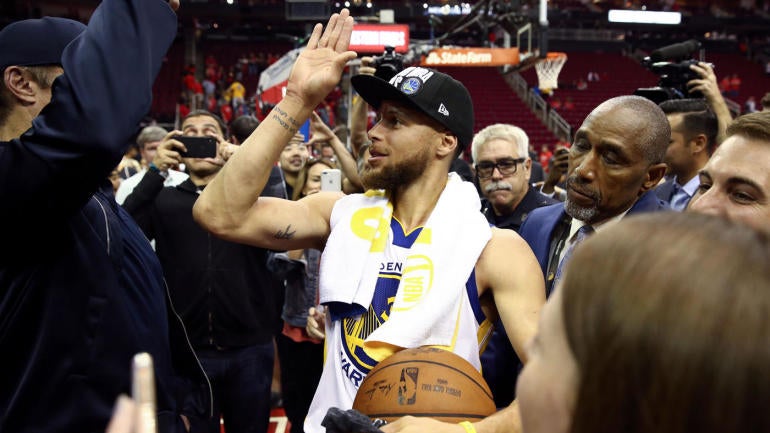 Steph Curry celebrates victory against the Houston Rockets (Source: CBS Sports)
The Warriors have a habit of blowing opponents away in the third quarter, which manifested itself again in this game. Steph Curry scored 14 of the Warriors' 33 points in the quarter, finishing with 27 points in total, alongside nine rebounds and ten assists. Whilst Curry made nearly 50% of his 3 point shot attempts, the Houston Rockets went on a barely believable drought from 3 point range, missing a record 27 consecutive three point shots which allowed their opponents to steal a foothold in the game.
Reigning NBA finals MVP Kevin Durant produced a much stronger performance after struggling in Games 5 and 6, scoring 34 points as well as grabbing 5 rebounds and 5 assists. James Harden scored 32 points in a gamely effort, but was inefficient offensively, shooting 41% from the field and 15% from three point attempts. Undoubtedly, there will be sympathy towards him as he played Games 6 and 7 without his second best player in Chris Paul, but the man likely to win regular season MVP may have been expected to play better in a winner takes all game like this one.
The Peerless Lebron James awaits the Warriors in the NBA finals for the fourth consecutive year (Source: David Butler USA Today Sports)
The Warriors succeeded in defeating the team with the NBA's best regular season record, but will now advance to the sport's greatest stage to battle the sport's greatest player. Yet again, Lebron James and the Cleveland Cavaliers await in the NBA finals, standing in the way of the Warriors winning their third title in four years, and successfully defending their title won in 2017. Game 1 of the best of 7 series is on Thursday.