A lesbian couple have been attacked travelling home on the bus in London in the early hours of Thursday 30th May in West Hamstead. The two women, who had been heading home towards Camden, were both left hospitalised by four male attackers. They had been travelling on the top deck of the N31 bus, and there had been no other passengers aside from the couple and the group of men. Melania Geymonat and her girlfriend Chris were left covered in blood after refusing to kiss each other for the men's entertainment.
Geymonat shared the details of the attack on her Facebook page, saying: "In an attempt to calm things down, I started making jokes. I thought this might make them go away. Chris even pretended she was sick, but they kept on harassing us, throwing us coins and becoming more enthusiastic about it." This was a homophobic offence and was unprovoked by the couple. Geymonat, who is a flight attendant for Ryanair, described the assailants as "hooligans". She has not been able to return to work since the attack, which occurred at 2:30am in the morning, and is still being treated for injuries sustained.
Geymonat, 28, who is from Uruguay, recalled that three of the men spoke with British accents while one spoke Spanish. She released this shocking picture on Facebook: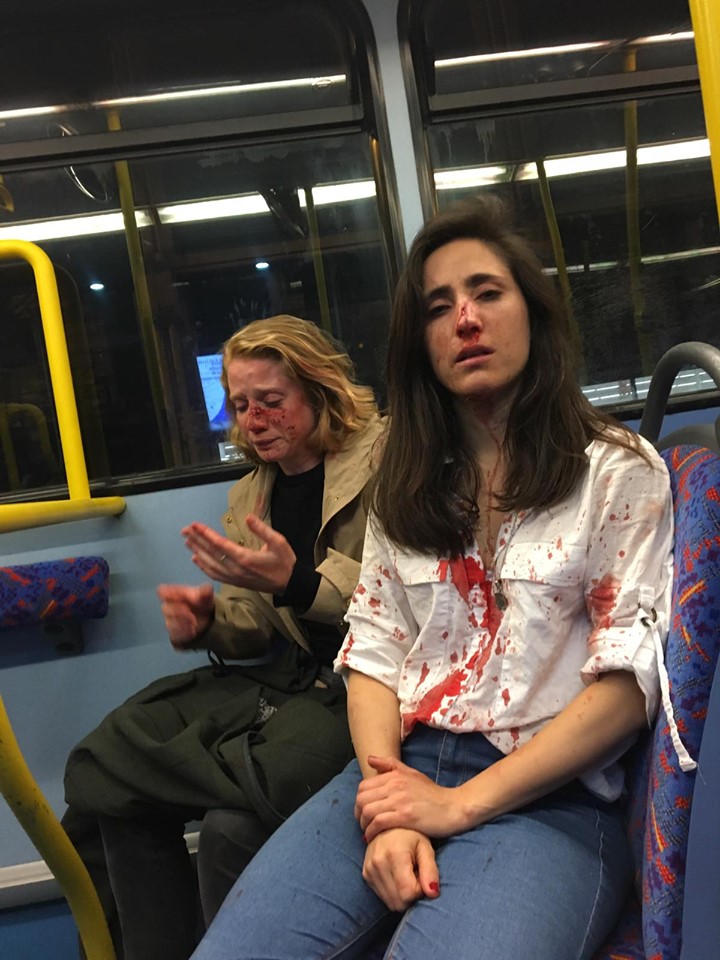 The air stewardess then went on to describe the attack further:
"The next thing I know is that Chris is in the middle of the bus fighting with them. On an impulse, I went over there only to find her face bleeding and three of them beating her up. The next thing I know is I'm being punched. I got dizzy at the sight of my blood and fell back. I don't remember whether or not I lost consciousness. Suddenly the bus had stopped, the police were there and I was bleeding all over. Our stuff was stolen as well."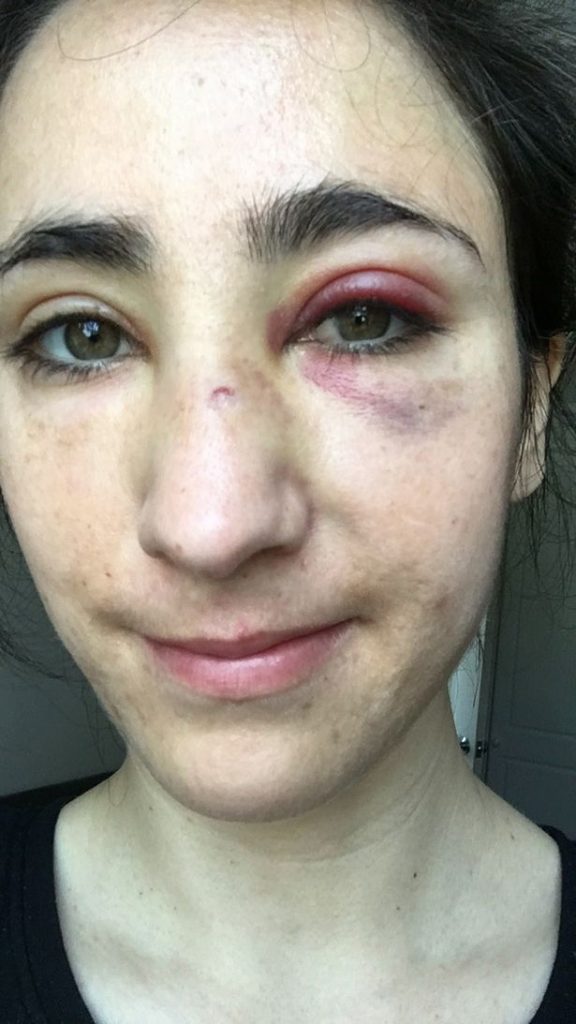 June is the global Pride month, where members of the LGBTQI+ community celebrate their identity in public events which aim to include and educate. Pride in London will culminate this year on the 6th July with this year's parade. The event last year drew over 1 million partakers and supporters. The attack calls into question how safe London really is for gay people in public spaces. The LGBT charity Stonewall reports that "More than a third of LGBT people (36 per cent) say they don't feel comfortable walking down the street while holding their partner's hand". These findings are based on a YouGov poll of over 5000 LGBT people in Britain. Author Stella Duffy tweeted suggesting that the attack signals why we still require Pride in our seemingly modern and accepting Britain.
This attack is not only homophobic but misogynistic, showing the endemic oversexualisation of lesbians in our society which prohibits gay women from being able to pursue active, normal relationships in public. The term 'Lesbophobia' has commonly been used to describe the phenomenon of Western's culture's lack of acceptance when it comes to lesbian couples. Jane Czyzselska defined the term in 2013, writing "Lesbophobia is homophobia with a side-order of sexism. It's homophobia directed particularly at lesbians. Underpinning it is the belief that women should look and behave in specific ways – keep rules that lesbians break simply by being."
The attack signifies that six years later in 2019, we are no closer to solving active discrimination against women simply for being in a relationship with each other. Under a patriarchal society, relationships which not only forgo heteronormative ideals, but exclude the necessity of a man to exist, are pushed out unless forced to become sexualised for the pleasure of men.
Sadiq Khan has stated that "This was a disgusting, misogynistic attack. Hate crimes against the LGBT+ community will not be tolerated in London". The BBC reports that "Siwan Hayward, director of compliance, policing and on-street services at Transport for London, described the assault as 'sickening' and 'utterly unacceptable', adding that 'homophobic behaviour and abuse is a hate crime and won't be tolerated on our network'." It is with hope that the perpetrators of this disgusting hate crime can be found.
Flora graduated from the University of Manchester with a degree in Drama and English Literature in 2017, and is now living in London. She has experience in education and charity work, and enjoys discussing gender, environmental issues and arts and culture. In her spare time, Flora enjoys acting and is a fervent fan of comedy.