Why the remainder of the season isn't as exciting as it should be.
The Bundesliga is back and the Premier League is soon to follow this in mid-June on the 17th. It's fair to say that COVID-19 has rocked every industry in the world and the sports entertainment felt it's harsh effects. Will football's return be triumphant or marred with challenges?

Genuine concerns

Watford's Troy Deeney rightfully said "he won't be able to get a haircut in July due to safety features but has to perform in a match with 19 other people in close proximity. " With a vulnerable 5-year-old at home he was one of the players protesting for a longer delay.

Danny Rose on his Instagram Live was also adamant that "he's not willing to risk his life for the entertainment of others… peoples lives are at risk. Football shouldn't even be spoken about coming back until the numbers have dropped massively."

With other footballers speaking up for their safety, backlash has been evident from the general public. The players citing their families safety over and above the morale of the nation has created outrage.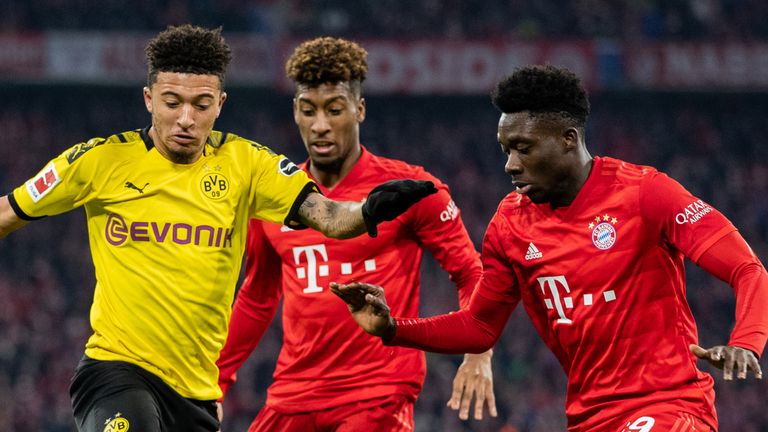 The Bundesliga sets the pace

The Bundesliga has paved the way for football restarting due to the efficiency of Germany handling the COVID-19 crisis. The country's R-value being around 0.76. This allowed the players to train from as early as late April as long as they maintained social distancing and used face masks.
The R-value is a numerical rating to indicate the ability of a disease to spread, with a higher number indicating greater spread of infection. A value above 1 will see exponential growth in the rate of infections and cases.

The matches so far have highlighted some great achievements showing what is missed about the beautiful game. Young Englishman Jadon Sancho notched his first-ever professional Hatrick against Paderborn. Likewise, 24-year-old Timo Werner is making headlines and attracting interests from the big clubs around Europe having 31 goals to his name this season. The biggest highlight is Alfonso Davies who is making the case for the best left-back in the world with his first European debut.

Is it working?

Bundesliga has tried a number of methods available to them to make the games entertaining in lockdown, from putting banners of fans across the stadium to streaming fan sounds to create a real-life atmosphere. For all of the organiser's efforts to generate the atmosphere, without fans physically in attendance it remains sadly lacking.
Football is being used as a tool to lift the nations spirit but if the Bundesliga is any indicator of such a thing happening it might not do much for us in lockdown. Factoring in the safety of players, have we reached a point where force players who are scared to play because of the impact it can have on their family?
The justification can't be because they get large amounts of wages that the general public can make them do what they don't want. After all we are in a pandemic.

Money makes the Prem go round

Of course, the Premier League season was never going to be voided due to large sum of money that clubs across England would have to give back in their TV deals sponsorship. The Premier League has a deal that is worth £5 billion over 3 seasons televising 200 games stretching from 2019-2022. As each season is worth approximately £1.66 billion.
If this season had been voided roughly £1.1 – £1.2 billion would have to be returned back to Sky, BT and Amazon for not legally meeting the contractual requirement of televised games. That would have serious implications across the whole industry, such as job losses to the backroom staff, wages being cut to lower-tier teams and stadium employees. Simply put, money talks.
The BBC will be broadcasting 4 Premier League games for free for the first time in its history in a major step for the national broadcaster.

There's has been an eagerly awaited return in the UK for football. Oliver Dowden, the Culture secretary has given the Footballing authorities the go-ahead for games to be played behind closed doors. Alongside football, other sports such as tennis, cricket, Formula 1 & rugby will soon make a return.

There are some exciting fixtures on the horizon- Arsenal v City, Tottenham Hotspur v Manchester United, Liverpool v Everton, with the likes of Pogba Rashford Martial and Bruno all playing together for this first time. Stars such as Kane, De Bruyne and Lacazette will be ready to make an impact.
However, these players are still essentially putting their lives at risk for entertainment. Viewership should hit record numbers but whether they'll stay that way and be worth the risk is unclear. The jolt of excitement will slowly dwindles as thoughts of the next impending season loom. The fact that Liverpool mathematically only need two more wins in order to secure this season trophy is something most fans are dreading.
For now, football is back-ish…