Going into the weekend's fixtures Manchester United knew that they had to match their bitter rival's result, or they would concede the title. Manchester City travelled to Wembley on Saturday night where they were able to comfortably dispatch top four challengers Tottenham Hotspur 3-1. The onus was then with the Red Devils to keep the neighbours party at bay for the second week straight.
Our Time. Our City.

Premier League Champions 17/18 🏆#mancity pic.twitter.com/lztlN3lWFW

— Manchester City (@ManCity) April 15, 2018
Last week United overturned a 2-0 deficit against City to win and stop the bitter embarrassment of losing the league directly against Pep Guardiola's side. It now seems that all that effort was rather pointless. After a lacklustre performance from United, the title was decided. United suffered a shock 1-0 home defeat to Championship destined West Brom, meaning City are now mathematically out of reach. It also means City match Manchester United's record of the fastest Premier League triumph after only 33 games.
The managerless Baggies were written off by many. But they certainly blocked out their doubters, winning the game thanks to a Jay Rodriguez header. It was a good solid display were they arguably deserved the three points. A win which will do caretaker manager Darren Moore's hopes of a permanent role no harm. However, it will certainly leave Jose Mourinho with more questions to answer.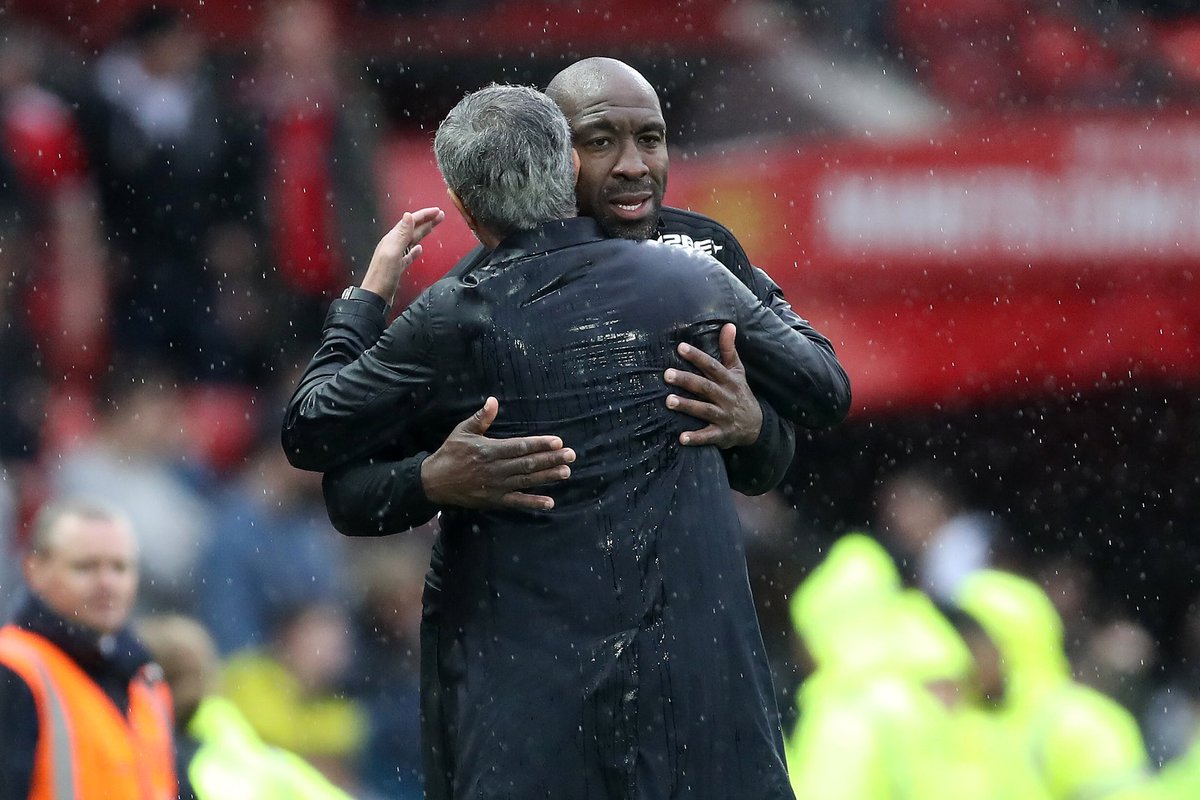 The two managers embrace after West Brom beat Manchester United (Image via @WBA)
An irritated Mourinho indicated in the post-match interview that he felt some of his players let their heroics against City get to them. He said, "We were masters in complication. Players didn't play simple. Everyone was one more touch, one more trick, one more flick one more turn."
It was certainly a result that people never expected, none more so than the Manchester City staff and players. Unlike the scenes that may be recalled from Leicester City's capture of the league title were their squad prepared to mark the occasion by gathering at Jamie Vardy's house, City had players in different areas and even countries. Their manager was in fact playing golf!
At the time of his side actually being confirmed as Champions, captain Vincent Kompany was filmed at home with his family celebrating. He was then shown on facetime with teammate and fellow Belgian Kevin De Bruyne. Some of the players later gathered in the evening though. The celebrations certainly got underway, with Kompany seen with the likes of Bernardo Silva, John Stones and Kyle Walker making a speech at a local pub alongside some fans.
Captain, leader, legend 🔵🔵 @VincentKompany @ManCity @City_Watch pic.twitter.com/CGIg5HGkIQ

— Alex Hunt (@AlexHunt01) April 15, 2018
This season's newly confirmed Premier League champions have certainly earned plenty of admirers and one of the league's legends Thierry Henry, gave his insight as to how via SkySports. One of the key things he felt made an impact was the influence of manager Guardiola's defensive tactics. He said the following, "Kyle Walker coming, Ederson coming made a massive difference. But there was only one-way Pep Guardiola was going to set up his side and play. Most of the time he wants to play that offensive football. He values not conceding a lot. People always talk about possession, but when he talks about defending, he will tell you to stay in your position and not lose the ball."
So, with Guardiola having seemingly implanted his brand of football at City, after taking a year to adapt. Do you think his Manchester City side are currently the best in Europe? Also, with the Spaniard opening his trophy account in England with Premier League and Carabao Cup, is that enough for him to be considered a success or does he need to add a Champions League to the list?

---