Gallant Sentiment, Varied Delivery
by Ellie Tivey
This month saw the release of Mike Leigh's highly anticipated Peterloo. Peterloo tells the largely untold story of one of the worst massacres in British history at a democratic rally in Manchester's St Peter's Field. Having gathered in the hopes of improving parliamentary representation and suffrage, the crowd of 60,000-80,000 people found themselves charged upon and attacked by the Manchester and Salford Yeomanry. The estimations of fatalities have ranged between eleven and eighteen, with those injured fluctuating around the upper hundreds. Leigh has cited his own indignance at not being taught about this massacre during his school years as a key driver in his decision to make the film.
With most great films that address mass suffering, there is a focus on one individual in order to personalise atrocities that can otherwise be viewed in numerical and statistical terms. Leigh rejects this trope in a concerted effort to not value any one character's experience at the expense of another, a tangible nod to the Mancunian unity felt keenly to this day.
 While this decision is based in admirable sentiment, it ultimately leads to a lack of connection to the people involved, and multiple missed opportunities. One prime example being David Moorst's character, Joseph. Seen in the opening sequence as a bewildered bugler at Waterloo, he provides the framework through which the brutalities of Waterloo and Peterloo are directly compared. It is painfully clear how deeply affected he is by war,  and his suffering only increases when he finds returns to a home ravaged by industrialisation and the Corn Laws. Yet his true feelings regarding his situation are hardly explored, save from a brief seconds-long shot of him trying and failing to find work.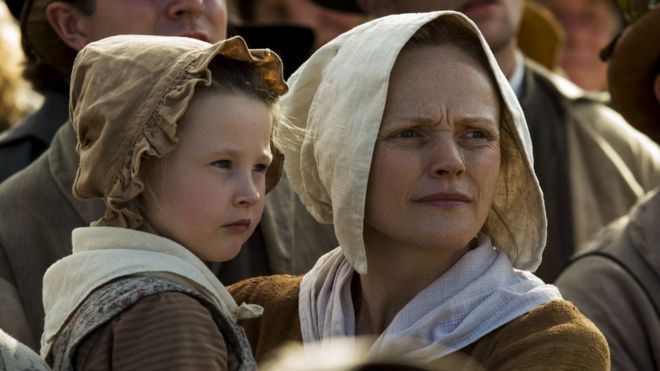 The script itself is constructed with an expert hand, it holds a poetry that translates beautifully in both the pomposity of the upper classes and the rugged articulation of the lower. This is displayed particularly in the many rallying speeches we see delivered to the people of Lancashire throughout the first act. Leigh's dedication to historical accuracy is distinctly clear in this area, almost to a fault. While it is true that Peterloo was a march inspired by words, the structure of rallying speech followed by rallying speech becomes repetitive. As with any over-communicated political slogan, the message loses impact, and the audience's inspiration fades with it.  It assumes an almost academic air and wrought up memories those scarce lessons when the teacher would allow you to watch a film – as long as they got to pick it. 
What cannot be questioned, however, is the brilliance of the final act. With the massacre itself injected with a vibrancy of colour that directly contrasts the grim palette of the world presented previously, the film, rather ironically, comes to life when the life of many others is coming to an end. The massacre itself toes the line between realism and action with notable delicacy. Avoiding the usual bombasity of most action sequences, Leigh manages to communicate a sharp horror and sobering calm in equal measure. This is then followed with shots to the army general who skipped service in order to go to the races, and Tim McInnerny's Cruikshank-esque portrayal of the prince regent who barely remembers Manchester's name, which incites the first sharp sense of injustice on the behalf of the lower class. 
It is, in some ways, a perfectly timed film. Just one year after the Manchester attack, and with the country's democracy hurled into national question and debate over Brexit, this film should tap into many political frustrations being felt today. However, while the final payoff is beautifully crafted, this film requires a patience that I am sad to say I do not possess. By the time I reached the final moments, I was left wondering why my emotions had been neglected at first only to be deeply engaged in the closing scenes. What I was left with was a sense of being overwhelmed. Overwhelmed with information, the sheer length of the thing, and an enhanced discontent towards social inequality. Which, while I question the delivery, I suppose is what Leigh intended to inspire.
Ellie is a recent graduate in History and Politics from the University of Manchester. Originally from Bristol, Ellie moved to Manchester in 2015 and has no intention of leaving any time soon. She spent the final year of her degree as Editor of the university's only historical publication, The Manchester Historian, and continues to present/produce weekly news videos for Manchester start up, Student Inspire Network. She has dreams of becoming a journalist and hopes to embed her passion for politics and popular culture in all of her work.