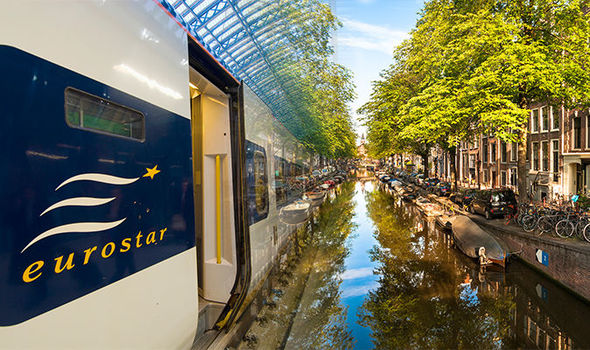 Eurostar has launched its highly anticpated service from London St Pancras to Amsterdam, a service initially planned in December 2016, which will take passengers from to Amsterdam in just three hours and 41 minutes.
(Source: Eurostar)
The first journey will launch on April 4, with one-way fares starting at just £35. The new service will include two trains a day, departing at 08:31 and 17:31 respectively.
London to Amsterdam is one of the most popular direct flights in Europe, with 1.9 million Brits visiting the city on a yearly basis. Despite this, Eurostar believes there is a healthy appetite amongst consumers for an alternative to flights. CEO Nicholas Petrovic pointed out that "many passengers do not enjoy the experience of flying short haul", but that EuroStar has afforded them "another choice".
Eurostar will definitely compete favourably with airlines in terms of costs; although one can find a £30 ticket to Amsterdam which appears cheaper on the surface, It doesn't account for expenses such as travelling to the airport or paying for additional luggage. So in reality, flying is still considerably more expensive overall. In addition, by avoiding the time spent lingering in the airport waiting to depart, the difference between in journey time from Eurostar to flights becomes minuscule.
Heathrow Terminal 5 (Source: Fameflynet.uk)
The service starts in Brussels and Rotterdam, which is 30 mins away from Amsterdam, and regarded as Netherlands' second city. Amsterdam has attempted to reduce the number of people visiting the city, due to some of the negative impacts of mass tourism that it has been suffering. The city has banned new hotels from opening in the historic city centre, and has introduced a new tourist tax to deter disruptive visitors, including stag and hen do's. The opportunity for tourists to enjoy Rotterdam is an attractive prospect to Dutch authorities, providing the city with income and decreasing the burden on Amsterdam.
The "final piece of the jigsaw" according to Petrovic, is a return journey from Amsterdam to London, which will not exist until the end of 2019. Visitors will have to take a Thalys train to Brussels where they will go through passport control and change onto a Eurostar service to London. Eurostar acknowledges this is a problem, though it remains powerless while the governments in the UK and the Netherlands complete an agreement which will enable passport checks to be conducted on departure in Amsterdam and Rotterdam.

---