In the frozen city of Minneapolis, two of the NFL's best teams went head-to-head, in what was another exhilarating Superbowl. It was a game which saw the demise of old legends and the rise of new ones. To understand, the magnitude of the Philadelphia Eagles' victory, you be aware of the Tom Brady's NFL dominance.
For almost two decades, New England Patriot Tom Brady has been the premier NFL quarterback. He has accumulated a total of 66,159 yards in passing yards, including a completion rate of 64%. He was honoured with the NFL MVP title, at 40. Also, let's not forget that he was won 5 Superbowl's. Not bad for a player who was picked in round 6 pick of the 2000 NFL Draft.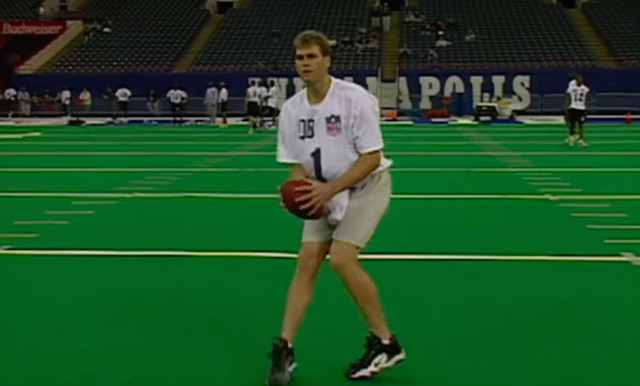 Initially described as 'Tall and slow'. These were the attributes which made one of greatest quarterbacks in the league. (Image: CBSSports) 
Brady is renowned for avoiding the inevitable part of American football; Getting hit. He is a master at picking out the most difficult of passes and reading defenses like an open book. However, his unique ability to secure a victory regardless of the circumstances went missing on Sunday.
For almost 60 minutes, Brady and the Patriots wrestled with the Philadelphia Eagles' defense. The Eagles continually battled with New England, edging closer to sacking Brady. However, time and time again, Brady managed to slip away. With 2:21 left in the 4th quarter, the Eagles had managed to hold a 5 point lead. As history shows, this is the moment when the Eagles should have been most scared. Superbowl LI showed that a lead over the Patriots prior to the 4th quarter is almost meaningless. Brady and New England managed to overturn Atlanta's 25 point lead.
The Patriots were 75 yards from the touchdown line, with 3 downs to go. This was Brady territory. A touchdown at this stage would ensure that New England would secure it's sixth Super Bowl title.
Long was perhaps the Eagles player who best understands Brady's genius. A former Patriots player, he experienced Brady lead the team to an amazing fourth-quarter comeback in Super Bowl LI. He was fully aware of Brady's prowess to analyse team's defense to the nth degree. A skill he learned from Patriots coach Bill Belichick, a defensive mastermind himself.
Throughout the game, Long kept reminding the Eagles' defense to stay persistent in their pursuit of Brady. As a result, the Eagles' were aware that New England was going to be extra vigilant in protecting their talisman. The Patriots added extra blockers and even asked running backs to momentarily slow down their runs, to buy Brady an extra second to throw. This tactic resulted in Brady securing a Super Bowl record, attaining 505 passing yards as a quarterback. It was getting harder and harder for the Eagles. They began to struggle to keep their defensive pressure. This tension was heightened as Brady completed a quick pass to Gronkowski, who ran it for eight yards. With 2:16 left on the clock and Brady made a much needed a pass, just before the two-minute warning. It looked like the end was nigh for the Eagles. What unfolded over the last two minutes of this game, was predicted by very few. Only Philadelphia's very own  Meek Mill, saw this one coming.
I can clearly see da eagles winning da superbowl ….. Yeaaaa

— Meek Mill (@MeekMill) August 14, 2011
Up steps Brandon Graham, Eagles' 29-year old defensive end. Who once again verified  Bear Bryant's infamous phrase: 'Defense wins championships'. Graham grabbed Patriot Shaq Mason's and clawed his way towards Tom Brady. There was open space open and Graham lunged for Brady's cocked arm.
Brandon Graham shutdowns Brady's passing attempt. (Image: USA Today Sports)
As the ball dropped from Brady's arm, time seemed to slow down. The Patriots defense was looking bewildered. Brady Fumble? Impossible you might say. Not on this occasion. Graham secured a coveted interception against Tom Brady. Ultimately, leading the Eagles to their first Super Bowl championship.  This game represented a break in what has almost become a Superbowl tradition. In the last 3 years, the Patriots have won two Superbowls. 
With this win, the Eagles intend to break off-pitch traditions as well. For four decades, it has been custom for the winning Super Bowl team to visit the White House. However, after a year of disrupted relations between Donald Trump and the NFL, specifically in relation to his vulgar comments on NFL protests, which were related to racial tensions in America. Several Philadelphia Eagles players have chosen not to attend this visit. Amongst the squad, Malcolm Jenkins, Torrey Smith, Chris Long and LeGarrette Blount have explicitly stated that they'll not be present at the traditional White House visit.       

Munya J. Raradza
Munya J. Raradza was born in England and is of Zimbabwean descent. A big sports fan, Munya is also a track athlete who has competed internationally. Including winning national titles at a junior and collegiate level. A history graduate of the University of Birmingham, Munya has always had a strong passion for writing. Currently, he is an editor for TCS who aims to provide engaging news, with a dash of critical thought. Follow Munya on twitter @JayRaradza.
---