The so-called friendship between Donald Trump and Theresa May is something that confuses the majority of us. The 45TH president of the United States of America has been one of the most controversial candidates in history. During his campaign his win seemed almost impossible with all the different allegations coming out against him. This wasn't helped by the fact that he seems to also be an extremely outspoken man, one who doesn't necessarily think before he speaks as he often seems to respond on impulse, something we haven't seen in other presidential candidates. Not to mention the fact that no one seems to be able to stop Trump from tweeting his every thought. Whilst his behaviour may frighten people like me, clearly enough people either loved it or found him the lesser of two evils because it didn't stop him from achieving his goal.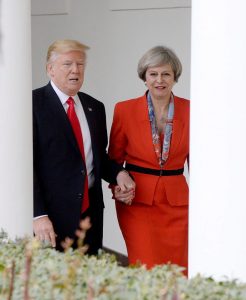 If that wasn't shocking enough, I'd like to believe the majority of the British public were shocked by pictures emerging of the Prime Minister, Theresa May holding his hand as they walked through the White House. It has since been revealed that the reason there were seen to be holding has was so that May could assist Trump but this was only the start of Theresa May's Trump issues. After neo-nazi's rallied in Charlottesville – a rally that resulted in death – the outspoken president made a statement to say that there was blame on both sides, as opposed to just rebuking the far-right group for their actions. When May was called upon to condemn her new friend's actions she repeatedly avoided doing so, and so a pattern emerged. All things Trump related may as well have become off the table for any media interview.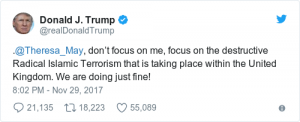 We saw a recent change in this when May finally spoke out against his actions by saying that it wasn't right of him to retweet various anti-Muslim videos from a British far-right group. This, of course didn't sit so well with Mr Trump who decided to express his frustrations on twitter by tweeting
@Theresa_May, don't focus on me, focus on the destructive Radical Islamic Terrorism that is taking place within the United Kingdom. We are doing just fine!
I, for one, had been wondering when Trump and May would finally have a public disagreement and how it would play out. Especially seeing as while it may seem that Americans are fine with Trump's over exuberant nature, we Brits are known for having a 'stiff upper lip'. Of course, in true British form Theresa May didn't respond to the president's tweet but it does beg the question, how long will Donald Trump get away with his actions? Will he continue to provoke world leaders and expect to remain consequence free? Does presidency mean that Mr Trump is suddenly untouchable? Will Theresa May be as protective of his future actions as she has been over his past actions? Or, my personal favourite question, when will Donald finally be impeached? To know the answer to any of them, we're going to have to stick around to find out. I'll bring the popcorn.