by Tanya Mwamuka
It seems that 2018 has been the year for fashion controversy. Earlier this year H&M was caught in an advertisement debacle which many people thought was a deliberate attempt to increase publicity (because clearly any publicity, even negative, is good publicity).
The use of a young black boy wearing one their jumpers with the slogan "coolest monkey in the jungle" saw the high street brand gain huge amount of public backlash. Many even decided to boycott the brand, because whether they were deliberately trying to incite racism or not, why spend money on a brand who at the very least do not seem to be bothered enough to be conscious about cultural sensitivities?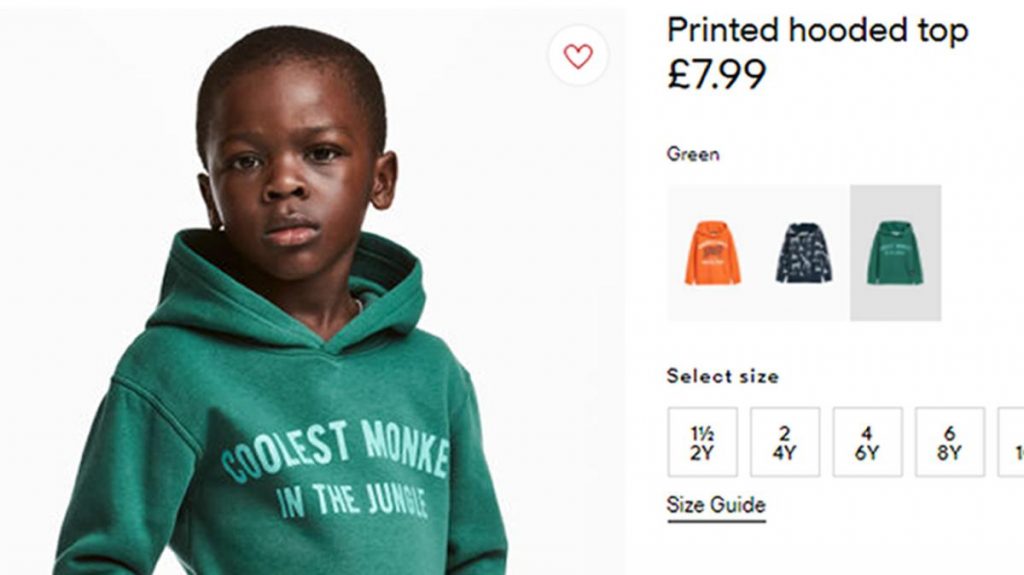 Whilst the H&M scandal has seemingly died down, another scandal involving Italian fashion house Dolce and Gabbana (D&G) has surfaced.  The high end fashion brand has been heavily criticised for their racist and culturally insensitive advert that was set uto promote a fashion show in Shanghai last month.
The advert depicts an Asian women dressed in European style clothing (D & G's designs) confronted by the task of eating a pizza and other Italian food. The women, then innocently and awkwardly tries to eat the meal using chopsticks rather than the appropriate knives and forks. Alongside the offensive imagery traditional chinese music played with stereotypical narration. 
Consequences Of The Campaign
The adverts spread like wildfire on Chinese social media with damaging consequences to Dolce and Gabbana's reputation with the Chinese.  Celebrities called out for a boycott. One of them, Zhang Ziy star of Crouching Tiger Hidden Dragon, expressed her anger saying the brand had "disgraced itself,".  Asia-Pacific ambassadors for the brand, Karry Wang also took a stand, by terminating their contracts. The Italian brand has been historically known for its use of celebrity endorsements in the Asia markets. Hung Guang, prominent Chinese fashion commentator and magazine publisher, suggested that this vital strategy would likely lead the brand to struggle.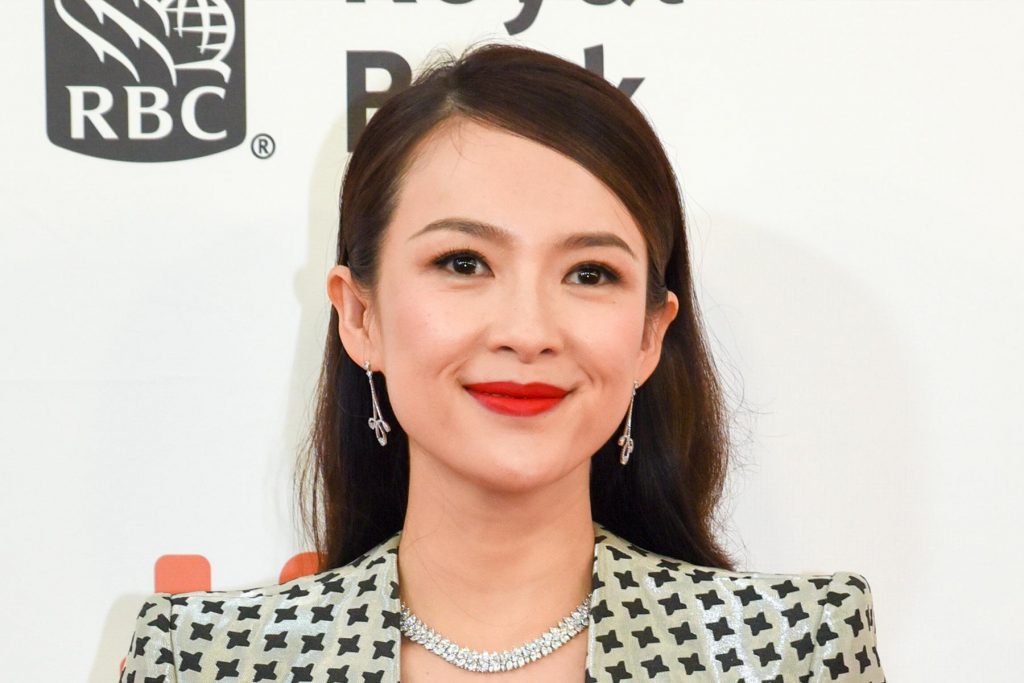 The boycotts didn't just stop at notable figures. E-commerce company Yangmatou posted on social media stating they would remove 58,000 D&G products claiming "the motherland is more important than anything". Online shopping sites Alibaba and JD.come declined to comment at first, but it was clear products had been pulled when none of the brands items showed up in both English and Chinese searches. Hong Kong based retail store Lane Crawford said in a statement "We believe that brands need to be aware of the cultural implications of their actions and understand the potential backlash when customers feel their values have been disrespected," They also took a stand by halting D&G's goods in store and online after customers began returning them.
The consequences didn't stop there. The Shanghai fashion show D&G had been planning was cancelled as celebrities announced their non-attendance and a multitude of models pulled out; all a mere few hours before the show was scheduled to begin. The ministry of culture and Tourism issued a cancellation notice adding harsh warning in their following commentary. "If one is not willing to understand China, eventually it will lose the China market and the benefits arising from China's growth."
Dolce and Gabbana spewed out half hearted apology; the word sorry was nowhere to be found. 
"Our dream was to bring to Shanghai a tribute event dedicated to China which tells our history and vision," Gabbana and co-founder Domenico Dolce said in an emailed statement earlier about the scandal. "What happened today was very unfortunate not only for us, but also for all the people who worked day and night to bring this event to life." said Dolce.
luxury brands are very dependent on Chinese consumers who account for a £100 billion of high-end purchases in 2017; a ⅓ of the global total. Ben Cavender (Senior Analyst at China Market Research in Shanghai) suggested that D&G has severely damaged their brand in the Chinese market – warning that Chinese shopping malls would shut down D&G stores in retaliation.
Co founder Stefano Makes Things Worse
Stefano Gabbana, co-founder of D & G  added fuel to the fire, when a screenshot of racists comments he made as a reaction to criticism to the adverts were also posted in instagram. Stefano later reposted the screen shot with "Not Me" pasted across, claiming that his account had been hacked.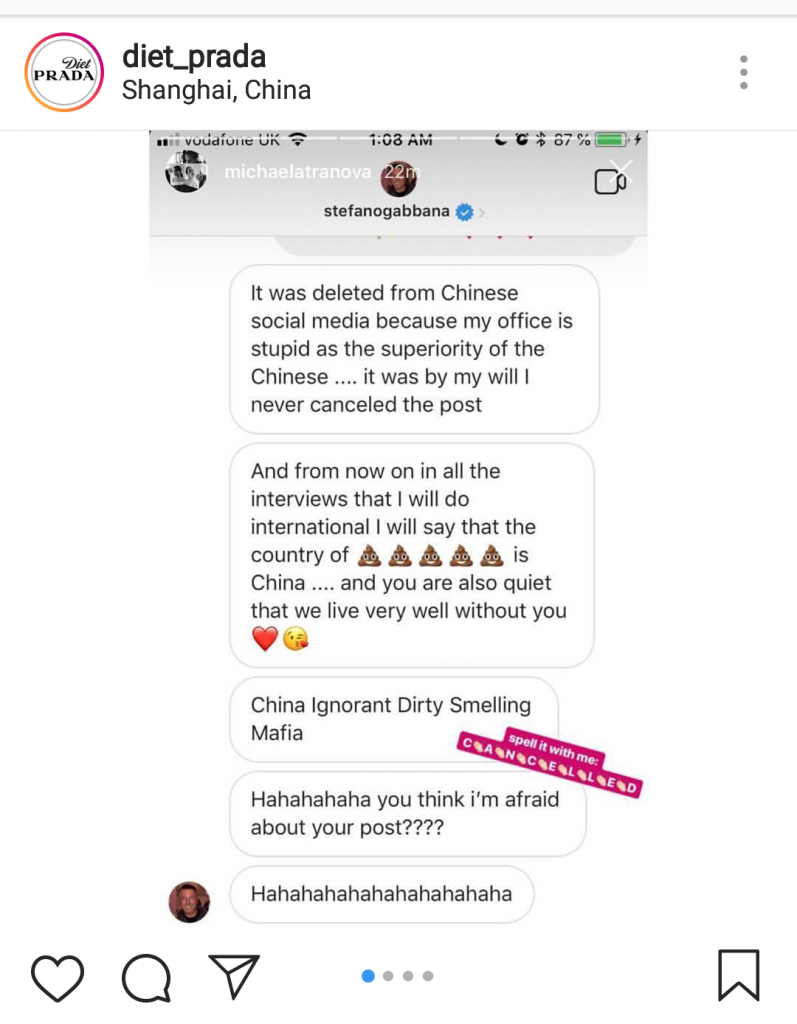 It all seems to be a huge mess and the question now is whether the controversy will spread to the US? Several of the big-spending clients of the brand's couture collections; Alta Moda and Alta Sartoria reside in Los Angeles, in addition to Hollywood representing D&G regularly on the red carpet. The hard stance the Chinese have took in response has made a huge impact between the Chinese has really made an impact. Perhaps other brands in the future tread much more carefully before mocking an entire culture for the sake of advertisement.
Tanya is currently studying Biomedical Sciences at the University of Manchester and hopes to pursue a career science communication, media and African development. She is a lover of fashion, travelling and has a keen interest in racial- social issues. She enjoys learning languages, being fluent in two and is currently adding Spanish to her resume.