On the 3rd of August 2019, America woke up to a tragedy. A mass shooting occurred at a Walmart store in El Paso, Texas, in the early morning of that Saturday where a lone gunman killed 22 people and injured 24 others.
The Federal Bureau of Investigation (FBI) is investigating the shooting as an act of domestic terrorism and a possible hate crime. The Justice Department is also "seriously considering" billing it as a federal hate crime and bringing federal firearm charges, which carry a possible death penalty, US Attorney John Bash said in a news conference.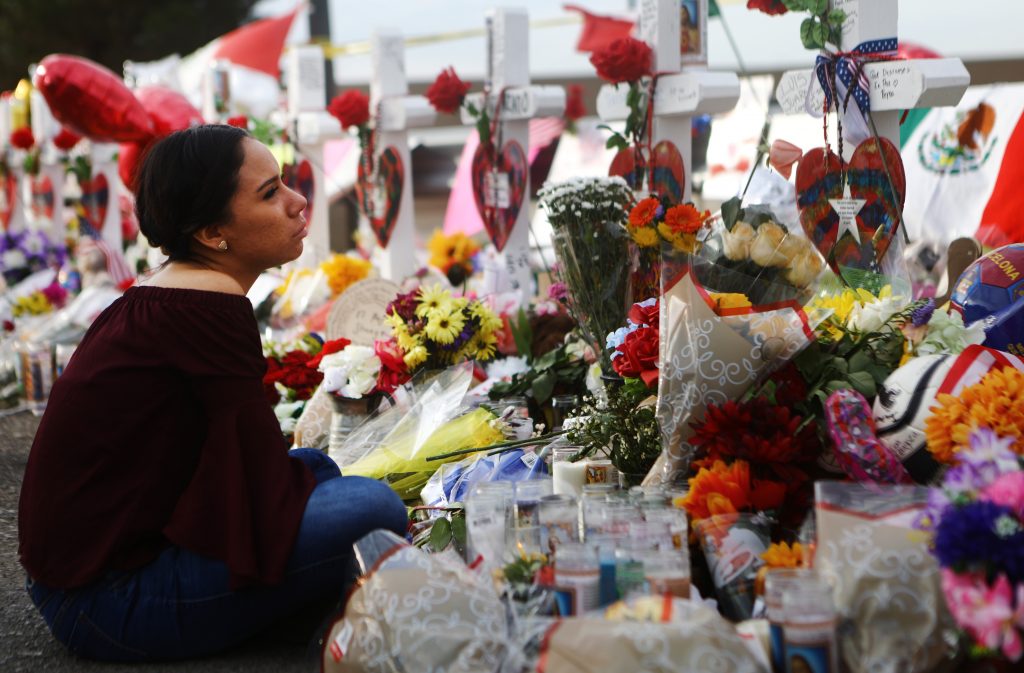 Patrick Wood Crusius, age 21, was arrested shortly after the shooting began and was charged with capital murder. Police believe that the suspect published a white nationalist, anti-immigrant manifesto on social media immediately before the attack. The post cites inspiration from the Christchurch mosque shootings and refers to white genocide conspiracy theories.
With 22 fatalities, this was the third-deadliest mass shooting in Texas history and the seventh-deadliest in modern U.S. history. At the time of the shooting, it was the deadliest mass shooting in the United States in 2019 and the deadliest in the United States since the Sutherland Springs Church shooting in November 2017.
First Take
Mass shootings have become commonplace in America, like the stars in their flag, mass shootings have become an all too permanent feature of Morden American Imagery. It has become an archetypical feature of what foreign observers think of when they consider America.
El Paso has become heartbreaking weekend of unspeakable tragedy and yet, one that feels disturbingly all too familiar. It has become impossible to deny that there is an epidemic of gun violence and mass shootings in America. El Paso serves as a sobering reminder of this. The shooting was an act of White supremacist domestic terrorism specifically targeting Hispanics. The spread of violent white supremacy has been fuelled by racist vitriol and careless or perhaps carefully crafted rhetoric from the President. This, combined with a lackadaisical approach to gun legislation, a bloated and lethargic Congress more concerned with pontificating than the death of the people they are elected to protect and an all-powerful National Rifle Association (NRA), has lead America to where it currently is as a country.
How Bad is the problem?
As of Sunday 4th of August 2019, America has had 251 mass shootings in just 216 days. This is alarming and reveals clearly that there is an obvious correlation between the number of firearms in American society and the number of gun-related deaths in the country. According to the Vox, "America has 4.4% of the world's population but almost half of its civilians-owned guns." For a country with such a small proportion of the world's population, America is head and shoulders in front of every other nation in the world. It's interesting to note that there have been more than 2,000 mass shootings since Sandy Hook.
In December 2012, a gunman walked into Sandy Hook Elementary School in Newtown, Connecticut, and killed 20 children, six adults, and himself. Since then, there have been more than 2,000 mass shootings.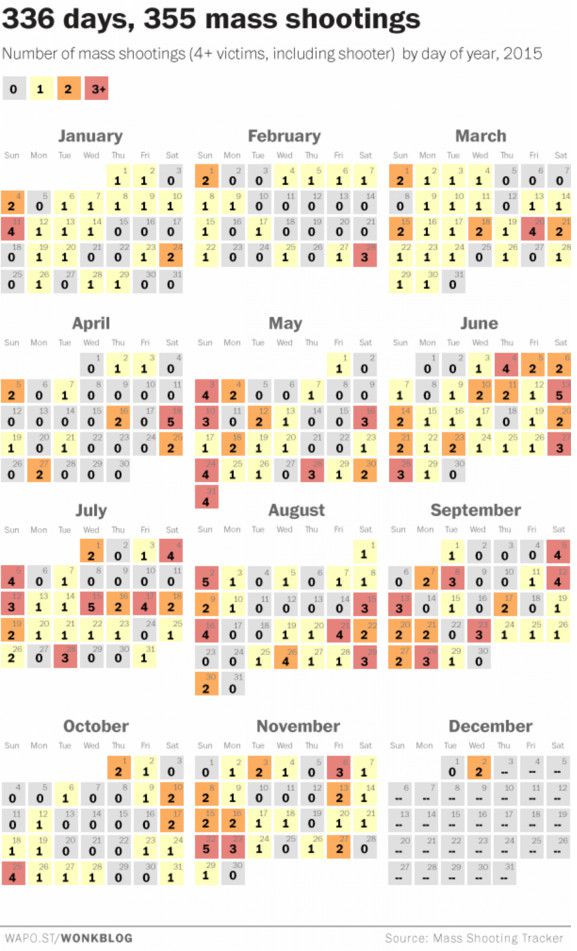 This alarming number comes from the Gun Violence Archive, which hosts a database that has tracked mass shootings since 2013. However, since some shootings go unreported, the database is likely missing some, as well as the details of some of the events.
The tracker uses a fairly broad definition of "mass shooting": It includes not just shootings in which four or more people were murdered, but shootings in which four or more people were shot at all (excluding the shooter). Even under this broad definition, it's worth noting that mass shootings make up less than 2 per cent portion of America's firearm deaths, which totalled nearly 40,000 in 2017 alone.
Among 'developed' nations, America is far and away the most homicidal — in large part due to the easy access many Americans have to firearms.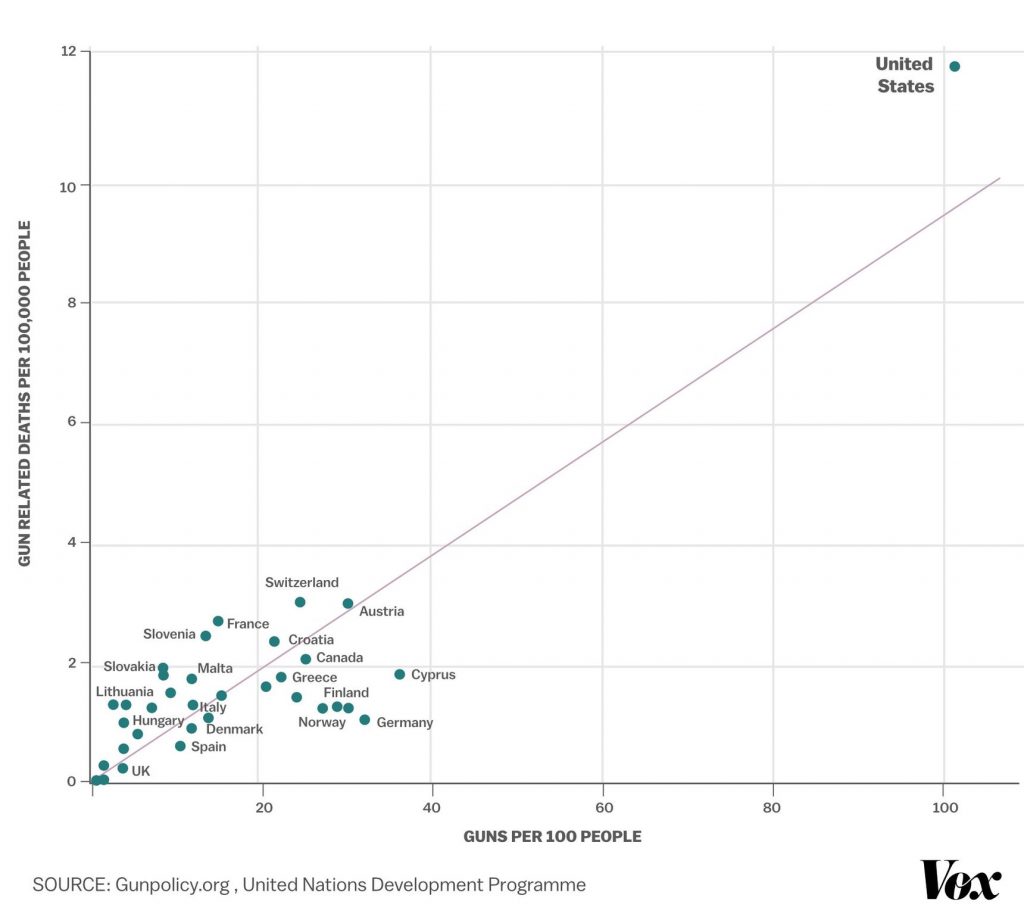 America odd relationship with guns
It is often said that America is a democracy built on guns and whisky. America's "founding fathers" led an armed population against the British monarchy and won. It is understandable that they saw the way the country was founded as an example of how it should be organized. They were fighters who wanted the ability to keep fighting to preserve their independence. Thus bearing arms became a cornerstone for Americans across the political aisle.
Thomas Jefferson wrote this into the 1776 draft of the Virginia Constitution, the first such document of a state declaring their independence:
This seems pretty cut and dry until you consider that the second and third drafts of the same document added "within his own lands or tenements" to the sentence. It seems Jefferson seriously considered that there should be some limitations on the individual's right to gun ownership. It makes sense to own a gun for self-defence on your own property, but a different set of issues comes up when this gun is taken into public spaces.
Another oft-used quote by Jefferson used by gun rights advocates is: "I prefer dangerous freedom over peaceful slavery." Here Jefferson states the basic principle behind rising up against the monarchy – while it's harder to control and keep stable, a democratic society is preferable to being enslaved, though peacefully. And, as we all know, guns are an excellent instrument for disrupting peace.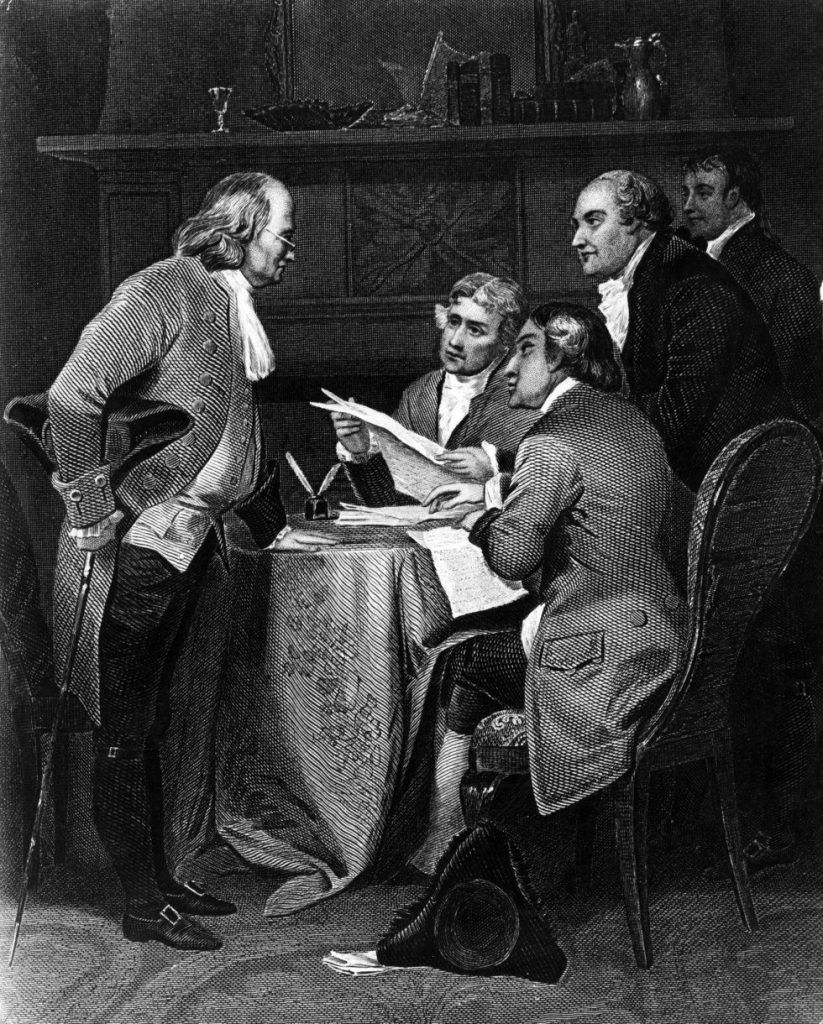 However, these historic cases considered, America ought to note one thing; whilst guns are certainly useful in overthrowing monarchs, is individual gun ownership the best way to oppose monarchs or hypothetical tyrants?
It is indeed important to consider where America has come from, however, gun advocates ought to invest as much energy in the future of America as they have invested in remembering the past. To become a developed democracy, America must do just that, become developed, change and evolve.
Trumps Rhetoric
In 1955 Till, a 14-year-old black boy from Chicago, was kidnapped, tortured, shot and then tossed into the Tallahatchie River attached to a 75-pound weight, for supposedly flirting with a white woman in Money, Mississippi. Till's mother refused to accept her son's murder. Amazingly more than 50,000 people showed up for his funeral in Chicago, and his death became a linchpin for the modern civil rights movement, inspiring the likes of Rosa Parks.
Months after Till's murder, two brothers stood accused of the crime in what came to be known as the "wolf whistle" killing trial. Defense attorney John Whitten argued that no murder had taken place — that somehow, unnamed racial agitators had arranged for a dead body to be passed off as Till's. Whitten told the all-white jury that he was "sure every last Anglo-Saxon one of you has the courage to free these men" in the face of "pressure" from "rabble rousers." After 67 minutes of deliberation, the jurors proved Whitten right, exonerating the brothers.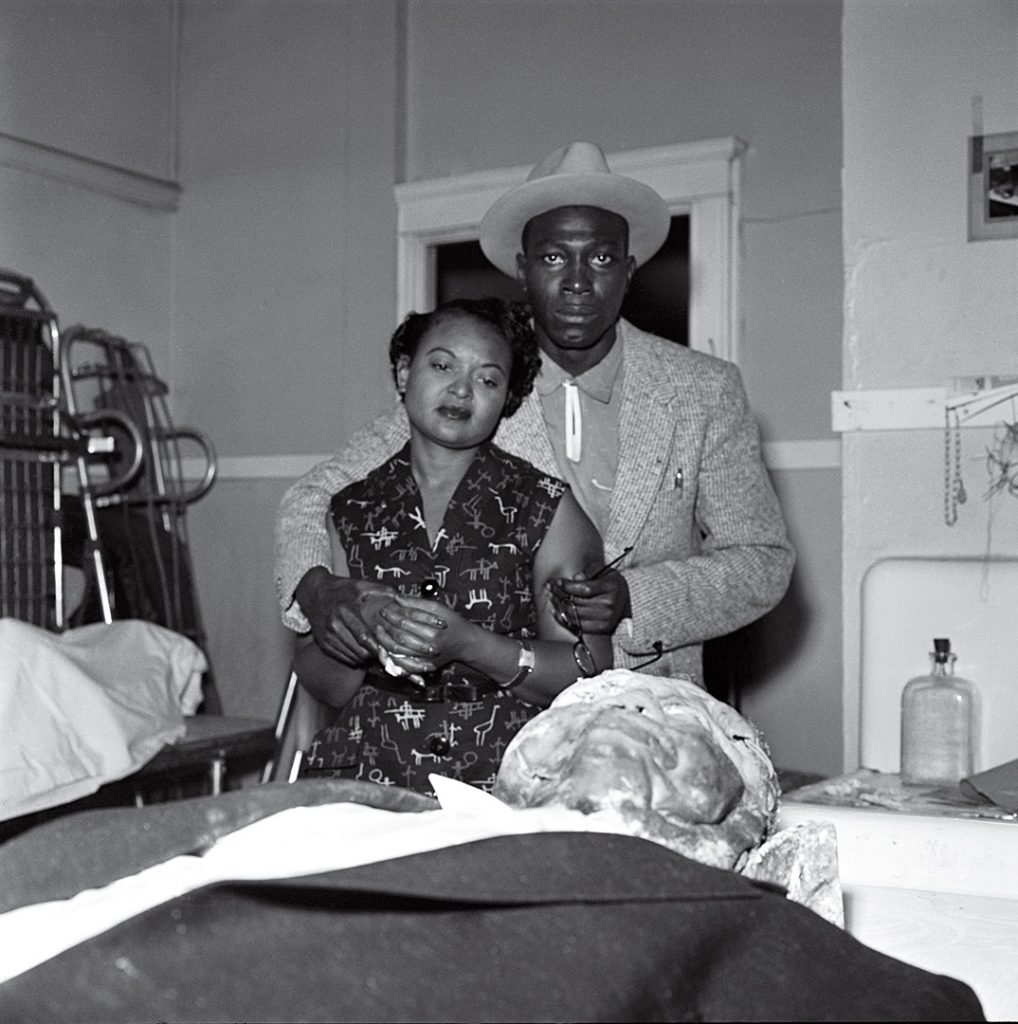 The confidence that Whitten had in his jury is parallel to the confidence Donald Trump has in his so-called base and the trust they have in him. His supporters understand the importance of defending Anglo-Saxon supremacy against all threats (real or imagined). Trump has played to this base with numerous wolf whistles and outright racist statements.
Donald Trump has a decades-long track record of racism that includes everything from calling for the execution of innocent teenagers to breaking fair housing law. Most recently he told native-born women of colour who are often aligned with Rep. Ilhan Omar, a political adversary of his, to go back to their counties.
He has demonised undocumented immigrants as criminals and rapists, called migrants seeking asylum an invasion and called countries in Africa "shithole countries". His statements are often humorous and laughable, however, they have a dangerous undertone and do real damage. As President, many Americans, rightly on wrongly look to him for moral leadership. They look for moral leadership in a President that has shown himself to be morally bankrupt several times. His racist vitriol and rhetoric adds to a toxic environment and continues to embolden white supremacists who no longer have to hide their ideologies but are now welcome on the mainstream. He exacerbates the adoption of dangerous views by setting the example he does in high office.
Smokescreen Smokescreen Smokescreen
Some Republicans have resorted to their usual tactics of trying to blur the lines on the debate of Gun control. Senator John Cornyn had this to say on twitter,
This is a clear attempt to muddy the waters and is shameful. American politicians continue to pretend as if the mass shooting epidemic is an unsolvable problem, largely because they are beholden to powerful lobbies like gun manufacturers and the NRA. This is a major reason why when these political actors take the lectern, either on television or in speeches, they tick through the normal scapegoats like social media, video games and mental health. Whilst these do play a part in the issue, the willingness to ignore gun control is shameful.

Besides, most developed countries have video games. Japan, for instance, has one of the largest and thriving gaming industries and cultures in the world and has very few gun death. In fact, nowhere compares to the USA, therefore the issue cannot be one blamed on 'violent video games'.
"It's not the right time to talk about gun control"
Whenever a mass shooting occurs, supporters of gun rights often argue that it's inappropriate to bring up political debates about gun control in the aftermath of a tragedy. This is an attempt to weaponise grief and is the most deplorable political tool.
If this argument is followed to its logical end, then it will just about never be the right time to discuss gun control, as Christopher Ingraham pointed out at the Washington Post. Under the broader definition of mass shootings, America has around one mass shooting a day. If lawmakers are forced to wait for a time when there isn't a mass shooting to talk about gun control, they could find themselves waiting for a very long time. This is a moment that demands moral clarity from the President and urgency in action from political leaders.