Wiley's recent twitter outburst is the product of an ideology that labels certain groups as innately "privileged" and thus evil, and others as eternally "oppressed" and thus virtuous.
Last Saturday, "Wear my Rolex" rapper Wiley decided to embark on an antisemitic rant on his Twitter feed — the latest episode in what seems to be a trend of high-profile rappers espousing racial hatred.
In another tweet he appeared to dismiss the significance of the holocaust claiming: "I don't care about Hitler, I care about black people", and compared the Jewish community to the Ku Klux Klan. He also called for a "war" with Jews and claimed that they ought to "take some corn" (slang for "take bullets").

"Golders green yes see you soon I will come on my own," Wiley wrote later on Facebook, referencing the largely Jewish-populated London neighbourhood.
He posted: "Jewish people you think you are too important I am sick of you".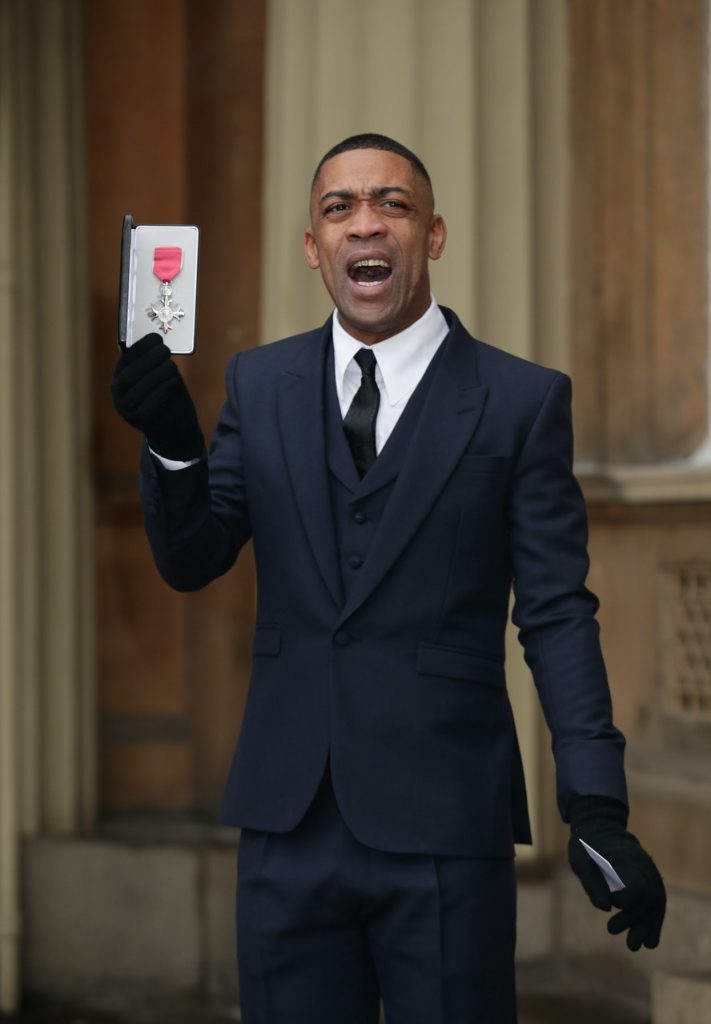 Why is it that progressives who are so quick to chastise hoop earrings and cornrows as oppressive cultural appropriation, and harass critics of intersectionality, are so eager to sideline antisemitic hate? Why is it that those quick to label the #AllLivesMatter hashtag as white supremacist are so hasty to complain that the #NoSafeSpaceforJewHate campaign unfairly focuses on anti-Jewish racism?

The answer is simple. For these political groups, truth is not an objective reality that exists regardless of whether we would like it to or not, but it is merely an instrument of power. This radical claim is the inheritance of postmodern theories now the staple of university syllabi across Europe and America.

Jacques Derrida denounced the "tyranny of reason" and Foucalt claimed that "knowledge" is simply an attempt to mask bias with the illusion of legitimacy, and thus implied that progressives were justified in trading "truth" for influence in pursuit of their aims. In this framework morality quickly becomes a question of what benefits one's agenda, rather than an inflexible principle. People are encouraged to speak "their truth" as if it were one among many. Thus to question the usefulness of the #BLM slogan is to unfairly erase the issue at hand — police brutality against African Americans. Yet to challenge a campaign against twitter's double-standard concerning antisemitism is wholly justified, as it is unfair to focus on anti-Jewish prejudice.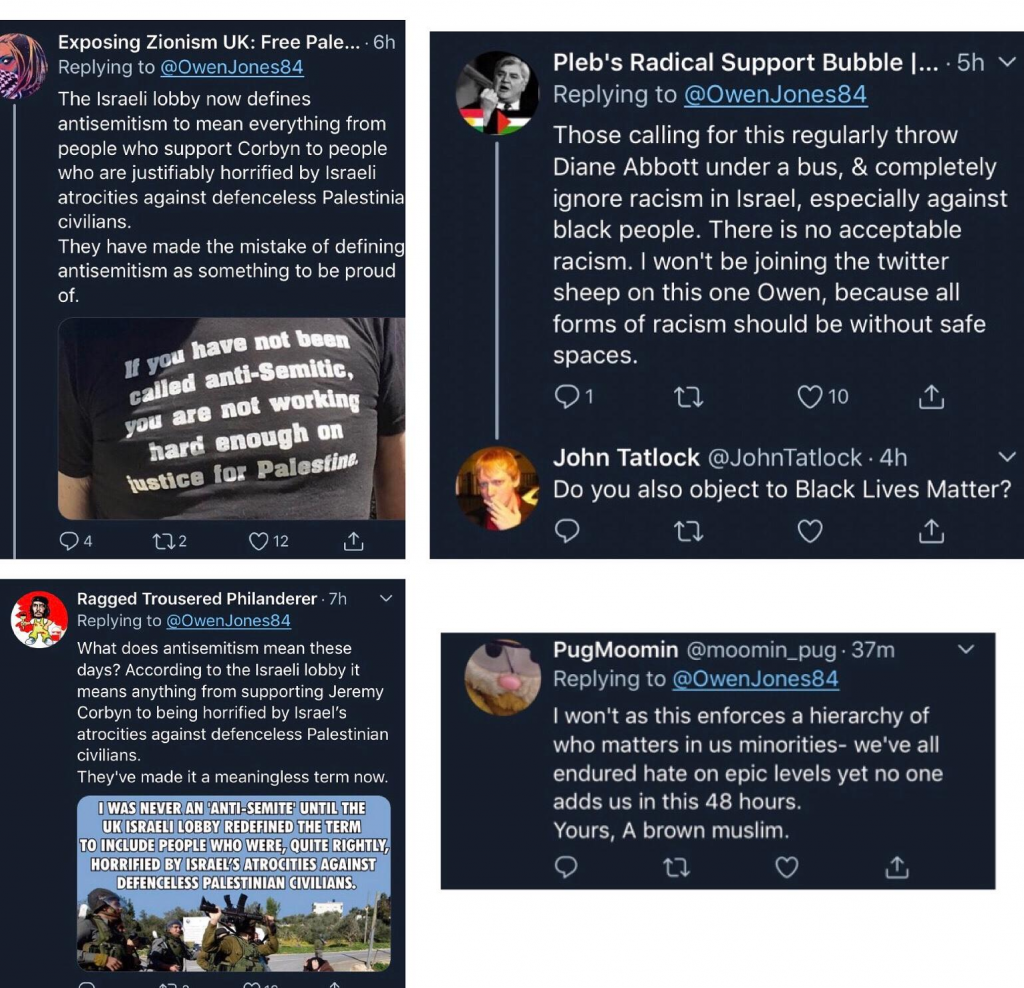 As the backlash to his posts began to amass, Wiley responded to the multitude of antisemitism and racism accusations aimed at him. "I am not racist," he insisted, adding, "Black People can't be racist; they can only be upset about how they have been mistreated."

His perspective, therefore, was not an isolated outburst, but rather a measured application of the intersectional victim hierarchy in relation to his perceived struggles. He also interspersed his caricatures of Jews as nefariously powerful aggressors with tropes likely drawn from pseudo-historical black supremacist sects such as the Nation of Islam, who claim that those of African descent are the "real Jews", claiming "Israel is ours"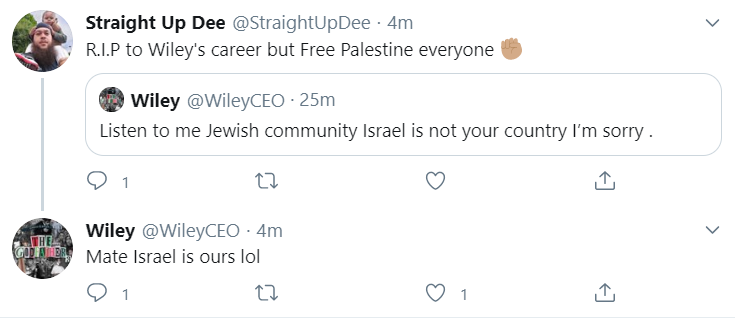 Singer and left-wing activist Lilly Allen shared an Instagram story in which she claimed she was "worried" about Wiley, and seemingly absolved him of responsibility by lamenting that "we're all being egged on by big data and big tech". Would she have been similarly sympathetic if the controversy had involved a white supremacist spouting hatred against Muslims or Black people?
Many public figures and organisations rightly condemned Wiley's comments and a 48 hr twitter boycott was announced in response to the site's failure to remove his tweets. The reaction of mainstream media was lacklustre, however. The NME led with 'Wiley responds to antisemitism accusations over his Israel tweets', and numerous other outlets referred to mere "accusations" of antisemitism. Yet the majority of the tweets did not refer to Israel at all, and he only began to mention Israel after many tweets caricaturing Jews as malicious cowards. So why did respected news outlets and Wiley's defenders instantly jump to erase his unbridled antisemitism as merely a political critique?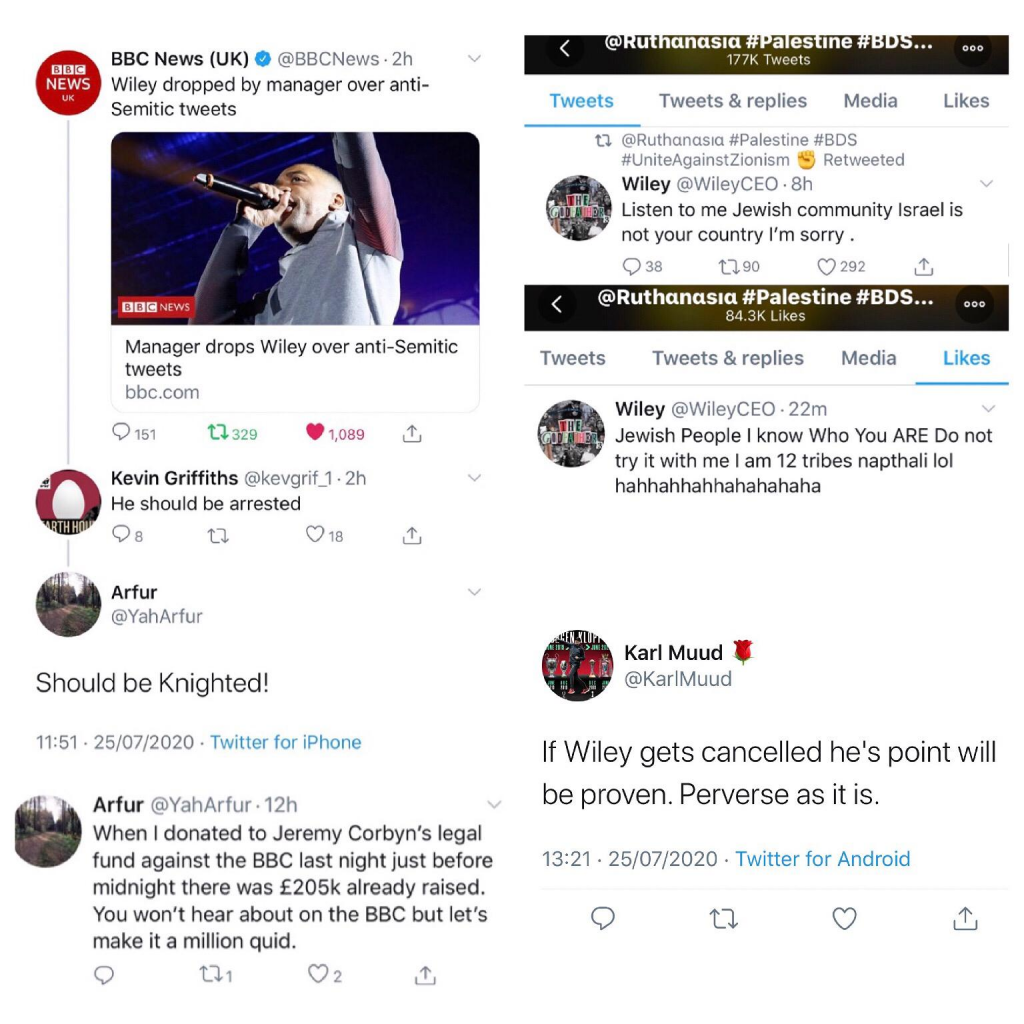 Israeli writer Hen Mazzig criticised this alarming trend in a tweet: "I'm really over this pattern where a celebrity does something antisemitic unrelated to Israel, and then suddenly, starts talking nonstop about Palestine. It's as if they're intentionally muddying the waters, and get the "anti-zionism isn't antisemitism" crowd to the rescue." This phenomenon is nothing more than tactical gaslighting. A person professes profoundly antisemitic views; many react with accusations of antisemitism; the person then begins to talk about Zionism and the Arab-Israeli conflict so to give the appearance that their antisemitic tirade was not antisemitic at all, but was a bold political statement against the perceived evils of Israel and Zionism.

Once again, the "soft" totalitarianism of intersectional theory rears its head. If Jews are mostly Zionist (i.e. they are in favour of the existence of Israel), and I believe Zionism is an evil colonial ideology, Jews are therefore evil colonists and merit neither pity nor respect
There is an underlying assumption in intersectionality, that anti-Jewish prejudice is somehow less of a moral qualm because Jews are "privileged". Although it is ridiculous in any case to claim that one identity group is universally "privileged" above others, the Jewish community, like any other is not a monolith.

Jewish immigration to the UK over the past few centuries has consisted mostly of Ashkenazi Jews fleeing pogroms in Eastern Europe and twentieth-century fascism. Most British Jews today are middle-class, but until several decades ago they primarily resided in working-class areas of London.

Haredi Jews are responsible for the highest birthrates within the community and have higher levels of poverty than the UK average. Jews represent only 0.5% of the British population but are the victims of eighteen per cent of hate crimes, many of which are violent in nature.

In 2019 almost 50% of Jews said they would consider emigrating if Jeremy Corbyn became Prime Minister. Synagogues and Jewish schools are routinely required to employ armed security for fear of attacks.

The successes of many in the Jewish community against the backdrop of persecution and discrimination ought to be celebrated, but that does not mean Antisemitism does not risk terrible consequences or that Jews are innately privileged. The only way to tackle racism is to defend truth. An "intersectional" movement rooted in the bogus theories of postmodernism will not help us do so.