The year 2020 has undoubtedly transformed into one of the most devastating years in our memories. The threat of international war, the Australian fires and the outbreak of COVID-19 have touched the lives of those across the world with no regard for background, ethnicity or gender and the loss of normality has been felt worldwide. However, the dilemma of the pandemic has brought a range of other critical issues to the forefront. While the disease itself doesn't discriminate, unfortunately, people do. As the issue of the disease's transmission rose to prominence, so did some worrisome reactions from both countries and individuals alike.
One deeply problematic example of this is Trump's address in which he referred to the Coronavirus as the 'Chinese' virus, provoking calls for clarification and correction, but this was both too late and too little. That these xenophobic ideas have resurfaced in politics sends a dangerous message that they are not only welcomed in the political sphere, but also reveal the normalised racist sentiment in one of the most 'developed' countries in the world.
Despite WHO regulations against such defamatory language, it was utilised to play on fears of the unknown and fuel racialised othering, reinforcing systematic discrimination of minorities. Just two months ago, Asians across the globe were celebrating a historic Oscar win for Parasite, heralding acceptance and better Asian representation. Now, many are too afraid to leave their homes or wear masks for hygienic precautions in fear that they will be discriminated against, abused or attacked in the cities and neighbourhoods that they themselves are citizens.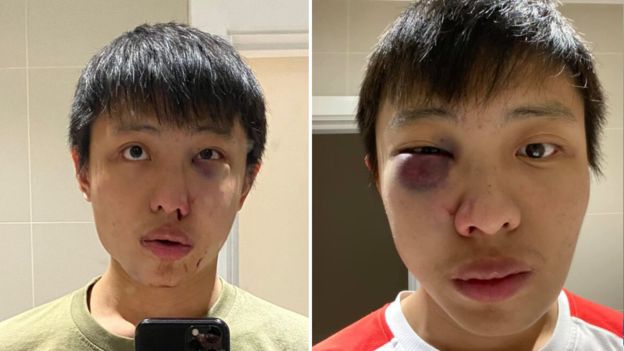 Stop Hate UK has reported a rise in calls across their helplines from victims of such behaviour, particularly those of Chinese origin, who are offensively branded as carriers of the virus. Such was the case of Jonathan Mok, who despite being from Singapore and not carrying the virus, was physically assaulted in London with his attacker stating 'we don't want your coronavirus in our country'. The verbal abuse perpetuated by figures in the media such as Piers Morgan who mocked Mandarin live on television, is being swept under the rug and ignored in the UK.
Unfortunately, this appears to be a small part of a much broader issue across the West. In a recent video posted online, an Asian man is harassed on an underground train in New York on his daily commute. Fearmongering and xenophobia have also started to play a more prominent role on the internet as the world is staying inside. Viral videos continue to be circulated online such as one in which a woman consumes 'bat soup', with thousands sharing and blaming the Chinese community for the spread of the virus, making sweeping generalisations that Chinese eating habits are barbaric.
These xenophobic and orientalist sentiments are not slowing down. This is sadly something we have seen before; infectious disease outbreaks have historically become politicised and have incentivised discrimination against minorities.
In the early 2000's in Toronto during the SARS outbreak, xenophobic abuse towards the Chinese Canadian community became heated, even when the community in question was doing the most to counter the spread of the virus. Such rhetoric and racist behaviour often spreads as fast as the diseases themselves. Even the seemingly most progressive factions of society, such as universities, are prone to such acts.
Ironically, despite the Western portrayal of China and its culture as backwards and archaic in nature, it is clear that Chinese and other Asian countries, such as South Korea, Singapore and Vietnam, policy and societal adherence regarding containment of the virus has worked well, compared to Western reactions to COVID-19. All are different in their backgrounds, and yet all have supported their people, infected or not, recognising that they are the victims, not the perpetrators. 
In the global West, however, COVID-19 policy responses continue to disproportionately affect people of colour and migrants — those who are predominantly in lower socioeconomic groups, have limited healthcare access, or work in precarious jobs. Those who are now called key workers were only a few months ago regarded as 'low-skilled' under the new British immigration policies. This is especially true in resource-poor settings, that lack forms of social protection and have a weak welfare system, such as the US. For many, self-isolation is often not possible, leading to a higher risk of viral spread, hence why Boris Johnson's 'herd immunity' approach would essentially leave the most vulnerable and those in desperate need of protection at greatest risk.
The resilience of public health is inherently intersectional with other inequalities and social policy addressing these, and COVID-19 has shown us that despite the incredible efforts of healthcare professionals, our systems are failing. After harsh cuts and a vote against the increase of healthcare workers' base pay just last year in the UK, our current system looks after neither those who need it nor those who work hard to provide such care.
On the contrary, those 'underdeveloped' or 'third world countries' such as Cuba or Vietnam – often considered inferior to the West – have dealt with the spread effectively, prioritising people before profit. Not only did the Vietnamese government provide essentials for its citizens who were immediately quarantined upon developing any COVID-19 symptoms, but it also provided free food to those in lockdown, easing anxiety and fear for many. COVID-19 has been a harsh lesson – a reminder to all of just how vulnerable we are. It ought to compel the West to save our judgements and urges a global re-evaluation of what we deem as 'advanced', prosperous nations.
Julia Szczesna is a Content Writer for the Immigration Advice Service, an organisation of UK immigration lawyers which is providing free legal advice to all NHS staff during the COVID-19 pandemic.