By Alex Game
Boris Johnson has begun to take a more cautious stance toward the Chinese regime over the past twelve months. Whether it be the promise to extract Huawei from our 5G networks by 2027 or offering citizenship and residency to the 1.5 million citizens of Hong Kong, a new attitude toward the Middle Kingdom is surely emerging- whether or not this was Johnson's intention upon entering office.
Another issue at the forefront of the government's long-term goals at home and abroad is emissions targets. Every nation will play its part, and the smallest changes may have the biggest impacts globally. Getting China, now the second-biggest economy in the world, on board with emissions targets is so important.
In 2018 China emitted just over 10GT of CO2 emissions-about 28% of the planet's CO2 emissions for the whole year. This is a country that is showing little sign of slowing down its annual emissions, despite having announced its goal of carbon-neutrality by 2060. In 2020 China was expanding its use of coal for power in its economy at its fastest rate since 2015, this policy has been pursued due to the lust for more growth, but will massively hinder China's chances of decarbonising fast enough to reach the Paris agreement levels of global temperatures rising by 1.5C compared to preindustrial levels. This also creates a dreadful environment for China's residents, often subdued to dim and murky towns and cities consumed by smog.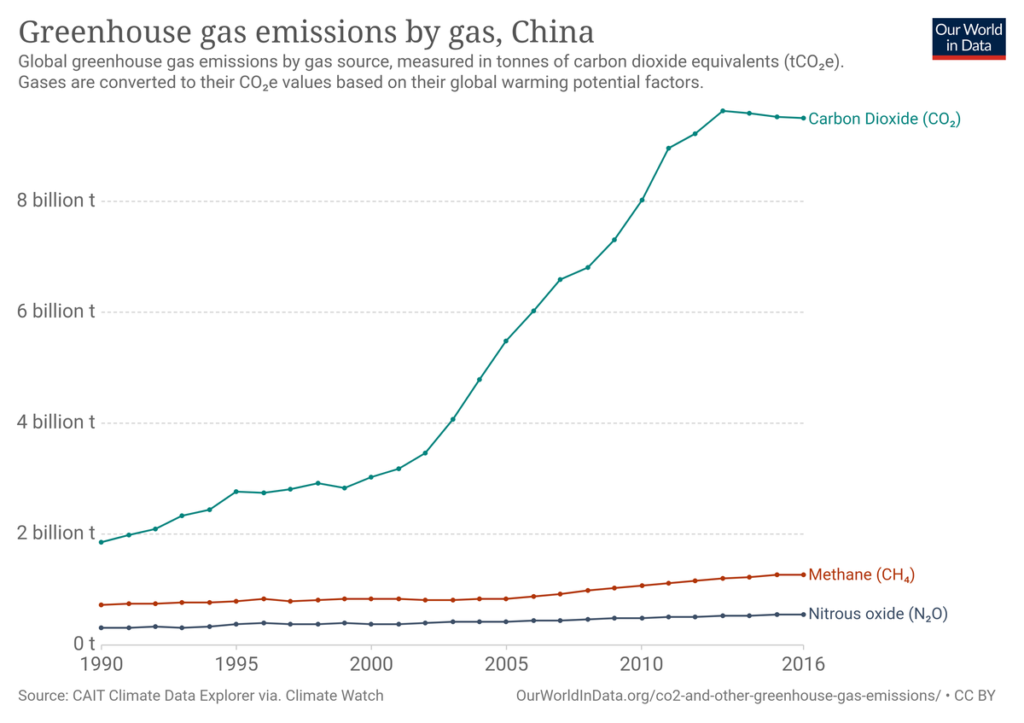 Another source of concern is China's amping up of aggression on the foreign policy front, from clashes on its border with India, the construction of man-made islands in the South China sea or its breach of the Sino-British Joint Declaration in Hong Kong. Internally there is just as much room for concern. On top of its general framework of political repression since 2016 the government has implemented brutal policies of forced labour, sterilisation and survillance in an attempt to exterminate the Uyghur Muslim population mainly concentrated in the Northwest region of Xinjiang. This kind of politics cannot be rewarded and must not go unchecked by the West.
China's human rights abuses are directly linked to Beijing's new economic ambitions, they are tieing other nations closer to themselves economically so they don't hold them to account for the atrocities that they commit. Through initiatives such as the Belt and Road scheme linking China and Central Asia by road and sea to Europe and Africa, we are witnessing strengthening trade links which lower China's reliance on traditional naval routes. The initiative is also encouraging debt-dependency on lower-income countries, highly concentrated in Africa, for large scale infrastructure projects.
This is why it was baffling to see the EU sign a new investment deal with China at the end of 2020, rather than use its position to highlight the drastic differences between the attempts being made in Europe on both environment and human rights as opposed to China. Europe is seeing a drastic shift in their economies towards greener models and looking to invest in green innovations such as nuclear fission, solar, wind and so on. However, China is lacking in its approach and this must be and should be talked about on a global scale due to the sheer size of the nation. If China doesn't get on board with decarbonisation then all of our efforts to reduce emissions in Europe will be powerless.
The vision of 'Global Britain' permitted by our exit from the European Union should prompt us to take on a world-leading role and hold the Chinese regime to account for their environmental record. Boris Johnson wants to be a world leader this year by setting out his agenda for how everyone can chip in, in the fight against rising global temperatures at the COP 26 in Glasgow this autumn. If he shows that you can hold China to account on issues such as human rights abuses and its poor environmental records, then other democracies will follow his lead. This will be seen as a victory for Johnson in his 'Global Britain' agenda and attempt to lead the world in decarbonising. Although it will be a tough task we must not forget that with Joe Biden now being President of the USA Boris will not get a better chance than now to try and lead a consortium of countries to bring pressure on China to do better. The trajectory of Chinese policy and global environmental crises are two issues set to define this century, and Britain must do all in its power to counter China's hypocrisy and mismanagement on both fronts.
Alex Game is a Policy Researcher and Campus Coordinator for the British Conservation Alliance.