by Rutvik Bhaskar Perepa


This week we finally saw Jason Kidd inducted into the Hall of Fame.
Jason Kidd's way to the NBA title he deserved, took longer than people expected. Kidd was raised by an African-American dad and a Irish-American mother living an upper middle class life in Oakland, California. He was a star in his early years, making 'passing' his significant trait. He attended the East Oakland Youth Development Center where he met mentor and future Hall of Famer, Gary Payton – who coincidentally was a point guard himself. Kidd was under the coaching of Al Payton, Gary's father. As Kidd improved, he started playing with the older boys including Gary (who went to OSU at the time).
An Early Achiever
Jason Kidd went to high school and dominated the competition under the guidance of coach Frank LaPort. He averaged 25 points, 10 assists, 7 rebounds and 7 steals his senior season receiving a host of individual honors, including the Naismith award as the nation's top high school player, and was named Player of the Year by PARADE and USA Today. The all-time prep leader in assists (1,155) and the state's seventh-highest career scorer (2,661 points), Kidd was voted California Player of the Year (for the second time) and also an All American.
It was Kidd's choice of college that shocked the nation. Considering the number of awards he bagged, his recruitment was a very public affair for its time. Inspite of offers from the prestigious Kansas Jayhawks, Arizona and Kentucky Wildcats among others, he chose to play for the California Golden Bears at UC Berkley. He set records for most steals by a NCAA freshman and broke the school record for consecutive years. A notable highlight in his college career was upsetting the Duke Blue Devil's team his freshman year. He not only got his team into the NCAA tournament in successive years but he also put College Basketball in California back on the map. He would turn out to be a savior every step of the way in his career and was one of the early front page news grabbing recruits.
Gary Payton said that Jason Kidd at 6'4", had an NBA-ready body and made comparisons of J-Kidd to Magic Johnson and Bob Cousy.
NBA Draftee and Early Career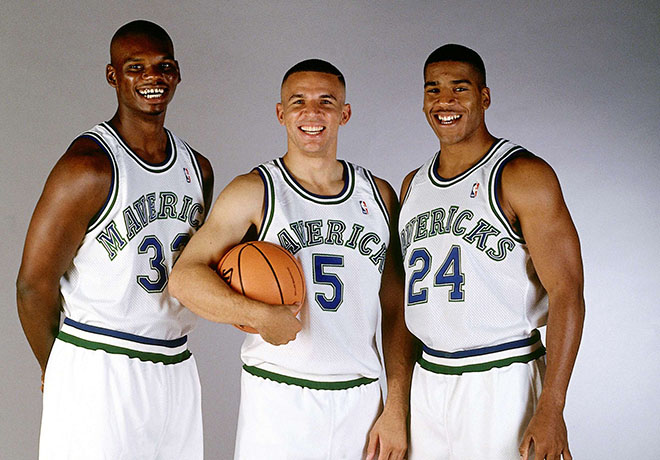 Kidd was drafted by the Dallas Mavericks with the Number 2 overall pick ahead of co-inductee and co-rookie of the year Grant Hill from Duke. Kidd's arrival in Dallas along with a budding on court chemistry with Masburn and Jackson saw Dallas improve to a 36-46 record, exactly one year from a 13 win season.
It went downhill for the Mavericks the following season as Mashburn was out with a knee injury after playing 18 games and Kidd did not get along with Jackson. Kidd did go on to get selected in his first all-star game contributing 10 assists in a 118 to 129 loss to the East. The next season Kidd was dealt to the Phoenix Suns for Micheal Finley, Sam Cassell and Iron Man A.C Green which meant the promising 3 J's combo never took off.
Kidd's time in Phoenix saw him improve even more. He led the league in assists in the 1997-98 season, triple doubles and saw his PPG improve to 16.9. The Suns were a very exciting team to watch as they played a Small Ball lineup (a team that sacrifices height and physicality for speed and agility by passing a lot more and using 3 pointers). These lineups utilized his greatest asset – passing, floor awareness and racking up steals by utilizing mismatches in size. So in other words, a lineup the Miami Teams with LeBron James and the Warriors teams of today use on a nightly basis.
Kidd's playmaking earned him an all-star appearance each year barring 1999 (due to the NBA lockout it was not held) and an All NBA First team selection. His teams did make the playoffs only to get knocked out in the first round barring 2000, when the Back court 2000 tandem of Kidd and "Penny" Hardaway eliminated the defending Champions, San Antonio Spurs in the first round. Kidd also learnt to be more selfish in order to score more points ( predictably on encouragement from team mates).
Finals Appearances with Nets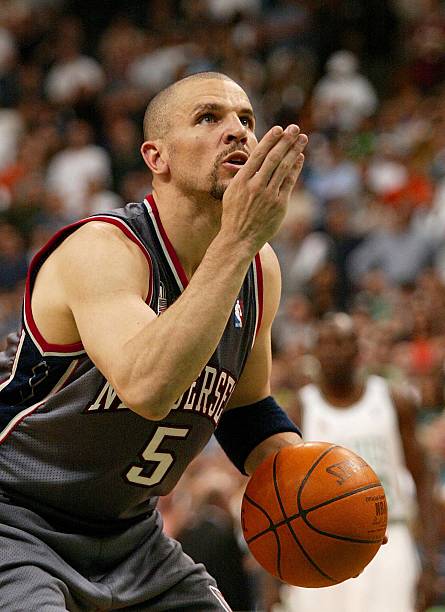 Kidd cemented himself among legends when he arrived at the struggling New Jersey Nets team, removed from their title days with Julius Erving in the 70s in the ABA and their misfortune in the years after. Kidd was the golden signing made by the man (Rod Thorn) who selected Micheal Jordan in the 84′ draft. Kidd along with Kenyon Martin and a much younger team turned into yet again one of the most exciting teams to watch in the league. They led the east with a 52 win record. In the payoffs they beat the Indiana Pacers led by Reggie Miller in a tense series that featured the only game in NBA history to have every quarter tied. This followed by a 4-1 win over Charlotte and a 4-2 win over the Boston Celtics saw them meet the fancied LA Lakers led by the monstrous Shaquille O'Neal and Kobe Bryant.
The now infamous sweep resonates in fans hearts, but many people ignore the fact that what Kidd did with those Jersey teams was special and he went down fighting against an immovable force (in Basketball terms, they had no answer to O'Neal at Center in the low post and on both ends). The following year again, the Nets were even better sweeping the Boston Celtics and the Detroit Pistons to reach the finals face off against the Spurs led by Duncan. The first 4 games were split but the decisive game 5 saw the Nets lose at home by 10 point. On the road, the Nets lost the title chance when the Spurs scored at will with a 19 point run to nothing. Tim Duncan got a Quadruple Double( or did he?) and he outpassed Kidd while doing it.
The reason Kidd did not win could be put on failed signings with Dikembe Mutombo and Alonzo Mourning, as each of them missed entire seasons due to badly timed injuries or situations outside their control. This meant that the Nets had no answer to the physicality and imposing presence of O'Neal in the post and surrounding areas in the first finals. Tim Duncan and David Robinson out rebounded the entire Nets team in game 6, 37 to 35 in the second Finals that resulted in the loss for the Nets. It didn't help that Kenyon Martin who matched with Duncan went down with a stomach ache and was forced 8 turnovers mostly by Duncan in the crucial home game. A combination of bad luck and lack of another rebounding presence to go with Martin and Kidd when needed the most cost them and New Jersey a chance of holding both the NHL and NBA title in the same year.
The Vince Carter experiment did not produce expected results as Carter with Kidd as a floor general won division titles but failed to win beyond the conference semifinals bowing out to the eventual champions Miami Heat in 06′ and the Cavaliers in 07′. The highlight reels however did set newer and much higher standards for fun and in game entertainment.
Title with Dallas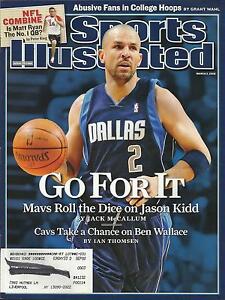 Jason Kidd was brought in after a trade Dallas made with the Nets prior to the All Star break in 2008. Kidd was a presence that Dallas needed as they choked away their advantage in the 2006 Finals against the Heat and have since needed a presence to bring the talent together barring franchise superstar, Dirk Nowitzki (pictured in the 2008 all star game for the West).
Kidd brought 3 point shooting and his experience as a floor general that Dallas desperately needed in the post season. Since he was on older legs, his outstanding rebounding did decline as did his PPG.
But a 38 year old Kidd proved otherwise literally torching Portland by shooting 9-of-14 from the field, 6-of-10 from beyond the arc and finishing with 24 points in Game 1. He scored 18 points on 7-of-11 shooting, made 50 percent of his three-pointers and the Mavs had another impressive win in Game 2. Part of it was being guarded by a much slower Point Guard compared to Chris Paul and Chauncey Billups the previous years. Kidd along with teammate Terry led the league in 3 pointers attempted and made in the post season. Kidd also led the league in number assists and steals in the post season. His points assault was the biggest surprise in games 1 and 2 as he didn't score over 20 in over a year.
Kidd as we saw with the Vince Carter tape was a human fast break, grab the rebound on one end by slipping or jumping ahead of the opponent on that end and igniting the break after grabbing the board. It is a quintessential definition of excitement. Kidd transitioned into an anchor of the half court offense, which was the Basketball problem of the Dallas team built around Nowitzki. His defense on Kobe Bryant in games 1 and 2 proved key (Gary Payton would be proud.)
His teammates JJ Barea, Jason Terry, Shawn Marion, Peja Stojakovic and Tyson Chandler ably supported Nowitzki against LeBron James, Dwayne Wade and Chris Bosh in a 4-2 series win to give Kidd, Nowitzki and the Mavericks their only championship to date.
With the man cometh the Controversies
But this latest turn of events has done nothing to diminish his reputation as a tricky character.
Here's a history of Kidd's past incidents:
• Coaching: When he was a freshman at Cal, Kidd reportedly instigated a mutiny that led to the coach's firing. In 2004, Kidd 'may' have been involved in running Byron Scott(showtime Laker great and Nets coach from 2000 up until that point). The point guard screamed at Scott during a December 2003 locker room tirade. In 2010, Kidd intentionally ran into the Atlanta Hawks coach on the sideline during a game. He drew a technical foul on Woodson as a result. The move essentially won the game for the Mavericks. Gamesmanship or something else? Smart but seemingly devious, crafty and a strategist you don't want turning against you.
• Teammates: In the First Dallas tenure, Kidd feuded with Jim Jackson supposedly over Toni Braxton which led to him demanding a trade. Kidd ultimately ended up in Phoenix.
• When his teams fail: In January 2001, Kidd was arrested for assaulting his now ex wife Joumana. He pleaded guilty to spousal abuse and was fined $200 and ordered to take anger management training. He was eventually traded to the Nets. In December 2007, Kidd reportedly complained of a migraine and missed a game against the Knicks. He then asked out and was traded back to the Mavericks. In the summer of 2012, Kidd gave Dallas a verbal commitment to re-sign. But he later decided to spurn Dallas Kidd to sign with the Knicks on a similar contract.
• A little more than a week after joining the Knicks, Kidd was charged with driving while intoxicated after he crashed his SUV into a utility pole on Long Island. He eventually pleaded guilty and was suspended the first two games of his coaching career..
The TCS Take
Jason Kidd emphasized on winning, that commanded his mood. Half of his off court issues stemmed from the frustrations of not Winning. While physical abuse is a sin and crossing all lines it sadly is seperated from his on court achievements which is what the Hall of Fame recognizes.
He more than made up for his Achilles Heel (the lack of good shooting) by working tenaciously on his craft later on in the end of his Net days. Most players never even master a certain skill set.
"One of the greatest point guards to ever play, one of the smartest basketball players to ever play," Chris Bosh told Yahoo Sports on the 10th anniversary of the Redeem team. "Just seeing his leadership style and what he was trying to improve on, that was the biggest thing I took away. You're with all these great, great players, and everybody is trying to improve on something.
I remember J-Kidd was working on his shooting relentlessly after every practice. He was just working on basics and fundamentals to shooting, and I mean, he was relentless with it. Just seeing those guys and how easy it was to play with them and how good they were, and then the fact that, 'Oh, man, they're just like me, they want to improve.' That's Jason Kidd, man, and he's controlling the floor."
One only needs to look to Jason's childhood years playing against the "Glove" Gary Payton to see that he developed his generational passing and rebounding ability to get around the best defensive Point Guard to play the game. It also instilled that toughness and win or die attitude as well.
Jason Kidd teaches us to put perseverance, hard work and dedication into the work of making you the best version of yourself by aiming to minimize the affect of your own shortcomings, or in other cases make your own shortcomings your greatest asset. In addition a lesson to learn from all his off court dramas and controversies is to never let failure affect life away from work and your relationships with people. 

Rutvik Bhaskar Perepa is a student at The University of Manchester working towards a MEng in Mechanical Engineering hoping to be on a placement after Year 3. He has had the privilege to travel around his home country, India and discover the rich heritage and diversity. His personal interests include Food and travel, history, Sport among many others. Often found in discourse on various issues ranging Engineering to Religious Practices, he never shy's away from being expressive. He believes in being open minded, empathetic and analytical is the key to problems posed on a daily basis.