By James Miller
The fight to be amongst Europe's finest four began on Tuesday night. After two days of quarter-final first leg games, Spain is in prime position to have at least two Champions League semi-final participants. This coming after some good performances by the Primera Division's remaining teams.
Prior to the quarter-finals, three major Premier League sides suffered defeat, leaving only two to battle on. After Liverpool drew Manchester City, Spain's remaining sides all avoided any possible meeting. The initiative was left for the Spaniards to firmly stamp their authority on European football's finest competition.
On Tuesday night, the current holders Real Madrid haunted last season's beaten finalists Juventus once more. Current Serie A leaders Juventus were set up against it after conceding early to that man, Cristiano Ronaldo. The Italians attempted to get back in the game but the class of 'Ronnie' prevailed. Ronaldo's second goal was nothing short of world-class. It was purely delightful. So much so that Juventus' fans stood and applauded.
Zidane ?
Juventus fans ?
Ronaldo ?

How everyone reacted to Cristiano's overhead kick last night… pic.twitter.com/AsyUrj7GeQ

— Football on BT Sport ?? (@btsportfootball) April 4, 2018
At this point, Real Madrid were in firm control. However,  Juventus' luck began to dissipate further, when Argentinian Paulo Dybala was sent for an early shower. The forward picked up his second bookable offence, leaving his teammates in all sorts of trouble. So soon after seeing his team concede their second, a moment of loose thoughts and the tie was almost out of distance. Even more so when Marcelo give Madrid a third away goal. Dybala, a hero of the last European Showdown against Spurs, quickly turned zero. All in all, this fixture proved to be another splendid Champions League performance from Ronaldo. Did you expect anything else?
More Sevilla misfortune
On Tuesday night, another Spanish side took to the quarter-final stage of the Champions League. For the first time in the club's history, had Sevilla reached the last eight. They welcomed German champions, Bayern Munich. Pablo Sarabia (the eventual Man of the match) initially gave the hosts the lead. The Spaniard missed a glorious chance prior to his actual goal but made no mistake after when he beat Juan Bernat to a cross by Escudero. A goal up, with things going well. Just five minutes later though, Jesus Navas deflected a Franck Ribéry cross past his own keeper meaning it was level at halftime. Sevilla may well have taken the lead again but for some great last-minute defending by Javi Martinez, just after halftime.
Bayern let their quality show, they took the lead in the second half with 68 minutes on the clock. It was Thiago Alcantara with the goal. The midfield man was in the right place at the right time. He got on the end of Ribéry's cross managing to nod it down to make it 2-1. Another deflection, in off the keeper's legs. Not that it will matter for Munich, who now have two vital away goals. Sevilla had chances to get something. Notably when Everton loanee, Sandro Ramírez called Sven Ulreich into action late on, but the side placed 7th in Spain's top league fell short. When you consider mind that they are up against the runaway Bundesliga leaders, it is certainly nothing to be ashamed of.
https://twitter.com/iamnzonzi15/status/981290348491235328
Barcelona at Roma: Usual Business
Barcelona beat Italian side Roma 4-1 Wednesday evening. In truth, Barcelona weren't as good as the scoreline suggests. There was a lack of rhythm that may well in the future, cost them. Luck favoured them on this occasion though. Especially, after early Roma penalty appeals were waved away. Then, without a goal scorer on the scoresheet, they found themselves 2-0 to the good. Two own goals, one just before and not long after halftime. Not what Roma will have been hoping for and Pique soon made matter worse tucking home from close range just before the hour mark. A commanding lead at this stage for Barcelona. In-form striker Edin Dzeko attempted to shed some light on Roma's situation. The Bosnian striker pulled back an away goal, in the 80th minute. It wasn't Roma's only chance though, it was a game of chances to be honest Diego Perrotti missing a good headed opportunity early in the second half springs to mind but Barcelona had the more clinical edge. World class players. A man who had yet to score for Barcelona in the Champions League this season, Luis Suarez. He notched his first in the competition to round it off for a 4-1. The Uruguayan had previously seen an effort ruled out for offside seven minutes in.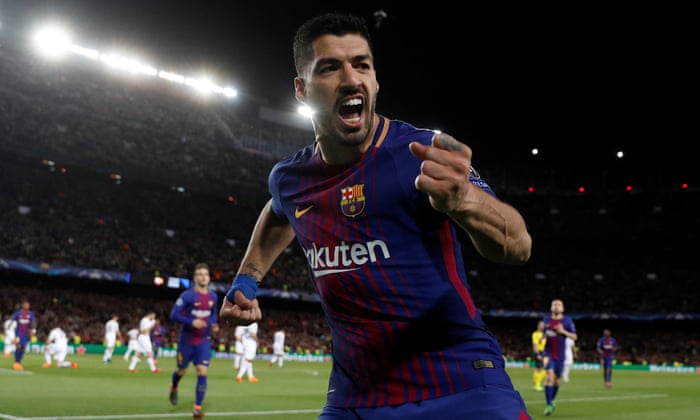 Clenched fists & Jubilation amongst the Barcelona crowd as Suarez secures their fourth goal. (Image: Reuters)
An unlikely British saviour?
After finishing 4th last season, Jurgen Klopp's side initially had to qualify at the expense of Portuguese side, Porto. Since then, the Reds' ruthlessly dispatched fellow Premier League side, Man City. In what was a battle between the last of the British sides. Liverpool's energy and sharp pressing, followed by counter-attacking play, caused Pep Guardiola's soon to be English Champions all sorts of problems. Top scorers on Europe's main stage this season so far, Liverpool went into the game with a total of 28 goals. At halftime, it was 31. The three goals came from the magnificent Mohamed Salah, Sadio Mane and Alex Oxlade-Chamberlain. The latter's goal was a screamer that two keepers couldn't have saved. An outstanding first-half display put Klopp's men in cruise control. It was then more of a professional performance during the second half. They successfully shut down Man City. A team who has obliterated many defences this season were left without a shot on target for the first time since 2016. Liverpool's keeper Lloris will have been in the spotlight pre-match, but he was a mere bystander.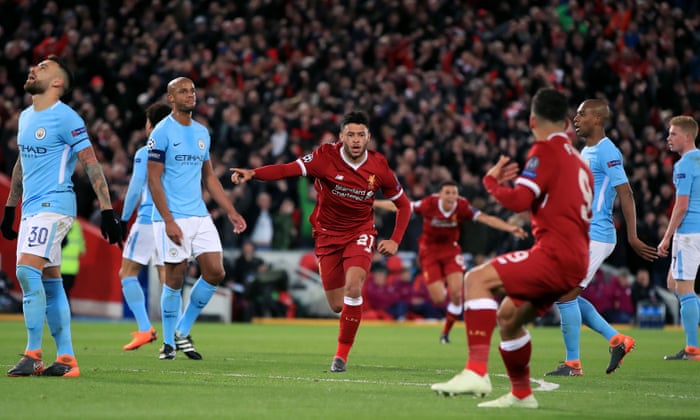 Coming of age?
In what was a magnificent display in front of a packed out Anfield, creating an unbelievable buzz. It was one of their own who really caught the eye. Young English right back Trent Alexander-Arnold, was sublime. Nothing short of outstanding. A player that had come under criticism just days ago after struggling to cope with Wilfried Zaha. He left that in the past, not allowing Leroy Sane a chance at goal. Brought through the Academy and given the trust of the manager, he certainly repaid it with a mature performance. Outstanding. Often defenders don't receive the credit, especially when there is a 38-goal winger on the side, but the way Alexander-Arnold shrugged of a torrid first half Saturday, could simply not go under the radar.
Quarterfinal round-up in full:
Tuesday 03/04/2018
Juventus 0-3 Real Madrid
Sevilla 1-2 Bayern Munich
Wednesday 04/04/2018
Barcelona 4-1 Roma
Liverpool 3-0 Manchester City
The first leg of the Champions League quarter-final stage is complete. The second leg will be decided over the course of April 10th and 11th next week. Who do you think will advance?
Our contributors are friends of The Common Sense Network who write for us from time to time. We love hearing fresh perspectives from people in different spaces. If you would like to become a contributor contact us at hello@tcsnetwork.co.uk