After a remarkable set of quarter-final matches, this year's four Champions League semi-finalists were revealed.
Over the course of Tuesday and Wednesday night, the second legs were played. Following on from last week's opening games, Liverpool, Barcelona, Real Madrid and Bayern Munich all had control of their ties. Did the four all progress though?
A Professional Job
Liverpool travelled to the Etihad in a commanding position. The Reds held a 3-0 advantage after a dazzling display in the Anfield fixture. Coming off the back of their two most prolific losses this season; Pep Guardiola's men certainly had it all to prove.
They started quickly with a goal from Gabriel Jesus, which opened what was a dominant first half. The goal coming inside two minutes was a result of Virgil Van Dijk's poor clearance. City slipped the ball to former Liverpool winger Raheem Sterling, who was able to set up his teammate with a square ball. It was a bold line up from Guardiola, his intentions to attack were clear. Opportunities were there in the first half; Bernarndo Silva bending a delicious effort on to the post. Then, Leroy Sane was left furious along with his manager after a poor offside decision went against them. A goal wrongly ruled out. The ball had deflected into Sane's path off James Milner. Costly in more than one way, City manager Guardiola was sent to the stands after making his feelings clear. It was just the 1-0 at half time.
The 'Cityzen's' seemed to have blown their best chances of an unlikely fightback in the first half. Liverpool saw a lot more of the ball second half and only 11 minutes into it they were level, with that vital away goal. That man Mohamed Salah found Sadio Mane who took it between two City defenders into the box. The Liverpool winger went down with questions over a penalty but little did it matter because goalkeeper Ederson Moraes spilt the ball he collected. Guess who? The man of the moment Salah mopped up the rest with a smart chip. It was then made a second straight win against the likely Premier League Champions when Roberto Firmino caught Nicolas Otamendi napping with just over 10 minutes left. He latched on to a mistake and finished calmly. Manchester City demoralised, Liverpool through.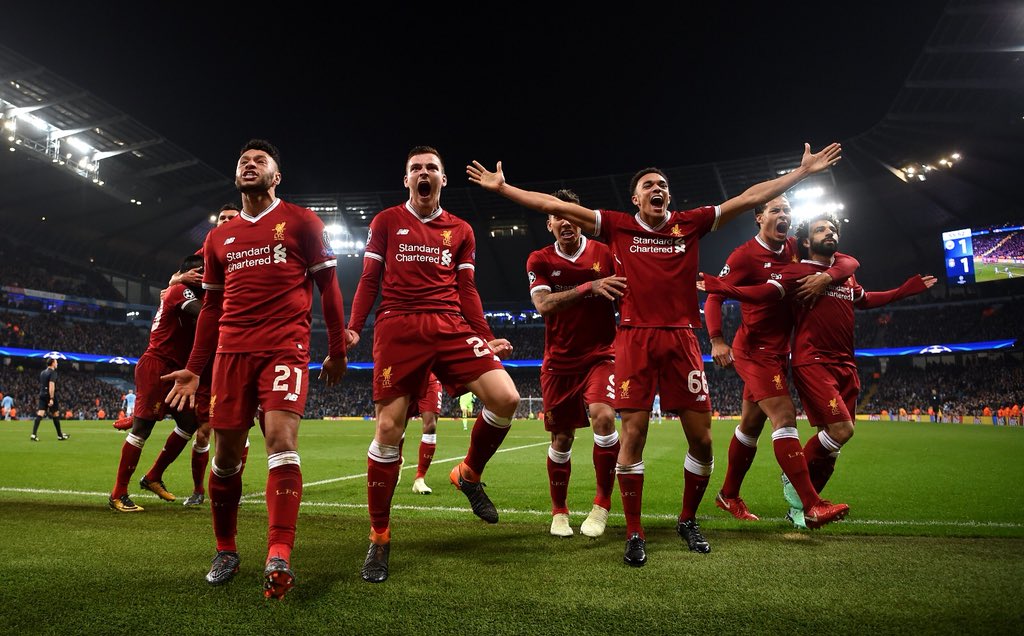 Liverpool celebrate in style after convincingly winning a 2-leg bout against Man City (image via @VirgilvDijk)
Remarkable Roma
Roma hosted one of Europe's most in-form teams, FC Barcelona. The Catalan giants were ruthless in punishing the Italians in the first leg, far from their best but securing a 4-1 lead. It left Roma with it all to do, but the advantage of grabbing that crucial away goal would have kept hopes alive.
Hopes certainly would have been alive after a fast start. Bosnian Striker Edin Dzeko got the Stadio Olimpico rocking early. On the end of a long over the top ball past Barca's defenders, he put his side within two. Roma continued to apply the pressure, with Patrik Schick failing to convert a close-range header in space but it was only 1-0 at halftime.
There was certainly still believe in the home camp, they were giving Barcelona all they could. Their efforts were soon rewarded, it was Dzeko involved again. He was bullying Gerard Pique and Samuel Umtiti at the back. Eventually, he caused a mistake. Pique got himself into all sorts of trouble as he let Dzeko the wrong side of him. The Spaniard went on to bring the Striker don inside the area. Penalty! The man who has Roma running through his veins, Daniele De Rossi stepped up. He scored, no real hesitation from him. They were in touching distance, just one goal needed. It was Greek centre-half Konstantinos Manolas who provided the goods. He connected with a corner and guided his header perfectly. Lionel Messi and his teammates had a mere eight minutes to respond. It wasn't to be, Ousmane Dembele wasted their best chance after Roma's defence was disorganised for a split second. The Frenchman tried to catch the goalkeeper off his line but failed. Summing up a miserable night for the Spanish giants. Roma thoroughly deserving to go through.
DAJEEEEEEEEEEEEEEEEEEEEEEEEEEEEEEEEEeifefefbejfwjofnwjfnwjfbrufbwfubweufbewfuewbewbfwejfwjlfjfwfjlwfjbfjwfbwjfbwjofwjfnewjofnewjofnwjfnweAHHHHHHHHHHHHHHHHHHHHH!!!!!!!!!!!!! #RomaBarca 3⃣-0⃣#ASRoma #UCL

— AS Roma (@OfficialASRoma) April 10, 2018
Madness in Madrid
After a Cristiano Ronaldo masterclass in Turin, Juventus were left staring down the barrel of another Champions League exit.
In need of four goals to qualify, the odds were certainly stacked against Massimiliano Allegri's Serie A leaders.  The Italians were looking to replicate their fellow Serie A side, Roma, in overturning a three-goal deficit against a Spanish giant. It didn't seem to faze them though. Another game, another fast start. Juve's Croatian frontman Mario Mandzukic headed home after just two minutes to give them a start at climbing an uphill mountain. He doubled his tally later in the half with another header and give his side a substantial chance. He was there again with another header, Daniel Carvajal couldn't contain the towering forward.
Juventus went on to claim the advantage second half. Keylor Navas' error was swept up by onrushing midfielder Blaise Matuidi. The goalkeeper fumbled a ball that should have been comfortably caught from a cross. It dropped to Matuidi who scuffed it home. Juventus now knew that one more away goal would leave Madrid needing two. Late drama put that theory to bed. Zinedene Zidane laid all his cards on the table in a flurry to stay in the competition, and it was one of those cards that paid off. Ronaldo leaped above his man at the back post to find substitute Lucas Vazquez in all sorts of space. In from behind Medhi Benatia was judged to have brought his man down. Late scenes! It took almost five minutes of Juventus contesting in added time and a Gianluigi Buffon red card before Ronaldo stepped up and ended Italian hopes. The goalkeeper laid hands on referee Michael Oliver and left what was his last ever Champions League game early. Even if it was only a few minutes.
Juventus go three goals up 😱
Vazquez wins a last-minute penalty 👀
Buffon goes berserk 😠
Ronaldo scores the tie-winning goal ⚽️

If one passage of play sums up just how crazy the Champions League has been this season it's this 👇 pic.twitter.com/4E7dKsM0E0

— 🇩🇪 Ja! Watch the Bundesliga live on BT Sport🇩🇪 (@btsportfootball) April 11, 2018
A Stalemate with Sevilla
Bayern Munich held a 2-1 lead with the arrival of Spain's Sevilla. The Spaniards were hoping to secure another big 2-1 away victory in the Champions League, following their last away trip in the competition to Old Trafford.
The hosts had a few good chances to extend their aggregate lead in the first half with Robert Lewandowski forcing a fine save inside the first ten minutes. Later in the half, Franck Ribery was kept at bay by another good save, the Frenchmen struck an effort from around 18 yards out. Sevilla's best chance in the half came for Joaquin Correa, his first touch wasn't up to standard though following a cross which meant the chance went begging.
There were a few chances in the second half for either side to add to the scoreline. Early on, one of Europe's most prolific strikers in Lewandowski was found again. He again couldn't convert, this time his header found the side netting. Not long after it was Sevilla's turn for a good opportunity, Correa tried to guide a header in but was unfortunate in his attempts as it rattled the bar. Sevilla gave a good account of themselves, with Banega having another close effort but it was again to no avail. The second 45 minutes dragged out without a goal in what ended a stalemate. There was also a bit of late drama in this one, Correa was given his marching orders late on for a poor lunge on Javi Martinez.
JAAAAAAAA, HALBFINALE! 🏆 #UCL #FCBSFC #MiaSanMia #RoadtoKyiv pic.twitter.com/LsIDrVCbbV

— FC Bayern München (@FCBayern) April 11, 2018
Quarter-final round-up in full:
Tuesday 10/04/2018
Manchester City 1-2 Liverpool (Liverpool qualify 5-1 on aggregate)
Roma 3-0 Barcelona (Roma qualify via away goal 4-4 on aggregate)
Wednesday 11/04/2018
Real Madrid 1-3 Juventus (Real Madrid qualify 4-3 on aggregate)
Bayern Munich 0-0 Sevilla (Bayern Munich qualify 2-1 on aggregate)