by Rutvik Bhaskaer Perepa

Great Britain have advanced to the World Group II play-offs and set up a home bout against Kazakhstan in April.
The preliminary group stages of this years Fed Cup saw Great Britain top the group A table beating Slovenia, Greece and Hungary in the process. This set up their match against group B winners Serbia.
Britain number two, Katie Boulter, continued her form by clinching her fourth singles win of the week, beating Ivana Jorovic in straight sets.
Following her performance Katie said, "I've put everything into this week. I tried to do the best that I could and today it was enough. To go out there and get four wins is more than I could ever ask for."
Brit number one, Johanna Konta, played a heroic match and put on a fantastic, inspired display in front of a sold out Bath crowd. Playing world No.57, and Serbia number one, Aleksandra Krunic, Konta took the opening set but was forced to play a deciding set when Krunic fought back in the second with a 3-6 win. Konta collapsed in between the second and third sets and was seen helped to her feet.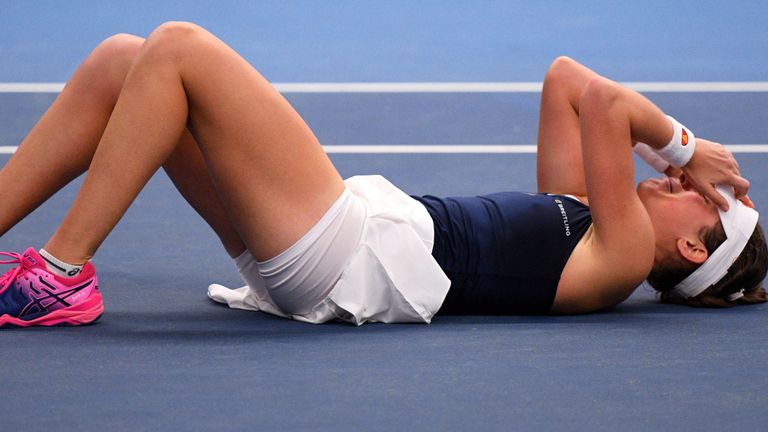 "I progressively just started feeling more and more unwell, feeling light-headed, shaky, feeling a little bit out of body," the 27-year old world number 39 said.
"It got the better of me at the end of the second set. I really just tried to not panic, and just assess what I could do and basically do the best that I could with that.
"I had to quickly assess what my limitations were. I tried to zone in on the ball and time it as well as I could and try to direct the ball as well as possible, and I was able to do that, which made it difficult for her to do what she wanted with the ball, which I think is what basically enabled me to come through." She took an emphatic 6-2 set to win the match and send Team GB into the World Group II.
Team GB's Chances
Team GB last qualified for the highest tier of the Fed Cup – the World Group – in 1993. Beating Kazakhstan can see them advance, and repeat the heroics of 1993. In terms of match-ups, Konta would face Kazakhstan number one, Yulia Putintseva, who ranks similarly to Konta at world level. However, Putintseva has her clay advantage taken away as Team GB captain, Anne Keothavong, opted to stage the showdown at the Copper Box Arena in London. Team GB will be hoping to fully exploit the support of a highly anticipating home crowd against Kazakhstan, and further stake their claim as real contenders for the cup.
It will be the first meeting between two nations who are both equally determined to move up into the elite tiers of the Fed Cup. Great Britain have languished in the Zone Groups for the past 26 years, with multiple, but unsuccessful trips to the World Group II playoffs. Kazakhstan have competed across Zone Groups I and II since making their debut in 1995, bar two trips to the World Group II play-offs in 2013 and 2017.
Team GB are well prepared and in high spirits; they have even been undertaking team bonding exercises including motorsports styled pit stops. This included a staff meeting at Stoke Park Country Club featuring LTA's head of women's tennis, Iain Bates, another former pro-turned-coach, Jocelyn Rae, and performance science and medicine expert, Dan Lewindon.
"We use a technology called Dartfish which is an online platform and Hannah uploads a lot of content around the opposition that we face," Scottsman, and newest member of staff Colin Fleming explained. "So the coaching staff are able to look at that and it's all tagged and we can drill down into specifics around the opponents to prepare the players."
"Three of the values that we're living by came out of Stoke Park," Fleming revealed. "First, being honest with each other and being open. Second, inspiring people, especially young girls who are playing tennis in this country. And, third, to embrace the opportunity."
The match up between Team GB and Kazakhstan will take place at the Copper Box Arena in London, set for the weekend of April 20-21!
Rutvik Bhaskar Perepa is a student at The University of Manchester working towards a MEng in Mechanical Engineering hoping to be on a placement after Year 3. He has had the privilege to travel around his home country, India and discover the rich heritage and diversity. His personal interests include Food and travel, history, Sport among many others. Often found in discourse on various issues ranging Engineering to Religious Practices, he never shy's away from being expressive. He believes in being open minded, empathetic and analytical is the key to problems posed on a daily basis.