By James Okoli.
In the wake of Mesut Ozil's retirement from the German National team for racist discrimination and echoed sentiments from athletes with dual nationalities, we have yet again been reminded that our sporting heroes are not immune to the remaining ills in our modern societies.
As public figures. they perhaps suffer more than most but ultimately, they may be our most effective antidote against society-wide discrimination.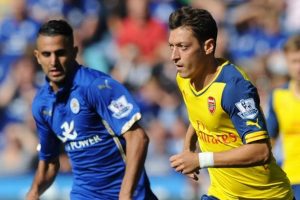 On the 27th June 2018 Germany, the reigning World Cup champions crashed out of the World Cup. Of course, there was a national fallout and the players, management and staff all came under heavy criticism; which is to be expected. However, some came under more fire than others. Mesut Ozil, the FIVE time German Player of the Year award winner, was given extreme criticism. This hasn't been new to Ozil as he has been routinely criticised both at club and international level. Nonetheless, on Sunday the 22nd of July, Ozil took the opportunity to describe his experience playing for the German National Team.
III / III pic.twitter.com/c8aTzYOhWU

— Mesut Özil (@MesutOzil1088) July 22, 2018

Here Ozil alleges that there were racial and political motives behind his criticism which the German FA did not protect him from. I won't go into whether these charges are true or not but instead, let's focus on the impact of immigration on one's national identity. You cannot help but see the same ideas echoed in other players and sporting heroes. For example, it has only been a week since France lifted the World Cup but all the talk has been around the "Frenchness" of the French team. Many of the French squad have African roots and so "Africa won the World Cup" according to Trevor Noah, presenter of The Daily Show. He attracted huge criticism for this but in the following days, dialogue had begun on French identity and immigration. France's neighbours, Belgium also have many second-generation immigrants on their side. Their number 9, Romelu Lukaku in an interview with the Player's Tribune, released at the beginning of the World Cup said the following:
"When things were going well, I was reading newspapers articles and they were calling me Romelu Lukaku, the Belgian striker.

When things weren't going well, they were calling me Romelu Lukaku, the Belgian striker of Congolese descent."
It's easy to think this is just a European phenomenon. But with Brexit and comments such as the ones made by "Ian" in an LBC video (see below)
A man called in to say he wants England to lose because there are too many black players ???? do you know this level of racism and mental illness pic.twitter.com/3OhHmkdhId

— MJ (@MarkieMogul) July 10, 2018
All these instances raise wider questions for us in dealing with matters of national identity, acceptance and immigration.
Who decides who we are?
The obvious answer to this question is that everyone should have the ability to decide how they ought to lead their lives. However, as with many other aspects of our identity, society plays a huge role. Is society this external monster that picks and chooses how to shape people and put them into boxes? I don't think so. We collectively make up society and that means, at least on a micro-level, we may have to look at ourselves and see how we come to make people from immigrant backgrounds feel accepted. On a larger scale, the authorities and the media also can shape one's perception towards national identity. Policies that restrict immigrants to low-level work or stories run by the mainstream media that portray immigrants as troublemakers or criminals all play a factor in how accepted one feels within a nation.
Where are we heading?
Immigration is a hot topic in politics, particularly in Europe with far-right ideas clashing with more liberal ones about national identity (the recent elections in Eastern European nations such as Hungary have displayed this). The problem persists in the US too with Trumps pending great wall. Governments are coming under increasing pressure from people to close their borders and to protect the interests of the national citizens. However, as we can see with France and even our NHS, immigration does have its benefits. Unfortunately, the role some media outlets play can influence that vast majority of people's perception towards a certain group of people. The case of Mesut Ozil will become more and more frequently -not just in football – but sporting stars, who are often the icons of a nation will be under even greater scrutiny.
What is The Common Sense outlook?
The Common Sense Network prides itself on providing opinions from both sides of the debate and coming to a "common sense" conclusion. Matters pertaining to immigration, national identity and acceptance can be complex but what must be done is unbiased, straight-shooting reporting. Immigration has its benefits no doubt, but also no one can argue that it must be controlled. National identity can bring many together but at the same time there are aspects of national identity that are more exclusive than others. Acceptance is something we should all strive for yet unfortunately it's not something that we can always guarantee.
James Okoli is a contributor for the TCS Network. Currently studying Theology, Philosophy and Ethics at the University of Manchester, you will find James writing on a variety of faith and ethical issues within local and globalised society. James is also a sports and television aficionado so expect raving reviews on television masterpieces or raging rants on football results.