The 2020 Olympics was the year of black girl magic. One person who shined bright and made history in the 2020 Olympics is Allyson Felix. She made history, winning her 11th career medal in the 2020 Olympics, becoming the most decorated track and field athlete in Olympic history. Her contributions to the sport and fierce advocacy for maternity rights have allowed her to make a household name for herself. Her decade-long career deserves celebration. Here is a look at her remarkable career.
2004 Olympics: Athens and World Championships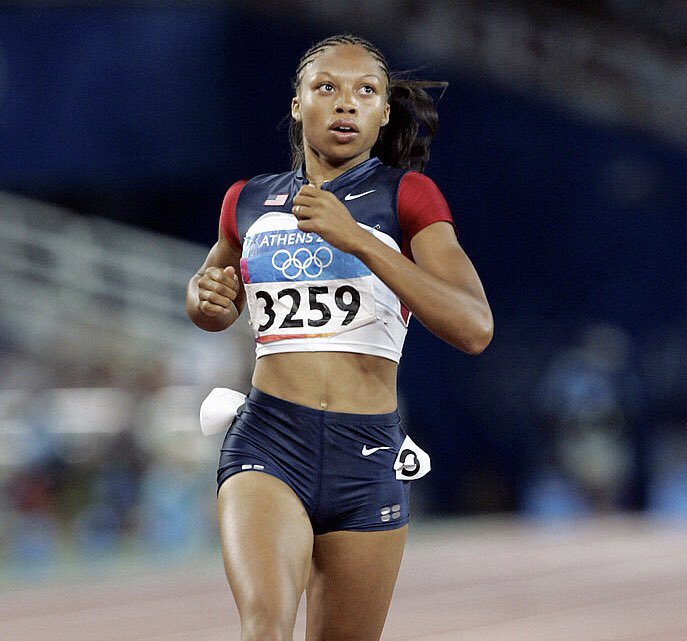 At 18, Felix participated in her first Olympics at the 2004 Summer Games in Athens. She competed in the 200-meter race. Her fierce competition in the 2004 games gave her notoriety and earned her a silver medal. The following year, Felix became the youngest champion to compete at the World Championships. She became the second female to win three gold medals at a single World Championships two years later.
2008 Olympics: Beijing and 2012 Olympics: London
The 2008 Olympics catapulted her running career even further. At the Beijing Olympic Games, Allyson ran her personal best record of 21.93 in the 200 meters but took her second silver medal. However, she earned her first gold medal at the Beijing Games in the women's 4-by-400 –meter relay team.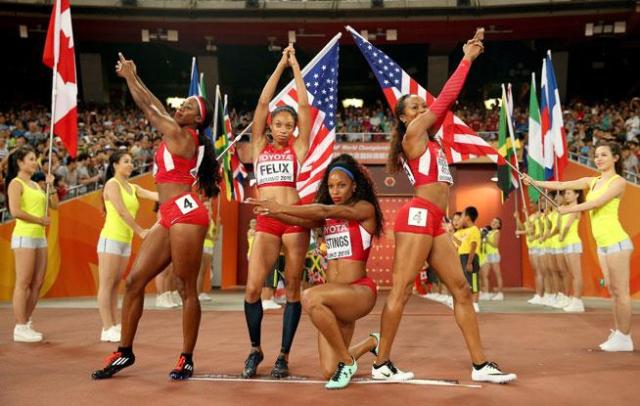 Furthermore, at the 2012 London Olympic Games, she finally won her first individual gold medal with a time of 21.88 seconds. Allyson then went on to win her second gold competing in the 4-by-100 meter relay, along with teammates. During the 2012 Olympics, Allyson won her fourth gold with the 4-by-400-meter relay team in her third event. Allyson's first-place victories in London made her the first American woman to win three gold medals at a single Olympics since Florence Griffith-Joyner at the 1988 Olympics.
2016 Olympics: Rio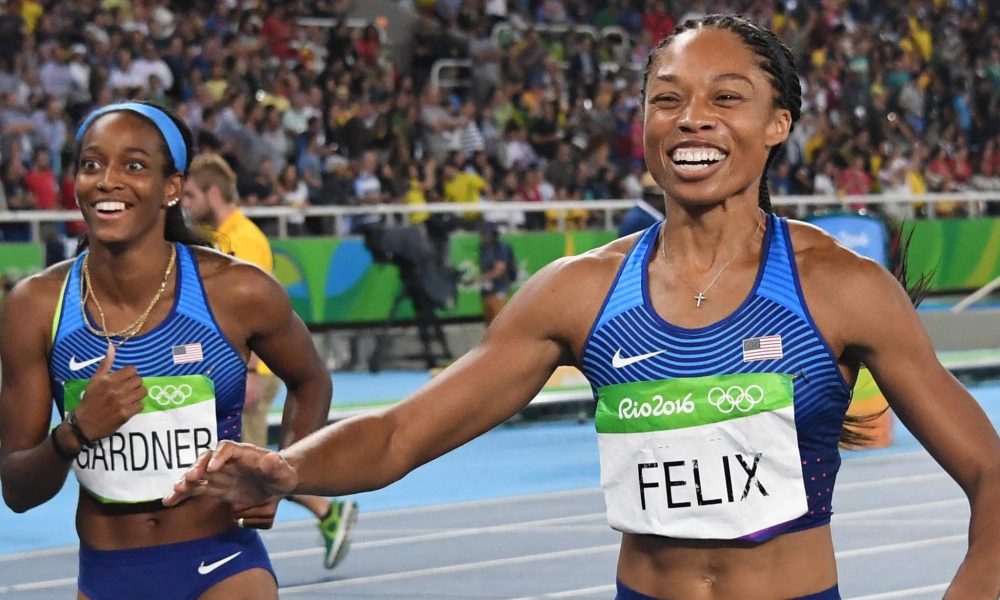 In the 2016 Summer Games, Allyson continued to make history in Rio. Her silver medal in the 400-meter race made her the most decorated woman in U.S. track and field history with seven awarded wins. During Rio Games, she broke her tie with Olympic legend Jackie Joyner-Kersee, who had won six medals. Despite a bittersweet silver medal in the 400-meter, she would proceed to win two gold medals in the 4 x 100-meter relay and 4 x 400-meter relay, along with her U.S. teammates. At the end of the 2016 Summer Olympics, Allyson became the most decorated woman in U.S. track and field history. She tied with Jamaican sprinter Merlene Ottey for the most decorated woman in Olympic track and field history.
Advocate for Maternity Rights
In 2017, she became pregnant with her first child. Her contract with Nike was up, and they were coming up with new negotiations while she was pregnant. Nike offered a 70% pay cut and failed to support Allyson's requests in the contract concerning maternity protection. Ultimately, this severed the line between the two parties, and Allyson signed with Athleta. The company gave her more maternal support and started her shoe and lifestyle brand called Says. She has called Nike out for being unsupportive towards pregnant and new mothers. This altercation drove Allyson to advocate for mothers and fight for companies to protect mother's rights.
2020 Olympics: Tokyo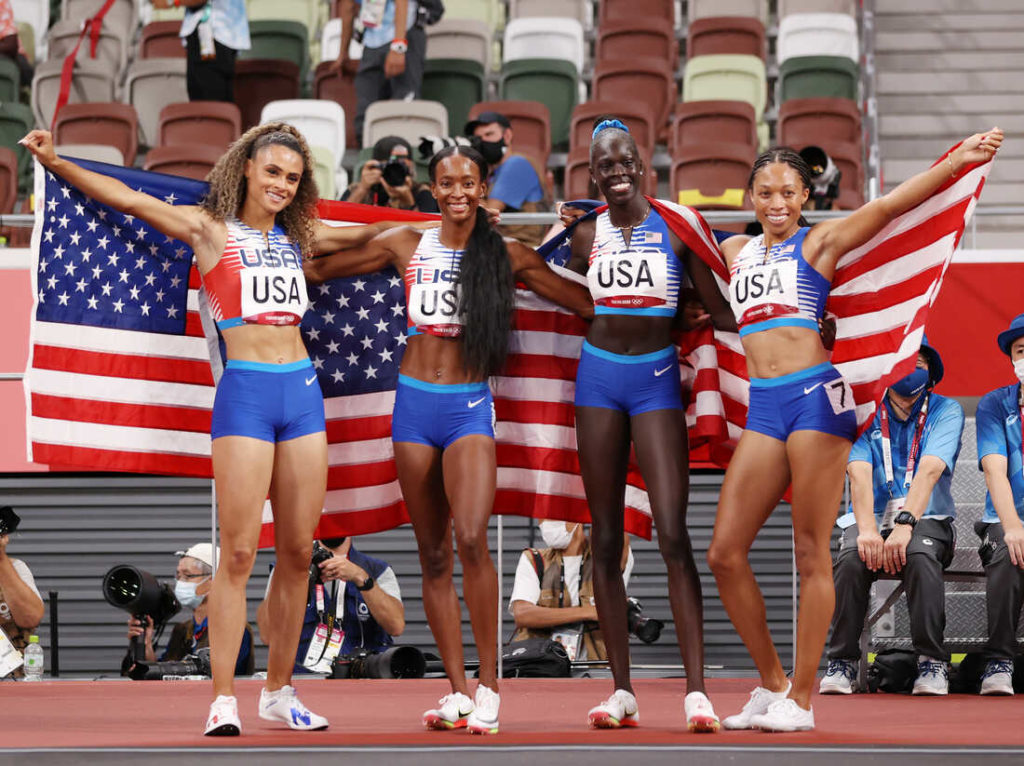 Going into the 2020 Olympics, Allyson came into these games with something to prove. The Summer Games were her first Olympic Games since she gave birth. She went into the games beating Usain Bolt's Record as the most "successful athlete in history" just ten months after she gave birth at the World Championships. Riding the high from motherhood and World Championships pushed Felix to give her all to her final Olympic games. Felix gave the Summer Games everything she had and made history once again. By winning bronze in the 400-meter race and gold in the 4-by-400-meter relay, Felix solidified her position as the most decorated athlete in the U.S. track, with 11 Olympic medals, surpassing Carl Lewis.

Allyson Felix accomplished so much in her ten-year career and made history during it. While Tokyo was her final Olympics, she made her footprints in the sand, leaving a long-lasting legacy for the next generation to follow.